Loving this picture of myself! :)
The Sample Store has kindly provided another set of facial products for review. This time, it is Eucerin's DermoPURIFYER series. I have always seen this Eucerin brand around at Watsons/Guardian. However, I have never tried it. Somehow, I am not so adventurous in trying out new products, because I am afraid of any side effects. As long as the current products that I am using have not resulted in any dire effects, I will usually stick to it. Unless I find out new products through The Sample Store.
The thing about Eucerin's DermoPURIFYER series is that it contains Lactic Acid. This is actually very mild compared to the typical Salicylic Acid or Benzoyl Oxide commonly found in anti-acne products. Despite it being mild, it is still effective.
How can this be?!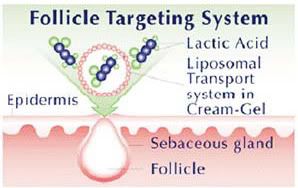 Lactic Acid has the ability to zoom to the pores with acne and targets only that area. It unclogs clogged pores and kills bacteria to stop the formation of new acne. Moreover, by treating only the acne areas, the other parts of your skin will not end up being dry or red.
Lactic acid is naturally found in your skin. So even the most sensitive skin will not suffer allergic reaction to this lactic acid. If you have any acne medication, don't worry. Eucerin DermoPURIFYER series is compatible with these medication, so you can use both at the same time.
Step 1: Cleanse
Eucerin DermoPURIFYER Cleanser gently removes excess sebum. It is also soap-free, but do take note that it is quite foamy. Just squeeze a little will do. It appears pretty much like water (but denser), so initially I tend to pour out too much into my hands. Do take note not to close the bottle too near your eyes or in the direction of your eyes. Because it does not flow down so fast, or perhaps there are some excess stuck at the sprout, therefore when closing, some of this liquid may spurt out. It went into my eye once :(
Even though it is supposed to remove make-up, it doesn't really work that well as a make-up remover. It definitely does not remove my eyeliner and mascara. So best to use a proper make-up remover first. I use
Biore's Hydra-clear Make-up Remover
. After one wash, this cleanser left my skin feeling fresh and supple.
Step 2: Scrub
Initially I used the scrub first before the cleanser, because I thought it is better to exfoliate first. Isn't it always the case, or am I mis-informed? *sigh* I need to buck up and focus more on skincare regimes. Being 22 signals the start of an enslaught of ageing concerns. It can't be that I wait till I am 30 before I start taking care of my skin. I do not want to be old and wrinkled!
Okay, digressing much.
I love the feeling of the tiny micro particles exfoliating the skin. These particles are actually Lactic Acid Beads. It is not too rough that it tears my skin, it is just right. After using for 1 week, my skin has become slightly clearer and brighter. This is definitely my favourite product of the range!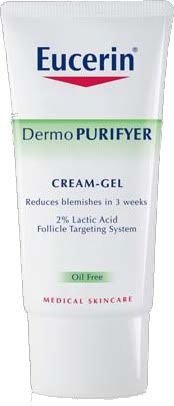 Step 3: Moisturise
Eucerin DermoPURIFYER Creme-Gel promises to reduce blemishes in 3 weeks. After 1 week of use, it hasn't reduce blemishes yet, but it has prevented 2 big pimples from potentially bursting. After a few days, I noticed that the acne area stop swelling and it is now almost completely gone. However, I am experiencing a fresh new wave of blemishes on my forehead. But that could be attributed to my lack of sleep the past few days.
As the product claims to reduce blemishes in 3 weeks, it will be unwise to conclude that it is ineffective. Perhaps due to its mild formula, it will undoubtly require more time to fully treat the skin. I shall continue using it again and provide a follow up review subsequently!
And which is my favourite product?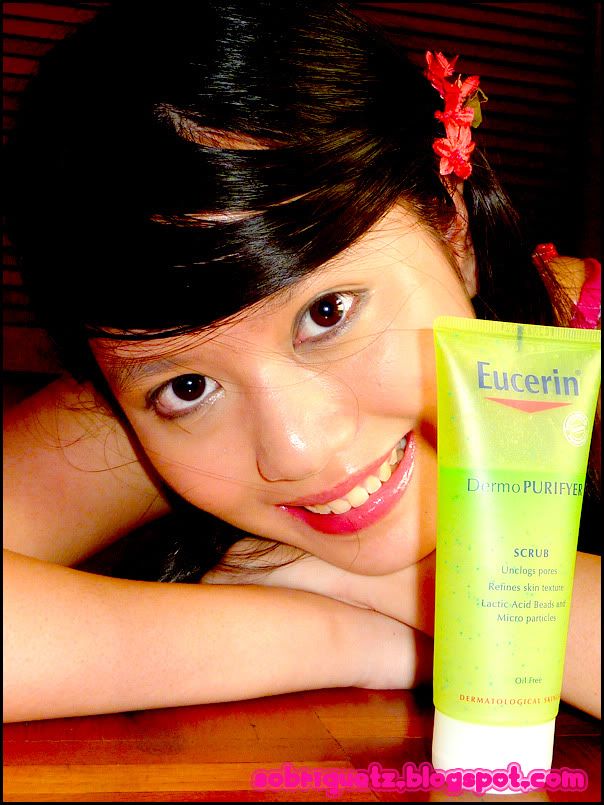 Yikes, face looks humongous here! :(
Btw, do you notice the liquid level of the scrub? I have used alot of it la, omg! Initially I over-squeezed because I didn't expect it to be so flowly. Now, I can control the flow much much much etter.
So after using EucerinDermoPURIFYER range for a week, I felt that there is a slight improvement. I intend to continue using it to see if there will be more visible improvements in my skin. However, I am quite sure that I will continue buying the Scrub. I love the feel of the Lactic Acid Beads!
Try out Eucerin's DermoPURIFYER range for yourself!