1st November marked the end of MKT3412 for my group. FINALLY! Then again, I think we did not spend a crazy amount of time on this project, basically we split up, do our parts, edit, and then it was done! Quite efficient actually. I like!
We were the first group to present on Monday, I think we did alright. Should have rehearsed though, because we really exceeded the time limit by quite alot, even though we allocated specific time for each parts. Next semester, I will definitely make sure that I have rehearsals for everything. If I'm not wrong, previously, I had reherasals for all my presentations, unless it was those finance tutorial presentations.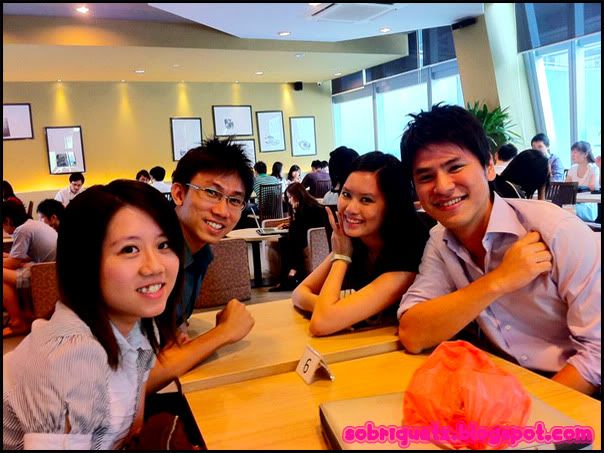 Picture grabbed from Wy, subsequent pictures too
After the lesson, gh, wy, grace and I headed to Reeds Cafe for lunch. Patricia left earlier and did not stay for the other group's presentation. It was my first time eating at Reeds, I never wanted to eat there because of the expensive (relative to canteen) food. I was also apprehensive that it will actually taste acceptable. And I think the name and decor of the place is definitely a thumbs down too.
My eyes looks amazingly big here, I like :p I did not edit it!
But the food turned out not so bad, quite nice actually. Wy had the barbeque sauce chicken while the rest of us had mushroom chicken. So wy wanted to try the mushroom chicken, and asked us to cut a piece for him. As Grace was cutting for him, I think I was totally overwhelmed by Adam Couple recently that I was saying that she should just feed him. HAHAHA! Okay, it wad quite paiseh because grace has a bf, but it was just for good fun and laughter.
wy's totally 'shiok' face
HAHAHAHA! Looking at wy's face just makes me laugh. It's totally spastic! Then wy said that gh and I should do so too, but aiyah, it wasn't natural at all :(
Gh looks like this is super dots while I was just laughing. Haiz, upset. We are super not romantic, not like Adam Couple. *upset*
The semester is coming to an end soon, but to me, I already felt like it has ended since I am enjoying now! Technically, I need to use this time to catch up with my thesis, but I am still waiting for my prof to give me a reply regarding my results. I really need to start doing it before I head off to...