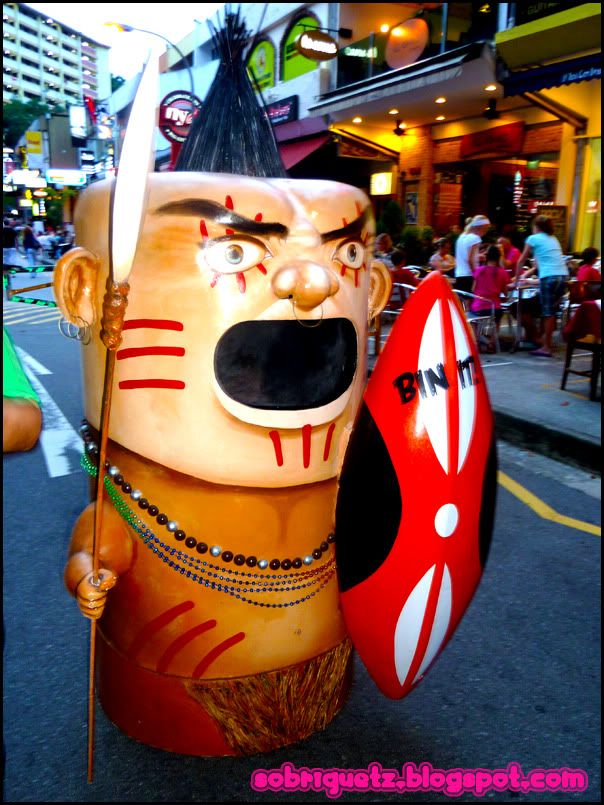 Some pictures of the Litter Munchers event at Wala Wala on 21st August 2010
This Design-A-Bin contest is to encourage the public to express their creativity by designing their own litter bins. This allows them to play an active role in the anti-littering campaign. The contest ended on 21 September, receiving around 2,531 entries and 16,512 votes.
Woah, loads of people (there were fantastic lucky draws during the carnival)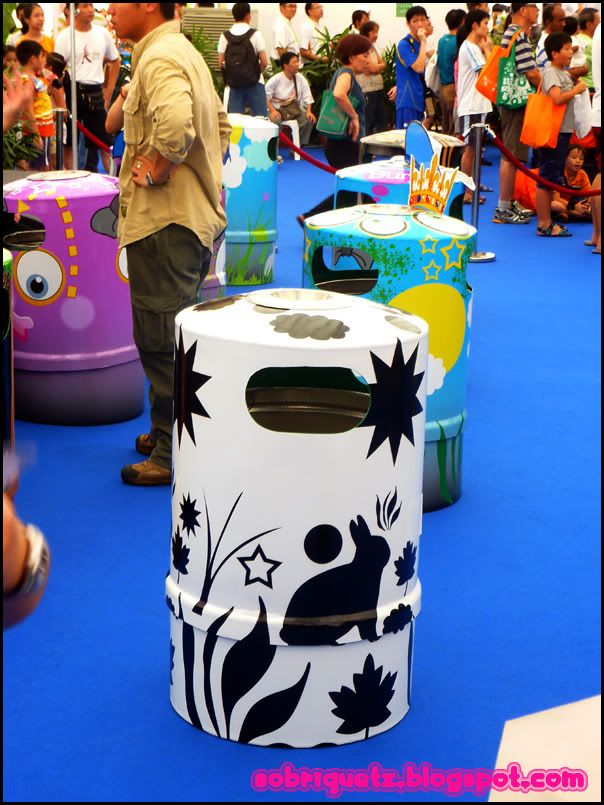 The pretty bins all lined up in front of a second stage
Here are some of the litter bins which I photographed, guess which is the winner!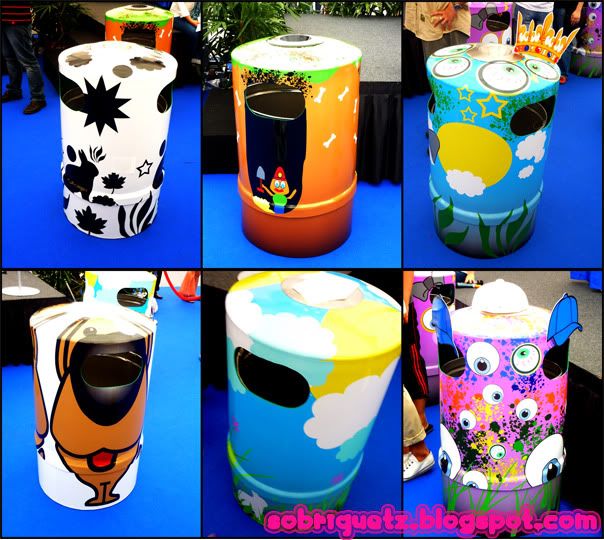 Who do you think won?
These are the prizes which are up for grabs: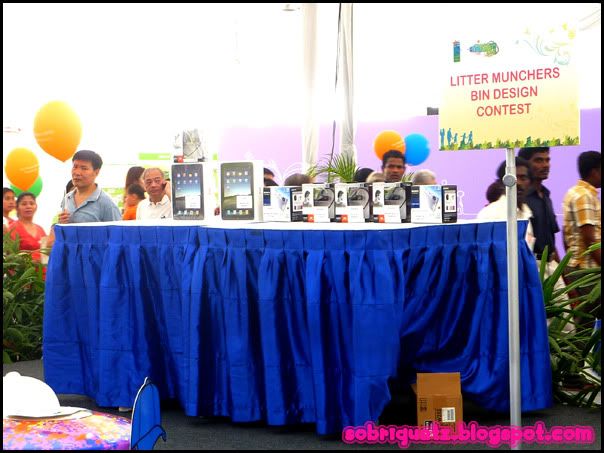 Everyone is eyeing those iPads!
And of course everyone wants the iPad. I think iPad mania should end soon, with ASUS launching its tablet next year. High performance, USB port, Flash videos, etc. = everything better than the iPad. If I have enough savings next year (the ASUS tablet is not coming cheap...), I will get it to add it into my ASUS collection.
Okay, digressing again.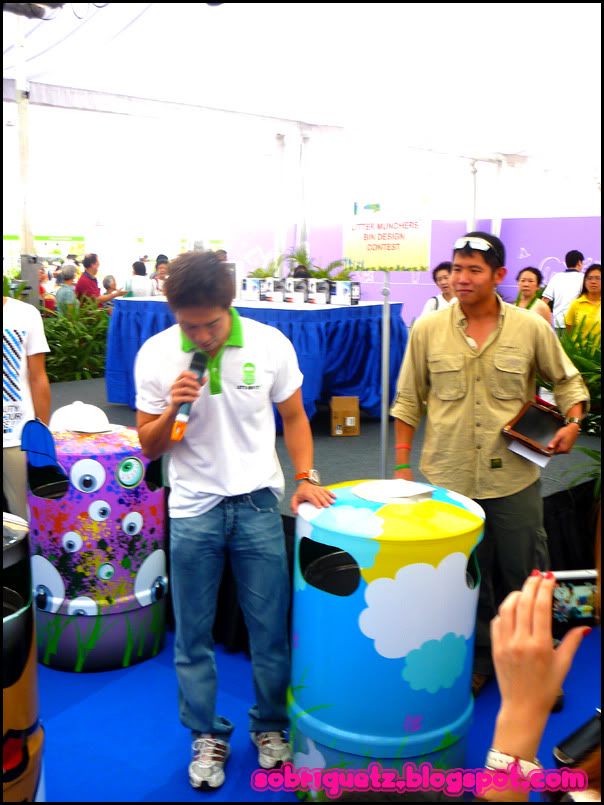 Explaining about his bin and its design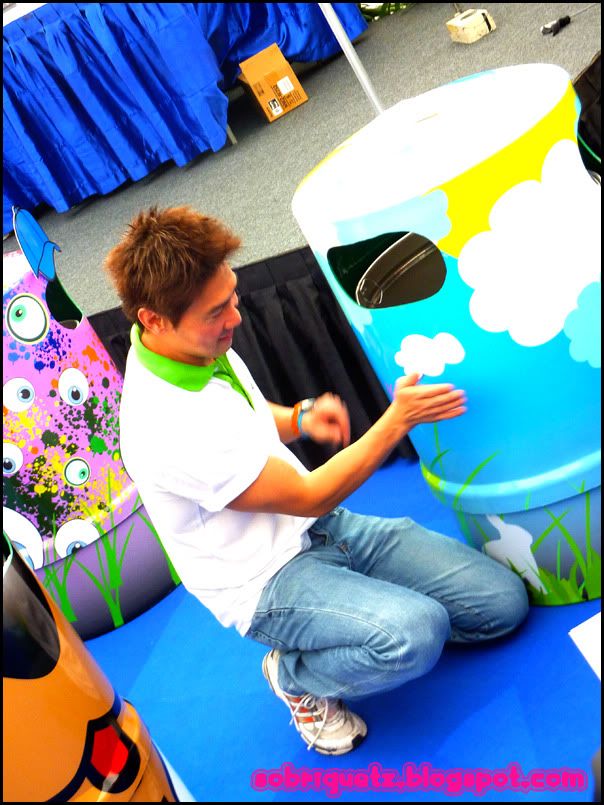 Adding his final cloud sticker to his bin
A small commotion happened here, and it is impressive that Edmund Chen handled it with a smile
This was the time where the commotion actually escalated, but of course, photographs capture no sounds
And now, for the results...
She is a student of Nanyang Polytechnic who is pursuing a diploma in Electronics, Computer and Communications Engineering. I think her design is really cute, and will appeal to all the little girls out there!
He is a student of NAFA, currently pursuing his diploma in 3D design, and major in Environmental Design. His bin is really abstract, something perhaps not many people can understand, which is probably why he did not place higher. His bin represents a Bin Boy, which is a "naive, playful, dirty but good-natured bin with many eyes".
She is the only senior citizen winner! Oops, she may not really like to hear that she is the oldest, but well... she is :p Her bin is called the "Joy Bin" and she hopes to spread the "joy of responsible littering". Hmm, doesn't sound very right since 'littering' has negative connoctations to it. What she means is probably the joy of responsible disposing.
She is currently pursuing her Masters in Special Education at NIE. As compared to the friendly eyes you see in the above two litter bins, hers show a pair of glaring eyes, almost as if to tell you "Litter if you DARE. Now Feed me! -burp!-"
He is the youngest winner out of the bunch and is currently a student at Ngee Ann Secondary School. Great to see that young students want to play an active role in conserving the environment and keeping it litter-free.
He is a student of Fuhua Secondary School, who took the time to design his bin despite preparing for his O'levels this year (but it's over now, finally!). Through his bin, he tries to emphasize that rubbish has the potential to turn into gold, as long as people recycle.
These bins will be placed at Punggol Secondary School, to reinforce the anti-littering message to the students there. Students, you better GET IT AR! Littering is BAD, stop LITTERING!
Group pictures of Glitterati+ who attended the event:
HMPF.