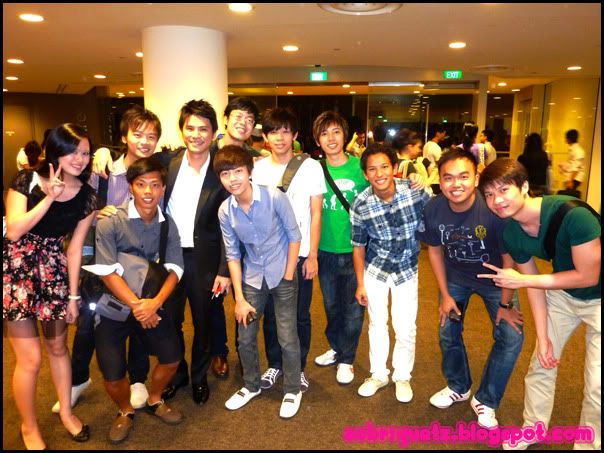 Picture taken with the Marist people
On 17th October, I went for the Da Capo 2010 concert at UCC. Gh didn't want to go because he was very busy with work, so I just tagged along with bj and his friends. I don't know all of them, but a few of us used to study together in JC. I remember that we went to some Bishan Reading Room before, and then at the nearby Macs. Then in JC2, waiyip, benjamin, jinyan and I joined the same Econs tuition at Bishan too. It was great fun last time :)
I have been super out of touch with band stuff ever since 5 years ago. Then again, I never thought that I was really into band stuff... hmm. But I was glad that familiar songs like Carmen Fantasy and Riverdance was played at Da Capo, because I totally get it, since I played it before.
And that was when it struck me, I really miss band.
That is actually a totally shocking statement if you know me from before, because I tend to complain about it when I"m in it. But after watching Da Capo, I realised that I miss performing, I miss the music, I miss the concerts, I miss the percussion section (which I dunno why, is usually quite bonded. Maybe because there are always long breaks between parts, so we will talk and stuff at the back). In fact, I still keep in contact with cedar perc people.
Wy says that I can join NUSWS in my last semester, as it will be the last chance to do something different. I totally agree with that, but I do have some concernts.
1) I haven't played for 5+ years, I don't even know if I still can play (okay, anything mallets should be fine actually :p that is hard to forget, because I haven't forget piano yet)
2) I am afraid of being left out. Even if there are new year 1s in band, they would have already bonded this semester, so I am scared to be left out. That will totally defeat one of the purpose to join band, which is to know more people.
According to wy, my worries are unfounded. But still, I am of course concerned. He mentioned that there will a pre-semester band session in December, and I'm afraid that I might miss it because I will be in Middle East. And that may make me lose another bonding session = more left out, possibly? In fact, I seem to have lost the ability to socialise as I grow older - and especially in university. I don't know what is wrong with me, or is it because I can't find people of the right frequency to click with. I envy the days when I was younger, like in primary/secondary school, where I have so many random friends out of my schools that it shocks me now to think of it. We don't keep in contact anymore though.
*sigh*