Now that I surprisingly have some free time, it is time to back date all my entries!
On 4th September, as usual I was studying in school with gh. After that he brought me out for dinner at some mysterious location. which turned out to be Sunset Way. It was my first time at Sunset Way, because I always had the impression that it is very inaccessible.
Which isn't true, 151 from NUS goes there! But no la, gh drove, we didn't take bus :p
We arrived at Buttercake N Cream which I initially thought only sold desserts based on the name. But nope, it serves main course too. We set at the alfresco dining area, which really feels like we are dining by the beach or some coastal area - despite no sea/river being in sight!
Perhaps the coconut trees gave it the illusion. and also the lights. Hmm.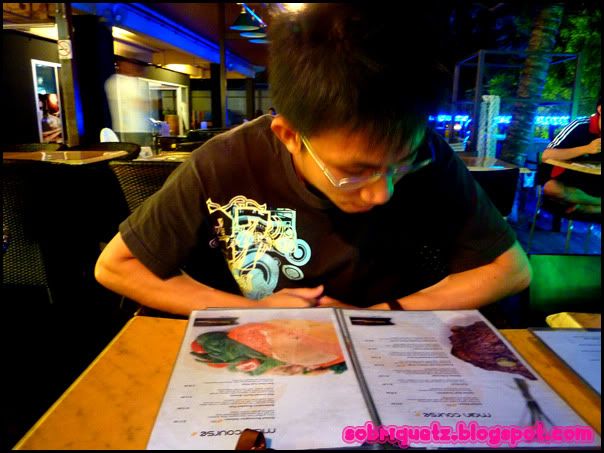 The food ranges from
S$12
to
S$40
, with no GST charged. It is pretty affordable actually, if you consider the S$12 dishes. There is also set dinner for 2, which cost
S$49.90+
, but we didn't go for that.
Here are the price lists at Buttercake N Cream, which I got from their
website
:
(click on images to see bigger)
we took quite some time to decide on what to eat, or rather, gh took quite some time. We had to wait quite awhile for the food, so we were super hungry actually.


It was quite difficult to take photos there, because my flash is way too blinding and bright, but at low light, it is not sharp and clear :( upsetttttt! Or perhaps I should have used the high sensitivity mode. Oh well...I like flash btw, I dunno why people shun away from it! It's like your photos will be crisp, where the colours totally pop out! And with additional photoshop, it pops out even more! I like strong contrasts!

Okay anyway, OUR FOOD CAMEEEEE! :D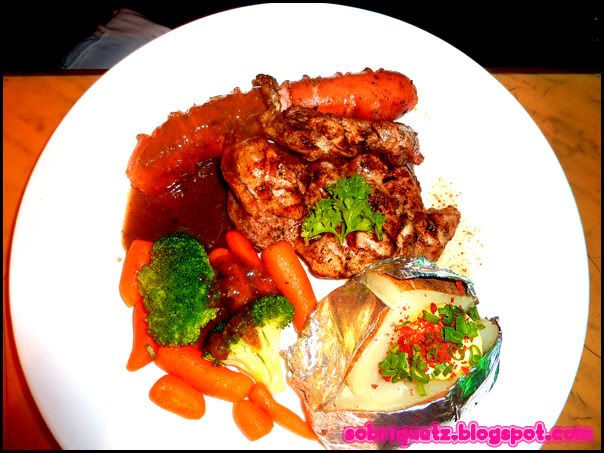 Woah, the Chicken & Sausage was super worth it! S$13 for such a huge serving! And it tasted great too! I only tasted the chicken though. My Pan Fried Cod Fillet was heavenly too. Though the serving seems small, it is sufficient to fill up my stomach, mainly because of the steakfries. At S$16, I think it is pretty worth it too, because cod fish is really expensive, according to mummy. Apparently one tiny slice at the market can cost more than S$5! Oh well, cod fish is like that... I felt full of collagen after eating it, muahaha, anti-ageing formula!

Just blogging about it makes me crave for the cod yet again. But I am currently on a very tight budget...


After our fantastic meal, it was time for desserts! I took super long to choose the dessert. Gh had eaten there before with his friends and mention that the Apple & Rhubarb Crumble was not bad, though the crumble was kinda salty (then again, he is a health freak, so everything also salty la....). But what caught my eye was the Warm Chocolate Pudding. I debated quite long between those 2, frequently changing my mind too. Cos if I order the Warm Chocolate Pudding, mr health freak may not help me finish up the dessert... but on the other hand, I really love such chocolatey stuff!!

Like when I order B&J's mix and match, I can top it with chocolate chips + chocolate sauce, everything chocolate, the more the merrier!! Which perhaps is explaining my weight gain... and no, don't say that I'm skinny, there are parts which has gained enormous weight, just that you can't see it.

In the end, I finally decided on the Warm Chocolate Pudding, because chocolate is hard to resist! We had to wait about 20 minutes for this too...

When it was first presented to us, we were not quite sure what to do. Like are we supposed to pour the vanilla bean sauce in? or what? In the end, we just poured it in bit by bit (else it will be absorbed by the pudding very quickly) and ate it together with icecream. It is sort of a pudding + cake-ish sort of mixture. It was quite bitter actually, but the sweet vanilla ice-cream kind of neutralised the taste.

I think it was sinfully good!


Missing this place, I want to go back there again! But this is definitely a place to go if you have quite a lot of time to spare, due to the pretty long waiting time. Oh, and one interesting observation that we made was that there did not seem to be any waitresses, only waiters! The waiters are pretty well built and looks not bad too (according to gh la... i just felt that they were okayyy).
another plus factor to go visit Buttercake N Cream, eh?
Buttercake N Cream
Address:
106 Clementi Street 12 #01-52 (Sunset Way) Singapore 120106
Tel No.:

6777 3477
Opening Hours: Tuesday -

Sunday

: 12:00 noon to 11:00 PM (Closed on

Monday

except Public Holiday)