On
24th September
, I met up with szewing to go for a manicure/pedicure session at Wen Luxe Spa which we purchased on
Deal.com.sg
at only
$28
! And it is a classic manicure/pedicure, so the price is reall worth it. And despite being 22 years of age, this is my
FIRST TIME
going for a manicure or pedicure. I always felt that such things are a waste of money - but sometimes, it is nice to just relax and be pampered :)
Wen Luxe is located near Outram MRT, about 10minutes walk up a hill to find the outlet. I didn't take any pictures of the entrance, but it looked pretty disappointing and not luxurious at all. Not like what it was portrayed on its website (which I am not going to hyperlink it since I don't like it). When we got there, we were led to the manicure/pedicure area, which is just after the counter. There weren't much conversation with us, hence I did not feel welcomed at all.
We were asked to sit down and wait. Then two staff attended to us - one of which was a trans. Hmm, I thought I will be totally eeked out since he/she attended to me and I have never been in such close proximity with a trans before. But well, I felt pretty normal actually. No eeky feelings at all. In fact, there was another trans at the counter, whom sw say was more trans-nish, since he did a boob job. Erm, I didn't really notice so much details...
Anyway, here are some pictures taken while we were doing our pedicure. Obvious reasons why there are no manicure pictures taken (if you ask me why, please go check your IQ).
A pretty clear shot of him
It's pink with silver glitter! Can't really see the pink here though
The manicure area
And here are the end results of our manicure: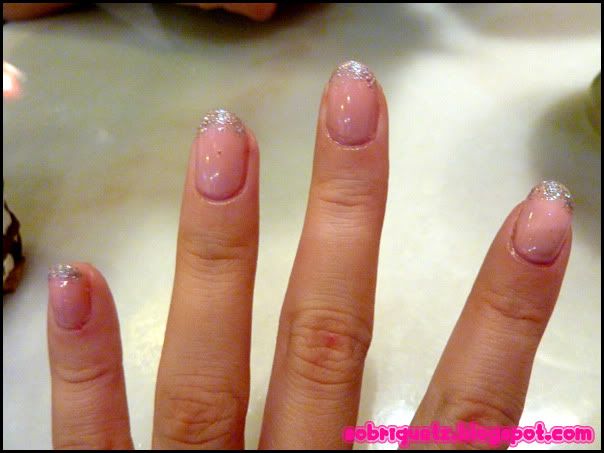 My nails - Dissatisfied :(
Sw's nails
I had to go for round tip because I chipped my nail, and he had no choice but to cut it short. I think he lacked some expertise though, because he always ended up applying on my flesh, and then using his nails to scrape it off! I don't think it should be like that, right? *newbie who doesn't know much about manicures*
Moreover, when I closely examine my nails, there are bubbles in it! I'm not sure about toe nails though, i don't exactly put my feet right in front of my face. And at the end of the whole process, it just... ends. That's it. Of course they tried to sell the products, but it wasn't very enthusiastic anyway (not that I wanted to buy). And when I accidentally ruined one nail as I was putting on my sandal, I went back to ask him to touch up la. I think he was kind of annoyed, since he was heading out for lunch at that time. Haiz.

Perhaps the Spa experience is better at Wen Luxe (considering their pictures on their website, though I doubt so) but if you are thinking of going there for your mani/pedi.... please do not go!