Even if you think that the name Essential may not strike a bell with you, just take a look at the banner above. That should ring a bell, because when this product was first launched in Singapore, almost the entire Dhoby Ghaut MRT Interchange was covered with pictures of these two Japanese girls with glowing, fabulous hair together with their pink and orange products.
Essential Damage Care is promising to care for your last 15cm of your hair. Did you know that the last 15cm of your hair ends are at least 1 year older than the rest? That's for girls with slightly longer than shoulder length hair. Considering how long my hair is, the last 15cm of my hair could easily 3 years old?!
But why should we even bother with the last 15cm of our hair? Since they have been with us for so long, it obviously has undergone most hair treatments as compared to the "new hair" at the top. It has probably undergone perming, rebonding, colouring, lots and lots of styling! By not caring for the last 15cm, it will lose it shine and appear dull as compared to other parts of your hair! You may think that no one notices the last 15cm of your hair, but...you never know where another person is staring or what they are thinking!
Instead of them thinking:
"hmm, this girl has really unkempt hair, especially at the ends. Perhaps she just cannot be bothered with the apparently little things - bad wifey material"
why not let them think:
"wow, this girl has luscious, shining hair which gives her a really radiant look! Meticulous right to the end - I LIKE!"
So how can Essential help you? the secret (or perhaps not so secret) lies in its main ingredients:
High Purity Honey & Milk Protein: deeply repair and strengthen hair
Ultra Shine Essence: restore shine in hair
Wild Rose Essence (Nuance Airy): leave protective layer to keep hair moisturised
Sunflower Oil Essence (Rich Premier): leave protective layer to keep hair moisturised
In addition, it is also exudes a fruity floral fragrance which you will definitely fall in love with!
Essential has two ranges:
Nuance Airy: gives limp and flat hair a light and bouncy feel
Rich Premier: gives untamable hair a smooth and manageable feel
Aside from the regular shampoo and conditioner, Essential Damage Care has launched the Essential Hair Essence a few months back. If you have been following
Xiaxue's blog
, you would have read all her raving reviews on the product.
There are 2 types of Essential Hair Essence: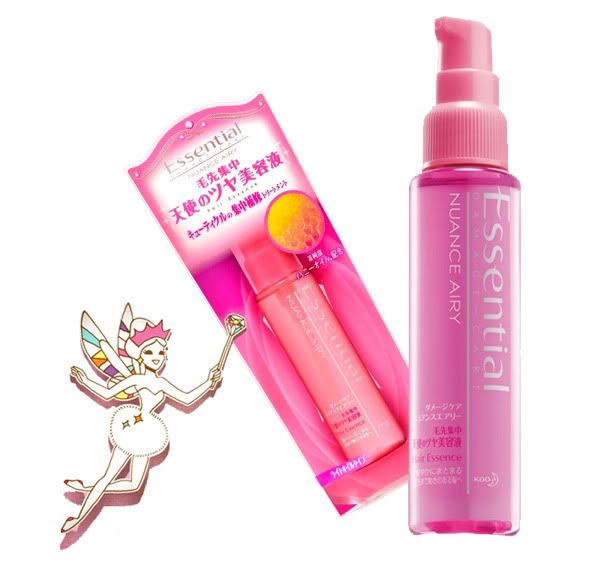 I call it the Fairy and the Bumblebee because Nuance Airy and Rich Premier are quite a mouthful to pronounce. TheSampleStore has very kindly provided me with both the ranges which included: Shampoo, Conditioner, Treatment, Mask and the Essence.
Sad to say, I did not really use Bumblebee. Why? Because Mummy took the whole set from me as soon as I ripped open my package from TheSampleStore. And she is loving it ever since, she always raves to me about the smell and the smoothness of her hair. I did try the Bumblebee hair essence once though, but the main focus on this post will be on Fairy.
Initial frizzy hair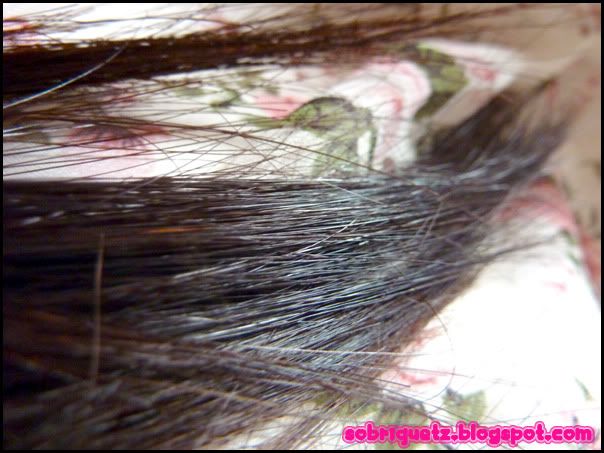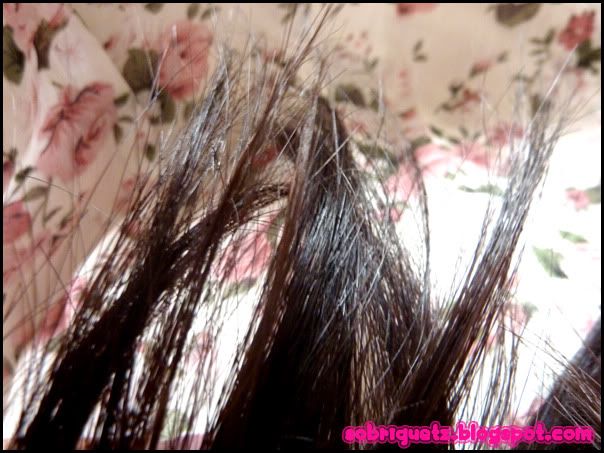 More pictures of the hair ends sticking out here and there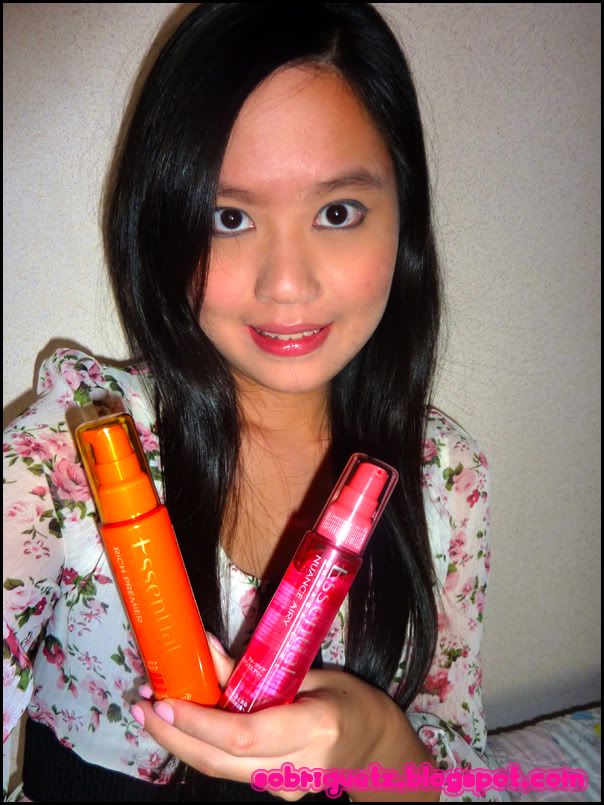 Went to mummy's bathroom to kope the Bumblebee for this photo :p
Applying Fairy onto the last 15cm of my hair
Can you see the difference after application: Left - with hair essence, Right - with nothing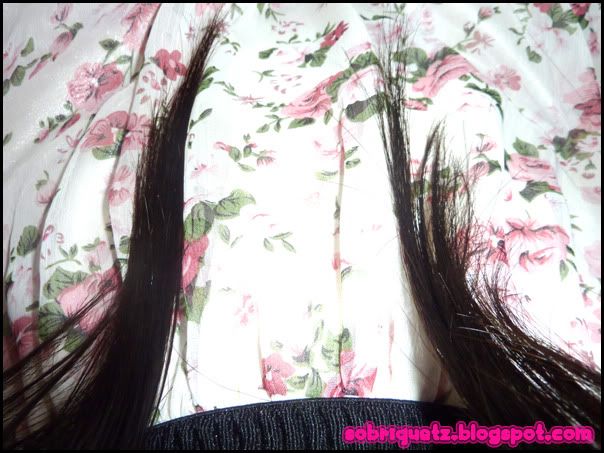 A clearer view
Now it's applied to both ends of my hair. See the difference as compared to the top? I'm going to put the hair essence on my whole head now! In addition to using all the other Fairy products (: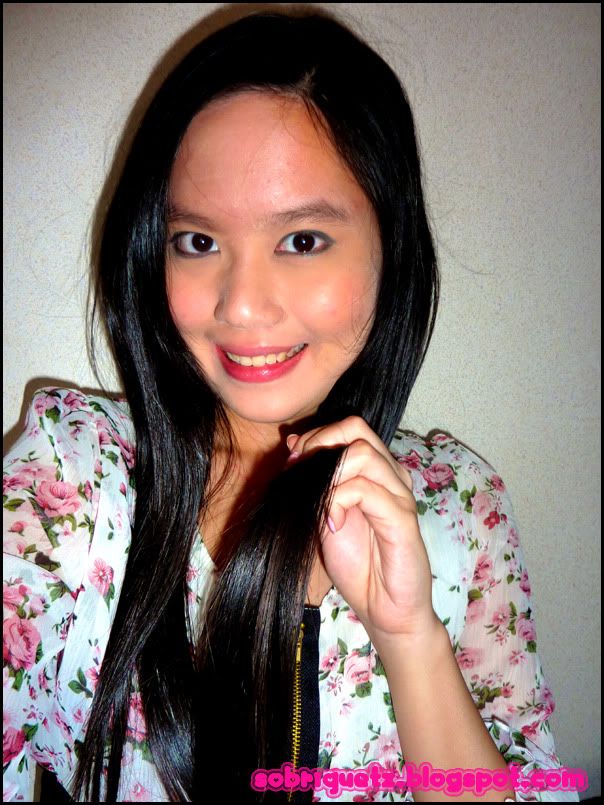 YAY! plus i've nice smelling hair too!

Another reason why I love Essential Hair Essence: it is a leave-on essence. Sad to say, I am quite lazy when it comes to maintenance. Even spending 5 mins in the bathroom with the Hair Mask on seems loooonng! Yes I know, this is utterly lazy and terrible attitude. I can imagine that I will get old very fast because I do find time to maintain - be it haircare or skincare. Of course I know that it is important, and I promise that will change soon.
As Essential Hair Essence is a leave-on essence, it is really very convenient for me. I apply it before I go to school and awhile before I sleep. It absorbs very fast too. And it always keeps my hair in place!
Here is the before and after picture:


So go try Essential Hair Essence now! Or best still, try the whole range: