Monin Syrups - you may not have heard of it but it you have probably drank it before. It is used at TCC, Starbucks and in various bars. It is a type of sweetener used to flavour your drinks and it comes in a vast variety of flavours.
Why do people use Monin? Why not just sugar?
It dissolves easily, since it is a syrup

Healthier alternative to synthetic sweeteners or standard sugar as it uses fresh juices, spices, water, and pure cane sugar

No fat or cholesterol
Do not be mistaken that Monin can only be used by businesses like cafes and bars. You can also mix your own drinks using Monin syrups. For recipes, just head to the Monin international website to view them. Perhaps you can create your unique Monin drink for your next party, and impress your guests!
However, it is difficult to find Monin syrups in Singapore. It is not available in local supermarkets like NTUC Fairprice and Cold Storage. It is not even available in upscale supermarkets like Jasons Market!

How do I get my Monin Syrups?!
This is where
SgNiches
comes in. SgNiches is much like a "team of hunters" - whatever you want, they will hunt it down for you. Same for Monin Syrups - you want your Monin, you will get your Monin.
Yes, you can probably purchase your Monin Syrups from overseas too, but there will be that exhorbitant overseas shipping fee, problem of fragile glasses, etc etc. Now there is no need to purchase overseas as SgNiches will help you source for the most premium range of Monin products.
First, go to their website:
http://www.wix.com/mahindrajith/sgniches
Next, click on the
Products
page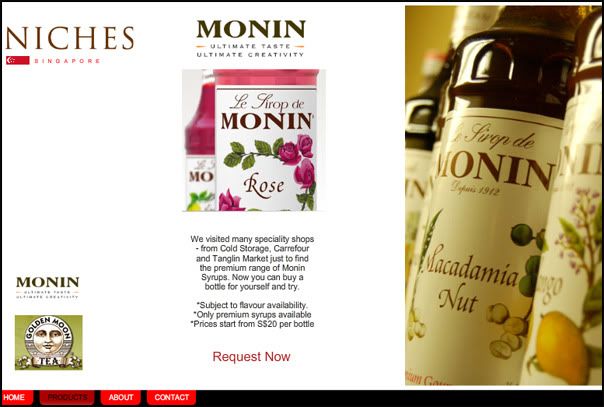 Products Page
Then, click on
Request Now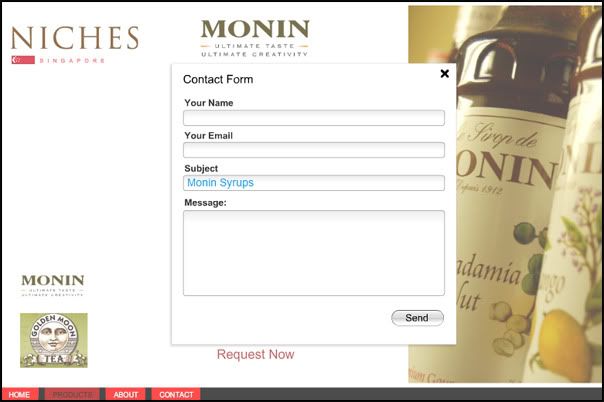 Upon clicking Request Now, this page will appear
So just key in which Monin Syrup that you want to purchase, and send in your request! Prices start at
S$20
per bottle and payment details will be provided when you have placed your request.
Simple right?