I think that it is about time that Singapore had a city pass. City Passes are prevalent in European countries, with many cities like Brussels, Copenhagen, London and Malmo having such passes. Since Singapore is aspiring to be a tourist hub (or perhaps have already achieved such an accolade), it should make an effort to increase convenience for tourists wanting to explore Singapore.
As we waited for everyone to gather, we snapped lots of pictures, and the event photographer also took lots of pictures for us. And soon, it was time to board. It was funny how we almost walk in twos - like those kindergarten children boarding a school bus!
Which left us stuck in the merciless hands of the sweltering sun.
Jianhao hiding from the sun - too hot until cannot slp!
Well, I didn't get a good shot from my angle, I was too far behind. I should have ran in front, and I will be able to get the entire wheel!
Yay, I'm all ready to head to the Dolphin Lagoon at Sentosa - which is our next destination! I like this picture alot by the way. I bought that hat from Shanghai, and I love it!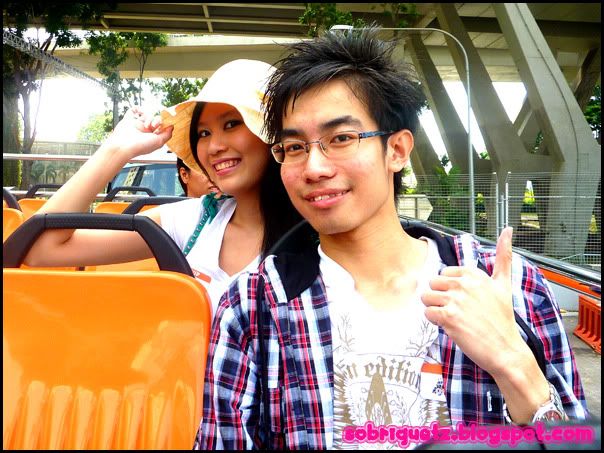 With hongpeng
Here is a photolog of our journey towards Sentosa:
First we pass by the Marina Bay F1 circuit
And then we pass by the uncompleted Marina Bay Sands
The Financial District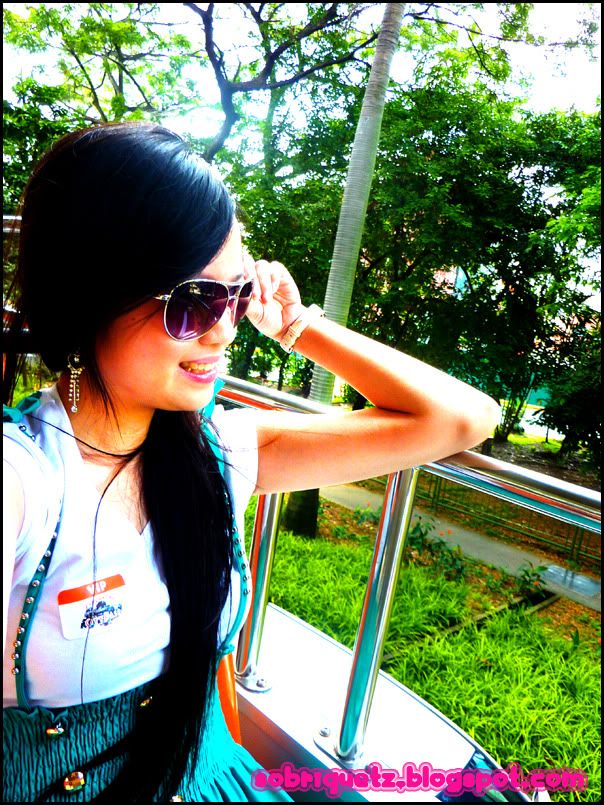 Subsequently, there are just alot of buildings, so you can take the opportunity to take photos!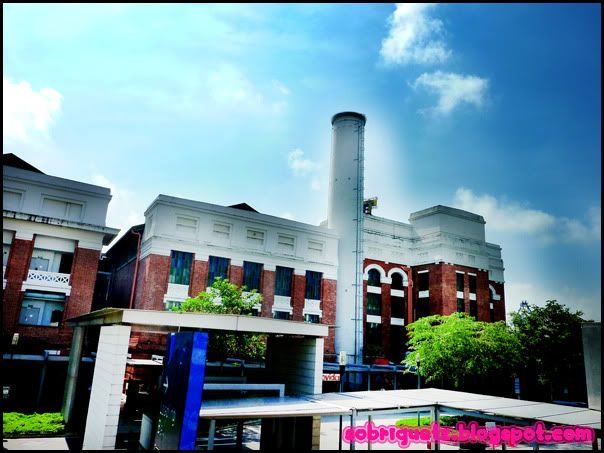 St James Power Station
We are finally in Sentosa!
At the Group Arrival Centre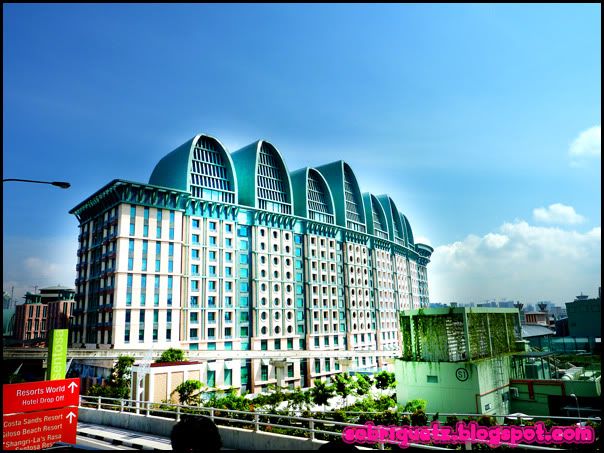 We passed by Resorts World Sentosa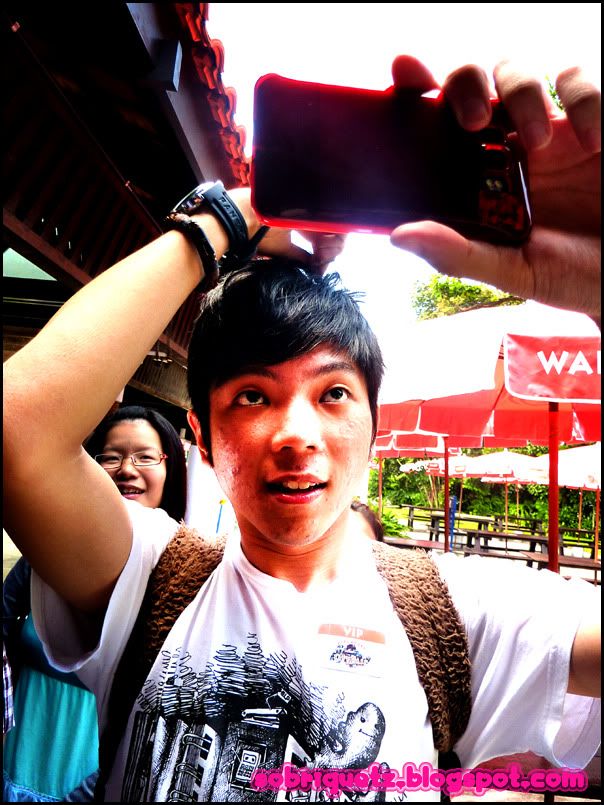 The FunVee bus may create some havoc in your hair, if you are sitting at the top!
Entering the VIP lounge
As we were sadly again the last to reach the VIP room, we had to stand around and watch the performance, while others had nice sofas and better views. It was abit tiring on my legs for super un-fit me, but I still managed to get pretty good shots of the pink dolphins performance (yay, loving my lumix!).
Here are some photos of the performance:
Picture from official photographer
He emphasized on how City Tours
"
recognise the need to be innovative and create new improvements to our services for a better customer experience
"
and that in a business mindset, it is
"
now much easier for us and our partners to work together and market Singapore to the rest of the world on a single common platform
".
In this package, you are to choose 2 out of 6 attractions. The 6 attractions are:
i) Captain Explorer DUKW Tour (U.P: A - S$29.90/C - S$20.90)
ii) MINT Museum of Toys (U.P: A - S$15/ C - S$7.50)
iii) Singapore River Cruise (Bumboat Ride) (U.P: A - S$15 / C - S$8)
iv) Cineblast @ Sentosa (U.P: A - S$18 / C - S$11)
v) Sentosa 4D Magix (U.P: A - S$18 / C - S$11)
vi) FunVee City Tour (Open Top Touring) - unlimited 1 day (Value: S$19.90)
A combination of the Singapore Flyer and Captain Explorer DUKW Tour.
A combination of the Night Safari Admission and Tram Ride, together with the FunVee City Tour.
- FREE Marina Bay Walking Tour
- FREE Drink at Manchester United Cafe
- FREE Drink at Hard Rock Cafe
- FREE Transport at 09:00hrs, 11:00hrs and 13:00hrs to Singapore Flyer to pick your card
Wow, I didn't know that there was such thing as a Marina Bay Walking Tour! I think I need to go check that out soon..
Some important things to note:
- The Singapore City Pass for all 3 packages are valid for only 2 days (do note that the FunVee Open Top Tour is for one day use though, you will need to top up S$6 for an additional day use)

- Airport transfers are not included in this card

- Only transport mode included for this card is the FunVee hopper

- Other upgrades that you can make includes S$8 for a Singapore River Cruise Bumboat Ride (U.P S$13 per person) and S$17.90 per person for a Night Tour including Dinner and Resorts World Sentosa (U.P S$32.90 per person)
After the event, there were some refreshments which we snacked on. And of course, we took more photos too!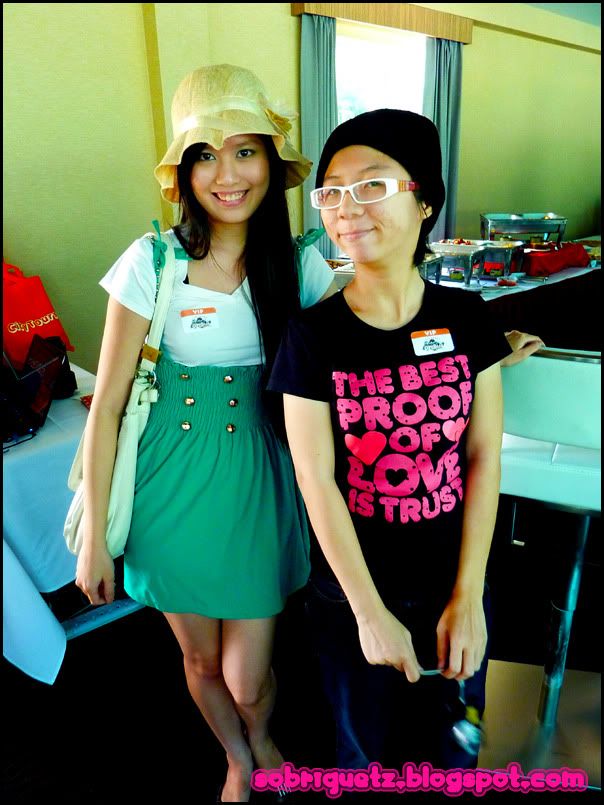 With Joyce Stella
Here are a few pictures from the Underwater World: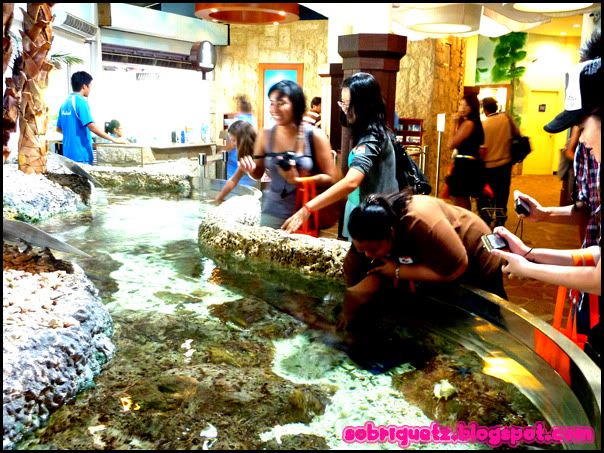 Touch Pool
Freshwater Aquarium
What's this technology called? I forgot
The predators of the ocean
Okay, not much pictures because the water seemed abit more murky than usual, especially at the shark's enclosure. And we were also rushing for time! In fact, some bloggers who were lagging behind had to run for the FunVee bus!
Overall, it was a fun event and I was glad to be a part of it.
Before I end off, here are some group photos taken by the event photographer, and also some snaphshots by me of the printed cards that we were given: