Okay, I've just a few minutes to spare. It is time to quickly backlog some entries. I'm really neglecting my blog these days. But there are stuff that I must really blog about soon. Ugh, so it's time to hurry finish all my work, before I can actually sit down and have more time to blog!
on 18 August (yes, this is super backdated!), I met up with zh, rk, sw, gh for dinner at Ippudo. First time that they are going there, 3rd time that I've been there!
and I'm totally loving the ramen.
Ippudo was opened on 12th December 2009, and some have raved about how great it was. According to their website, it is the "only ramen restaurant that boasts of its own factory, producing its own noodles and soup". Really?! Hmm, I imagined that all ramen restaurants produce their own noodles and soup what. How can Ajisen import noodles or soup? Don't really get it. But never mind. The founder, Shigemi Kawahara, is apparently the Ramen King in Japan, having won 3 times on a ramen-making competition on a Japanese television show. WOW!
I have always wanted to try it, but I thought that it was really pricey, since it is located at Mandarin Gallery.
but it is totally worth it.
I have heard of the crazy queues at Ippudo, but I was only in the queue once during lunch time. So it just depends on the time that you are there. If you are there at 6.30pm on a weekday, you are still assured of seats, and will not have to wait very long. Of course the later you come, the more crazy the queue gets! The queue is perhaps mostly due to the lack of dining area. I estimate the seating capacity to only accommodate 30 people at the most. The turnover is pretty fast due to the prompt service.
The storefront where you can see all the cooking taking place
patiently awaiting my mealllll
YES IT IS HERE! *slurps*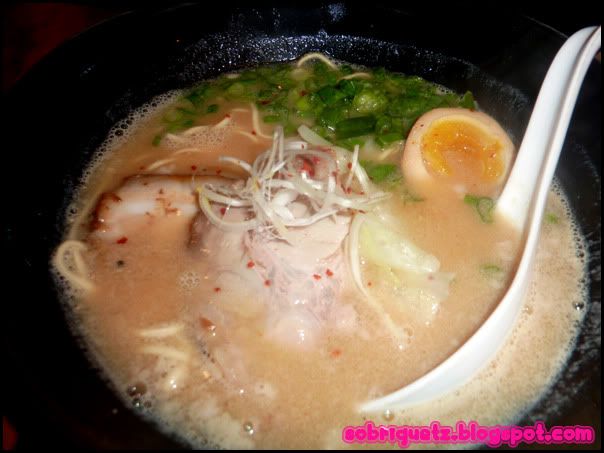 Sw's seasonal seafood ramen
In fact, I like the
Akamura Modern with Egg
(
S$17++
) so much that I have ONLY tried that at Ippudo. Can't get enough of it, and I don't feel like trying the rest yet.
There isn't much ramen to choose from. Basically just 4 types of ramen plus a seasonal ramen. The menu seems longer than 5 ramen, but it is basically just adding on egg or pork belly. As you know, I do not eat pork, and I tried to get the server to customize my order - to replace the pork with an egg. However, the server did not seem to get what I mean, and told me that it is not possible to change. So usually, I just give away the pork belly. Great for the others at the table right?
Actually, there is a 6th ramen - a vegetarian ramen which is categorized under salads.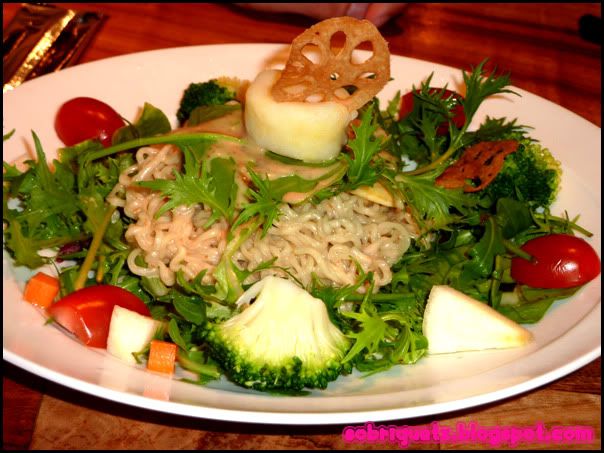 poor rk had to eat that. it looks like maggie mee with lots of vegetables! According to him, it was not bad! but well... it seems pathetic as compared to ours!
Ippudo seems to have appetizers in really small servings
sadly, rk and sw only felt that it was okay. gh felt that it is abit salty (health freak!) while zh is the only one who agreed that it is really not bad!
Price-wise, I think it is really a normal restaurant price, not as expensive as what I initially thought it will be. If you compare it to Ajisen Ramen, it doesn't seem that pricey actually. When I eat the crayfish ramen at Ajisen, it cost $11++ without set, and around $14++ with set. I wouldn't mind forking out a few dollars more to go Ippudo and have wayyyyy better noodles and soup!
That's it, I am never going to Ajisen again! (unless I can't get to Ippudo somehow)
It is definitely the best ramen that I've ever eaten. But I await to try Millenia Walk's Nantsuttei Ramen too. Apparently that it is really good as well.
Ramen rivalry is heating up.
Address
Ippudo SG
Mandarin Gallery
333A Orchard Road
#04-02/03/04
Singapore 238867
Opening Hours: Mon to Sat 11am to 11pm, Sun 11am to 10pm (last order is 1hr before closing time)
Tel: 6235 2797
Website:
http://www.ippudo.com.sg/