This is the start of my back-logging entries. It has been a long time since I've blogged, but no, I must not let all these memories fade away!
On 14 August, gh and I went out after our make-up lesson in school (yes, make-up lesson on Week 1 saturday). One of the last few times to go out and relax for awhile, before school work crashes down on us.
I wanted to check out Food For Thought, because I've heard alot about it. Whenever I ask jj where to eat in Bugis, she will tell me to try Food For Thought, because lq said it was nice.
good word-of-mouth going on here!
with all the good reviews, my expectations were naturally higher. There must be something about it that made everyone rave about it.
I went to the North Bridge Road outlet and I almost missed the restaurant! It doesn't have a very big store front. Neither is it big inside too. It was really really really tiny! I am guessing that the seating capacity is maybe 15 or 20? definitely not advisable for big groups. Well then again, if you made reservations beforehand, it would seem as if you 'bao' the restaurant. Sounds not bad too.
Gh and I did not make reservations, so it was a good thing we went at about 6-ish. Because there was only 1 table left indoors, located right at the entrance of the restaurant. 1 tiny table I must add...

There were 2 outdoor tables which I didn't fancy much because I didn't want carbon monoxide to be mixed into my food. However, they have an open kitchen concept. Even though they have tried to minimize the smoke released when cooking, but the smell of the food just sticks to your clothes! Not very pleasant I feel. Plus, it also feels quite hot inside!
You have to order and pay for your food at the counter. Food will be served to you when it is ready. Since there is very limited service, there is no service charge, only the 7% GST charge on top of the food prices.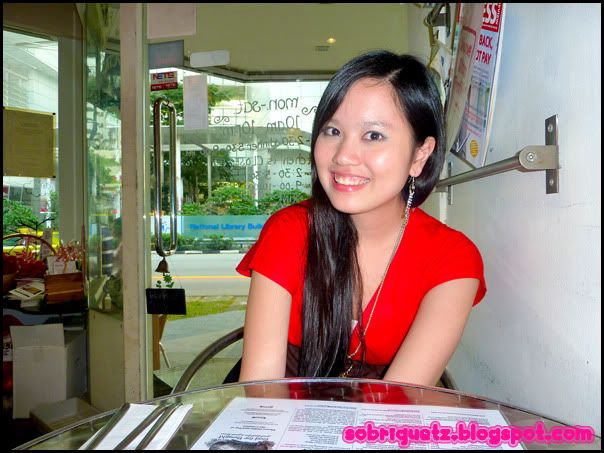 As the food is cooked on the spot, it does take some time to be served. I was slightly disappointed with the ambience of Food For Thought. I was hoping that it will be a nice small and cosy cafe, just like
Bistro One Zero Three
which I love alot! Even
The Ship restaurant
at Shaw Centre is not bad too, though that is much bigger than Bistro One Zero Three and Food For Thought. However, Food For Thought is wayyy too small for comfort!
But the service level at Food For Thought is pretty good. I think it is owned by a family, and they are all quite friendly! In fact, because of their friendliness, I feel kind of guilty criticising on their ambience (but I still did because I wanted to be more objective). Perhaps they are a start-up business, with limited capital to invest in restaurant size? As you can see, service does matter. whether is it just a friendly smile, or a cheerful "Goodbye! See you again!"
Anyway, here comes the fooooood!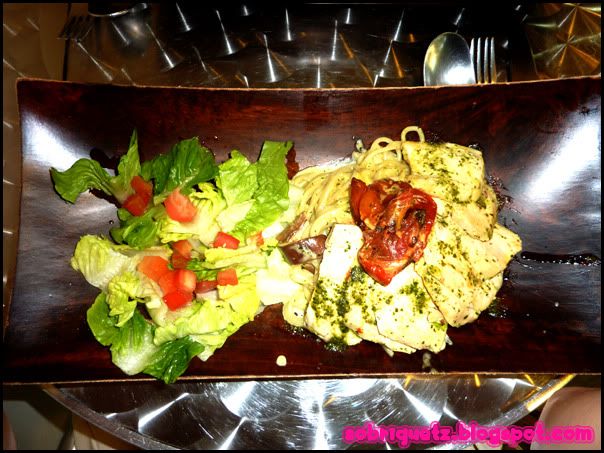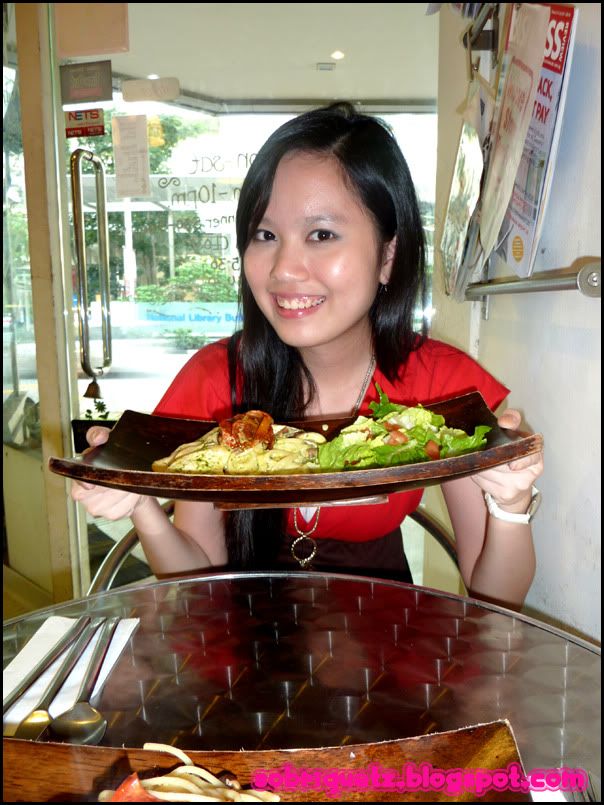 Both the Shitake Mushrooms (second pic) and Basil Pesto Chicken (first pic) cost
S$13.90
each. Gh's mushrooms tasted great! My chicken was kind of dry, I guess because it was the chicken breast part. But it was quite tasty. The serving MAY seem small, but it was really filing!
Overall, I think the food is not bad. The Queen Street outlet has more choices though, but slightly more expensive. Perhaps I'll go there and try out too. Hopefully it is not that squeezy, and to be on the safe side, I will definitely make reservations beforehand.
Food For Thought
420 North Bridge Rd
North Bridge Centre #01-06
Tel: 6338 8724
Email: eat@foodforthought.com.sg