Have you heard of Hada Labo?
I have only heard of it a few days back when I got the products from Fr3b, and I felt that it was quite a mouthful. When I initially told my friends about the product, Hada Labo because Habo Labo, and became Hado Labo, Habo Lado, etc.
But after just 3 consecutive days of using the products, the name will forever be imprinted in my mind:
Hada means Skin, and Labo means Lab, as translated by my trusty translator by the name of Elyn ;) She's a million times more reliable than Google Translate, which gave me the English version of Hada as... Hada. yeah... righttttt. The chinese words are... really chinese words, meaning Skin and Research.
Hada Labo arised due to the collaboration between Rohto Pharmaceutical Co. Japan and The Mentholatum Co (a U.S. company). "Quality, Reliability & Effectiveness" of all its product in its skincare line are ensured. It has been launched in Japan since 2004 (yes I know, I'm 6 years lag on this) and has enjoyed tremendous popularity, with its Hydrating Lotion being the No. 1 Face Lotion in Japan, with 1 sold every 4 seconds! Other accolades include Best Face Lotion in Yahoo Best Cosme Award 2007 and Best Hydrating Lotion by Japanese 'Up' Magazine.



The main draw of its products lies in its one ingredient: Super Hyaluronic Acid.
What is Hyaluronic Acid?
It is a substance which attaches to collagen and elastin. It keeps joints lubricated and also encourages water retention. Due to these two characteristics, it is able to lock in moisture into our skin, and also to keep collagen and elastin moist. This helps to promote a "youthful appearance". Medical research has shown that Hyaluronic Acid can also reduce the appearance of scars, whether it is new or old scars.
So...what is SUPER Hyaluronic Acid?
If I'm not wrong, this is developed by Hada Labo. I googled it, and I only see it in conjunction with mentions of Hada Labo! As the name suggest, it is a SUPER form of the original Hyaluronic Acid, where it can hold up to 6 litres of water! This will imply that your skin will stay hydrated and moisturised for a longer period of time. This will leave the skin "smoother, suppler, and more radiant". Here is an illustration of how it will help our skin: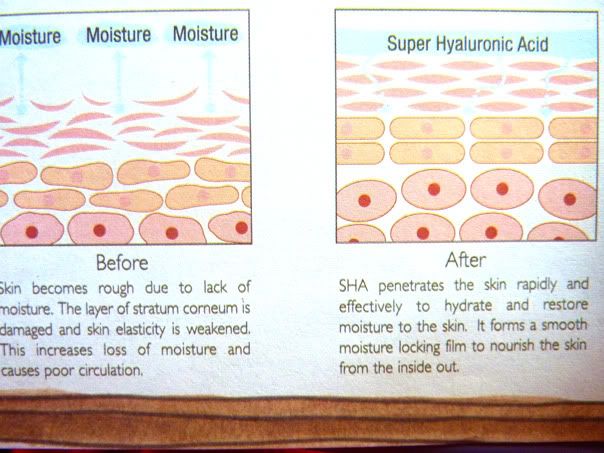 So the day that I got the products (Friday), I immediately started to use it. Here's how the product looks like: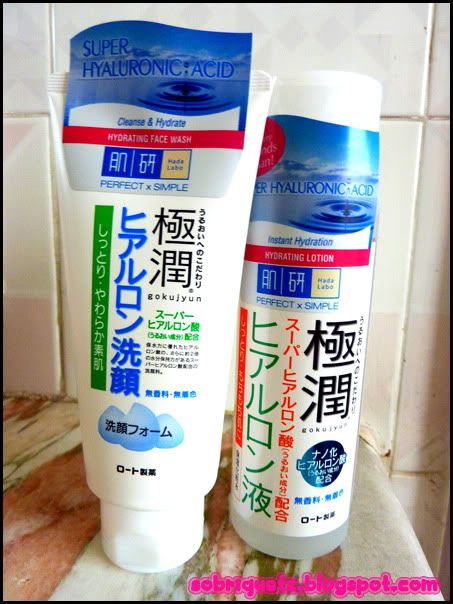 Okay, let's start off with the Hydrating Face Wash. The first few times when I used this product, I squeezed out too much cleanser! It is really very foamy, so just squeeze out a teensy weeny bit! I expect that at the rate I'm using, I probably will take about 2 years to finish up this bottle!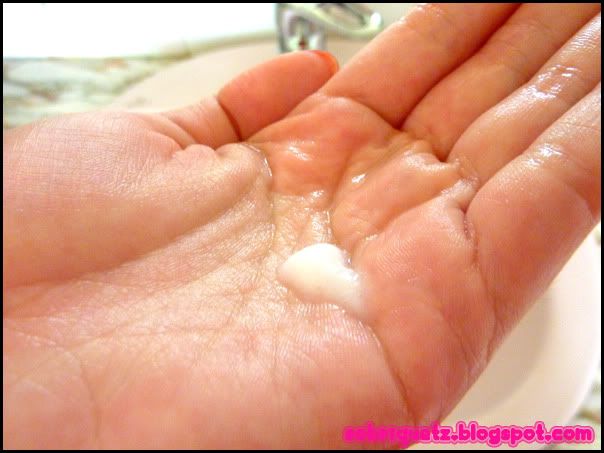 Squeeze a LITTLE bit onto your palm. Slightly less than this amount is also fine.
Mix it with some water and massage it onto your face and neck. It gets really foamy after awhile, but is absorbed into the skin really quickly too! I wanted to take a picture of the foaminess, but no, once I wash my hand and pick up my camera, the foaminess has already been absorbed by my skin!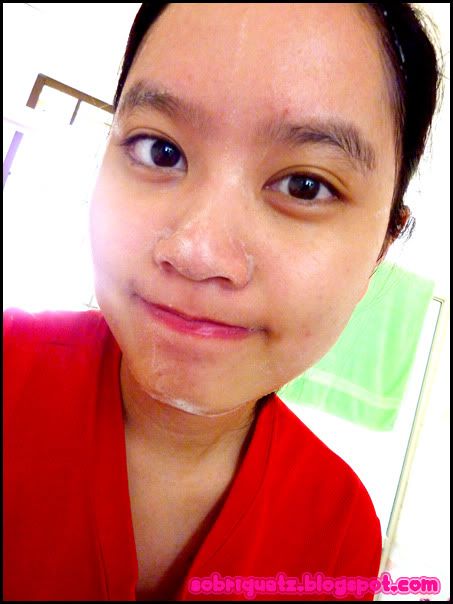 un-foamy look
Though the product is supposed to have no fragrance, there was kind of a scent to it. A clean, pure soap kind of a smell. After days of smelling it, I found out the best description of the smell:
it smells like crushed panadol but without the bitterness of it.
Okayyyy that doesn't sound very appealing, but it really does smell like that! But the smell kind of fades off after awhile, so it's not really an issue to me. After cleansing, my face feels really clean and oil-free. It also feels more supple, the "QQ 的感觉" to better describe it. I didn't feel that much of skin tightening though, unlike some cleanser. This is a more gentler form, where the skin just feels supple, without it being tightened till the point of feeling taut.
Okay next step, Hydrating Lotion! I have really high expectations for this product, I mean, it is sold every 4 seconds in Japan, so it better live up to its accolade!!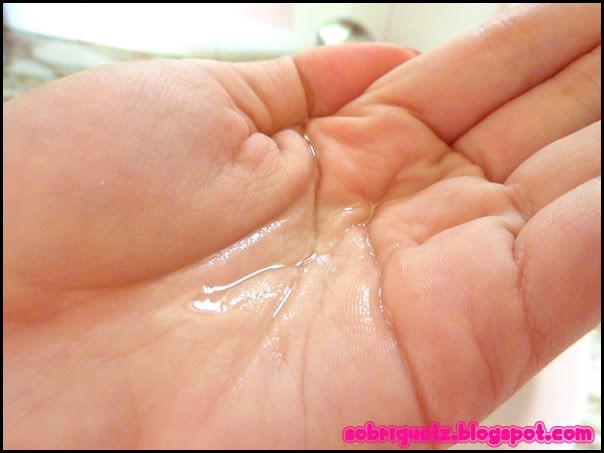 It actually seems just the same as water, I guess with the main exception being the SHA. Just like the cleanser, do not squeeze out too much from the bottle. Okay, not exactly squeeze since the bottle is hard, but just pour out a few droplets and that will be enough! Gently pat it onto your face and your neck until it is absorbed into the skin.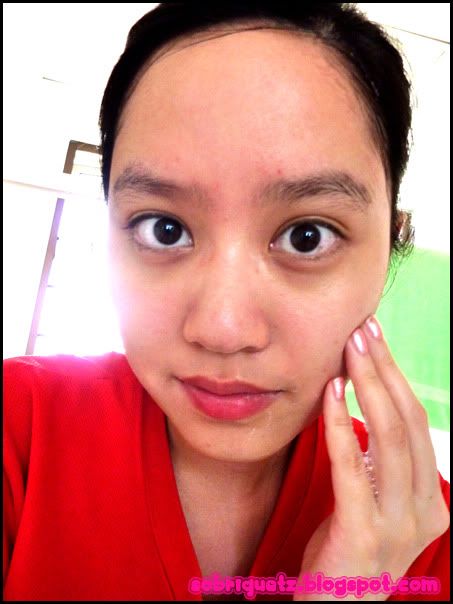 Don't judge me la, I know I didn't do my brows, and I've horrible eye rings :(
After using this for 3 consecutive days, I feel that my skin is getting softer and more hydrated. I actually have this dry patch of skin near my lips, which I have been trying to hydrate and moisturise for ages. I tried to find a picture of it, but it doesn't seem to appear in any of the pictures. It is quite disgusting because this dry patch has been PEELING! yucks maximum.
Previously, I've tried to use La Roche Posay HYDRAPHASE XL Light Moisturiser which provides targeted moisturising to heal that area. But it was of a very small effect and despite prolonged use, it did not seem to cure it! But using these Hada Labo products for a mere few days has actually tremendously improved the condition of that dry patch! It is still dry as compared to the rest of my face, but it isn't peeling nor is it visible anymore!
This Hydrating Lotion is also at a very affordable $22.90 for 170ml! 170ml that can probably last you more than half a year, super duper worth it!
Want to try this Hada Labo Hydrating Lotion first before purchasing? Click on the picture below and you will get 3 sample pieces of the Hydrating Lotion for FREE!
Try it and be AMAZED!
To join Fr3b and get FREE samples of products from companies like Skinfood, The Face Shop, La Roche Posay, Loreal, etc.
Simply click here to sign up for Fr3b, Singapore's First Online Sampling Hub!