Ever since gh brought me to
记得吃
, I've been going back there almost every week to eat! I've brought my mummy and friends there too! So I brought my AM group there for dessert, after that horrible meal at Ebisboshi Shotengai.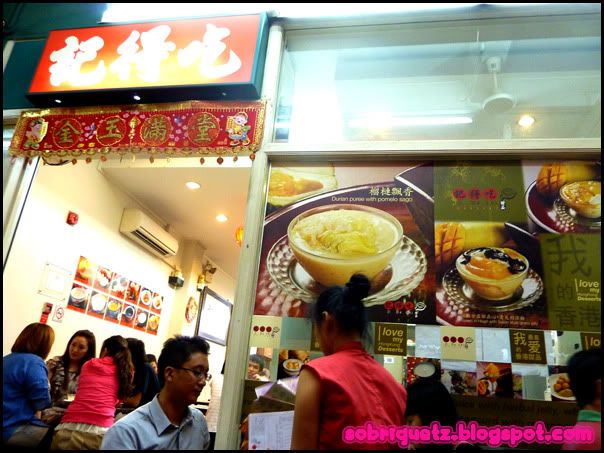 Initially, we went to Ah Chew's (which is just across the road), but upon seeing that there was no ice desserts, we crossed over! Well, technically saying, we took a photo at Ah Chew, looked at the menu, and left. HAHAHA! the waitress must be annoyed! So we ended up at 记得吃!
There is another dessert store beside it which seems much better furnished, but nope, that's not the one! So don't go to the wrong one! At 记得吃 or rather JDC, there are both the traditional desserts, as well as the ice desserts.
Francine' s Strawberry & Mango
Tiara's Sesame Snowy (so organic, haha!)
Daniel's mango and sago if i'm not wrong (boring la, so common, haha!!)
My Durian Snowy
It is evident from the pictures: never order dual flavoured snowy. Look at have my peaky Durian Snowy as compared to Francine's plateau of Strawberry and Mango?! I guess you can't really have the best of both worlds! but the Strawberry is not bad too, I've already tried the Mango before. Daniel's dessert... boring la him :p never try something new! hahaha! Ah peh dessert!
The Durian Snowy was really nice, and it had fresh durian puree in it too! It is of course not they didn't use like the BEST durian, but it was good enough! I'm usually quite afraid to order such durian stuff, not because I do not like durian, but too much durian gives me a sore throat. But this was fine, it didn't feel that heaty. Tiara's Sesame Snowy was qutite...different. It didn't taste that bad to me, but it was just different. Hahaha, Francine made a comment that Tiara eats organic food, and it just stuck. I also started commenting on her organic-ness, HAHAHA! no offence la, friendly joke kz :)
After dessert, we decided to head back already because Tiara and I had work the next day. Work takes up much of my life, but soon, school will take up EVEN MORE of my life.
Because I'll have.... no life.
Address:
8 Liang Seah Street #01-03 S(189029)
Tel: 63399928
Opening hours: Tue-Sat 11am - 11pm