our Asian Markets (AM) group haven met for some time ever since Martin left Singapore. It so happened that Tiara left me an MSN msg so I decided, why not organise a dinner to meet up and catch up? This AM group was an allocated group, which surprisingly turned out to be great :) Somehow whenever we meet up, I'm always trying new food! Like the other time when we went to
Imperial Treasure
for dinner, that was actually my first time there!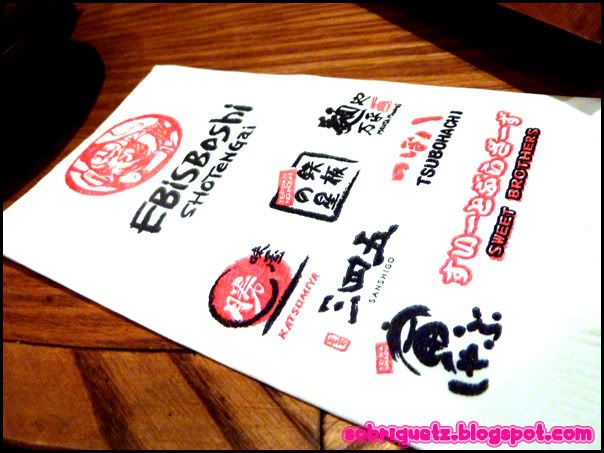 We decided to meet at Illuma to try out some of the food there and we chose Ebisboshi Shotengai. It is quite confusing. Though there is just one entrance, but it actually consists of 7 outlets. The main ones are:
Tsubohachi

Teppan No Hoshi

Tora Shabu
while the other minor ones are:
Sweet Brothers

Sanshigo

Katsumiya

Menya Manpei
There was this waiter at the entrance who gave us flyers of the 3 main restaurants, and we decided to choose the Teppan No Hoshi which seems to be the most value-for-money teppenyaki meal (keyword: SEEMS)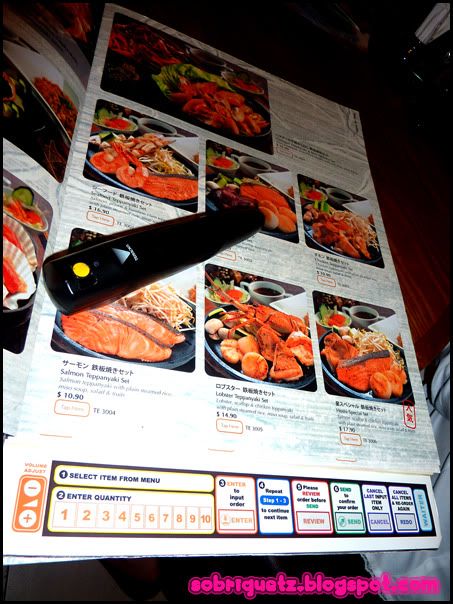 Ebisboshi Shotengai has quite a unique ordering system, where it uses a Deli-Touch Wireless Self Ordering System. All you have to do is to tap at the boxes underneath the food, choose the amount and you can confirm it. The pen will read out your orders to confirm. The boxes are actually not very sensitive, you have to "colour" the boxes abit before the pen gets the signal. The pen gets kind of irritating after awhile, and you just order faster and faster so that the pen will shut up.
Here's Francine with her new nikon DSLR! I want a Canon 550D when I have the money! I realised that cameras are not something that we should save on, because it captures the pictures of our memories. Memories which we may never ever go back to again.
Tiara's Salmon Teppenyaki Set - looks bad, tastes bad.
Francine's sashimi
my spidercrab handroll tasted normal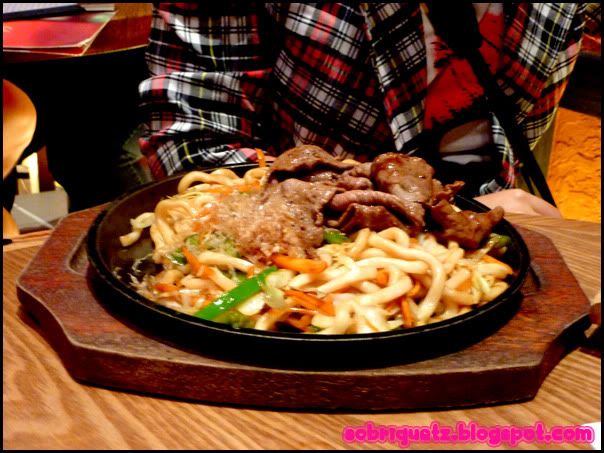 Beef Udon which was so bad that Francine and Daniel had trouble finishing it up
The okonomiyaki,which I forgot whether was nice anot. I think it is just okay
My lobster teppenyaki was not nice at all - came with lobster, chicken and scallop
This is a place in which I will never ever ever go back again. The food is bad, though service is not bad. The food was overall like a plate of salt. Yucky salt, I must add. However, when we feedback about the saltiness to the waitress, she was very apologetic and said that she will feedback to the chef about it. Thumbs up to her for her humbleness and not giving us any attitude!
Another thing to complain about will be their membership card. You will receive one stamp for every $20 spent. With 1 stamps, you will get $10 off your next visit. Yup, these all seems fine, though the final offer of $10 off seems pretty pathetic. But the thing is this: it is only valid for 2 months from date of issue. I don't see that I will be spending $200 there in 2 months unless I bring a very big group out. How often is it that you go back to the same restaurant within 2 months anyway?! This clause is really quite ridiculous. and pointless to, I must add. I can expect that in 2 months time, I'll be throwing away that membership card already.
Conclusion: go at your own risk, don't say I never warn you
Address:
201 Victoria St #04-08/09
Iluma @ Bugis Singapore
Tel: +65 6238 1011
Opening Hours: Sun–Thu: 11am – 10.30pm , Fri–Sat–PH: 11am – 11.30pm
Website:
http://www.ebisboshishotengai.com/