So after the
Live It Up
event, I went to meet my family at Promenade MRT to head to the Singapore Flyer. We wanted to catch the evening sunset, hence we went at around 6+pm.
Because of the Nuffnang NFC Contest which I
blogged about previously
, I won 7 tickets to the Singapore Flyer! Thank you Nuffnang! :) Ever since I joined on 3rd January 2009 (but I wasn't active until around July/August 2009 after I came back from Sweden), I have enjoyed all the free movie passes and some events :) Not bad for a blog not visited by many eh.
Picture of Singapore Flyer
The Singapore Flyer is a place that I have never been too. I have never considered going because of the high prices and the on-going construction work at the Marina area. No way was I going to pay
$29.50
per adult to go and see some construction. But due to the NFC contest, I finally had the chance to go onboard the world's tallest observation wheel! I've been on the London Eye before, so I could do a comparison on it.
Yay, complimentary tickets!
It was timely that my daddy was back at that time, so we went together with Uncle Peter's family for the Flyer. We had to purchase an extra ticket because Uncle Peter wanted to bring Ana (their maid) along. I think that was a really nice gesture. How many Singaporeans these days actually treat their maid this nice? When my mummy told him about the tickets, he immediately called me to ask whether can they purchase another ticket for Ana, because she has been in Singapore for quite long, but have never been to such places. So he bought an extra ticket online, where there is a 20% off.
The back part of the flyer, I seldom walk that side so I have never seen this angle before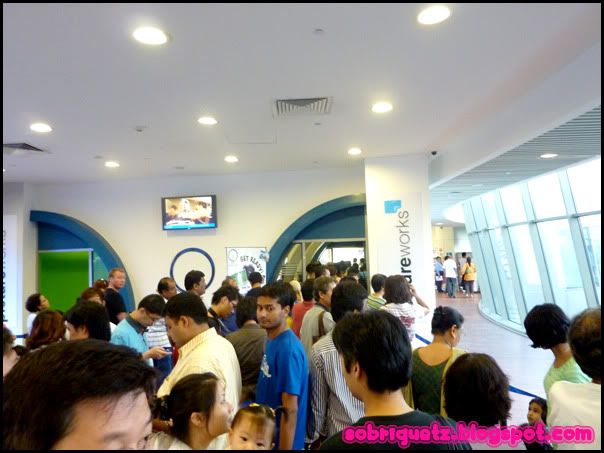 As it was the designated Family Day and also a Saturday, there were quite alot of people there. As usual, there will be a phototaking point, so as to entice people to purchase the photographs after the ride. Well... I never ever buy those! It's so expensive! I rather take my own photos! However, it is pretty worth it if it is a huge group. Because you can buy the softcopy CD for
S$25
and then distribute it from there.
I always have some fear that I will not be able to step into the capsule on time. What if it just goes off and not everyone is in it yet! I wonder whether that has ever happened before, perhaps that is what the net is for. In case someone steps up the capsule but never manage to enter on time.
My parents and I, all decked out in PURPLE.
I think there was some celebrations at Marina Barrage too!
muahaha i love my powerful camera zoom. This isn't even the maximum zoom yet! However, I need really steady hands, which I don't have.
Marina Bay Sands
From this angle, it doesn't look like a tablet. I think one thing that the Singapore Flyer pales in comparison to the London Eye is the lack of glass windows specially for phototaking. I'm sorry to say this, but I think the London Eye looks much better and it definitely has a better view compared to Singapore. When I was on the London Eye, I complained about the few things that I can take pictures of - with the Parliament House and the Big Ben being the most prominent. Singapore lacks these really iconic buildings. The Esplanade looks tiny from the top, and I'm not really interested in taking photos of the NTUC Union building.
But overall, it was still a pretty beautiful ride, if you look at the entire skyline.
A country that I will never leave :)
If gh was on the ride too, there will be many more lame pictures like this!
grrrrr, i hate the reflections!
the sunset was still not very prominent at that time
I can't wait for the MBS to be fully completed, I hope it will be beautiful (doubtful)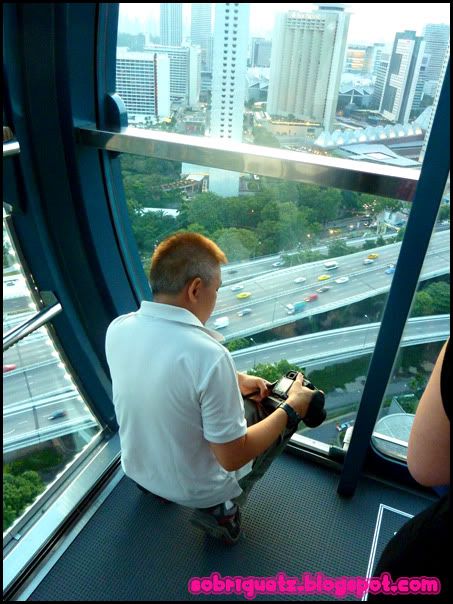 Uncle Peter was snapping loads and loads of photos, and telling me to change different angles of taking. When I start working, I'm gonna buy a DSLR so that I can take even prettier pictures! I think my current Lumix TZ7 is not bad, but it could be better, in instances such as low light scenarios.
Daddy's shaky hands, I prefer the first picture actually!
I always have to angle my face at one side so that it will not look too round. Haiz, Bioessence Face Lifting Cream, please do your miracle! I want V-shaped face too! I havent been putting it for awhile though, too lazy :(
Our group picture!
after that, we walked along the marina area for dinner at Glutton's Bay beside Esplanade. After so long, I havent been on The Helix yet! In fact, we didn't walk on The Helix either, because daddy was really hungry, so we just walked past it and took some photos.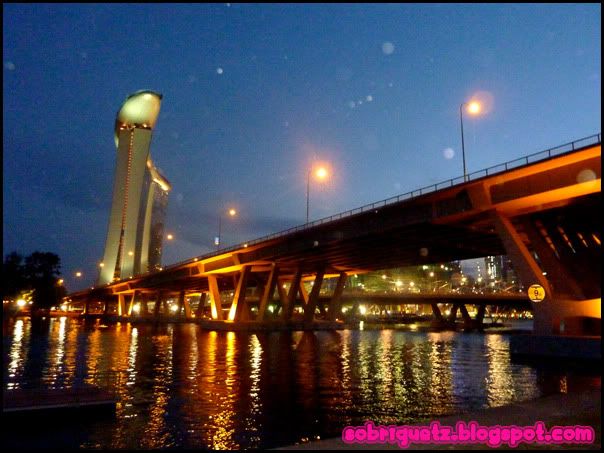 I don't understand why there are these white spots appearing when I take some night shots. Why why why! I think they ruin the pictures!
Finaly shot of the Marina Bay Sands and The Helix. I havent been to MBS yet, and I really doubt I will go there anytime soon. I wanted to watch The Lion King Musical there in October and I even told gh to save money for it ever since last year! Now, I seriously have doubts, considering all the controversies and the problems that it is having. So much lawsuits going for the MBS.
Who ask them so kan cheong to open? What's wrong with opening one month later and ensuring that everything is in top notch condition? There is no competition to open earlier, since RWS is already long opened. So since MBS could not compete based on the first-to-open factor, then make sure it competes based on quality!
原来 angmoh 也是很 gan cheong / kiasu 的人. 没有听过"龟兔赛跑"的故事吗?