haven been blogging for ages because I've been so busy with work and preparing for my parents' wedding anniversary! If you are on my facebook, you will have probably seen the photos already!
But let's back log here,
so that I will not miss out on any part of my life.
Backtrack to 1 month ago, I went for KTV session at Ten Dollar Ktv with the NUS peeps. People who went were me, gh, clara, mel, xf, hy (or rather, carolyn yeo now), melv and vince. Charles was unable to make it due to his biz case due. We sadly did not take a group photo, and all my photos turned out blur that night. My camera doesn't work that well without flash, perhaps also because of my super unsteady hands. There is actually a low light setting, but it has alot of noise in it, and I don't like that!
Astonishingly, people who went that day didn't know of Ten Dollar Ktv! Well, as the name suggests, it only cost
$10++
, and includes free flow of drinks plus a bowl of shark's fin (sometimes it is nice, sometimes it is yucks). It is located in Chinatown Smith Street, along the roll of shophouses. We only got a medium room as we had only 9 people, too bad we didn't get the large ones, it is wayyy better!
On 19th May, I went to watch The Last Song with Stephen, Jian Hao and Jerry. Raine was supposed to join us as well, but she had the POCC event at the last minute. So okay lor, just go with them. At least I met Stephen and Jian Hao before, while Jerry was a new friend. We had dinner at Xin Wang Cafe where I realise the food standard is just going down and down. Then after that, we headed for the movie!
I really liked The Last Song. Perhaps because I was totally in the mood for a sob movie, and I think I cried for about half of the movie. Or rather, tears just kept streaming down my face. While beside me, Stephen was laughing away at the show -__-" eh Mister! It is super EMO okay! The storyline is super cliche, I didn't have to read the book to know right from the start that the dad was ill and dying. But the guy was DAMN HOT! Me like me like me like!! :D
I realise that most of us stay near each other! Well, actually it's just Stephen (AMK) and Jerry (Khatib) while Jian Hao stays in the East. but I think there are other bloggers like Joyce (Yishun) who stays near me as well! It's quite rare to have people staying near me. Most are staying in the East or in the West! It's nice to have people to take the train home with me :)
Anyway, look at the above picture again, did you notice something weird about it?
COOL EARRING THAT JIAN HAO HAS! HAHA! Actually it's some art work on the pillar, and his face was positioned so well that it looked like his ear! I forgot to on flash, so the picture is kinda blurred with noise, else it would have been even clearer!
Fast forward to 24th May: I had dinner with mummy and aunt jeannie to celebrate aunt jeannie's birthday. This is the first time we kind of celebrated though, but I thought that it will be nice to do so, since she is alone at home ever since my ah gong passed away. We just had dinner at Ang Mo Kio Ave 5 the 香港街 zhen ji. I forgot how the Zhen Ji is supposed to look like, I think it is Zhen Gui that Zhen, but oh wells.
The next day, 25th May, I had dinner with mummy and my ex-babysitters at Sembawang Shopping Centre's Prosperous Kitchen. I have not met them for a super long time since I was away in Sweden, and because of my ah gong's death and some superstition. But anyway, we finally met for dinner to pre-celebrate my birthday! It is a yearly thing that we always do.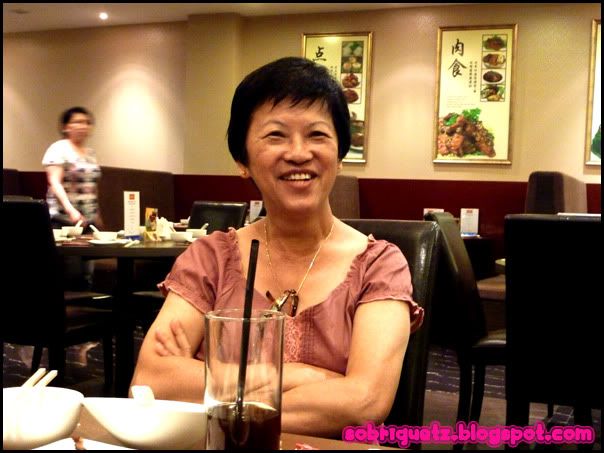 My ex-babysitters took care of me ever since I was 1 month old till around 4+ years old. Because my parents were very busy working and flying here and there, so they brought me to my babysitters house and they took care of me. They really love me alot and treat me as their goddaughter. I call them my Papa and Mama. My birth parents are called Daddy and Mummy, so I kind of distinguish this quite carefully. At 4+ years old,I moved from Yishun to my current house in Lentor and thereafter was taken care of by my maternal grandparents.
Seeing the above photos, I realise that they have really aged and are now around 60+ years. I think I need to visit them more often and be more filial to them. After all, without their meticulous care, I would definitely not be what I am today. For my birthday, Papa burned a disc of photos which he took from me since young. He did not know how to use a laptop, but somehow figured out how to burn a disc using his dvd player and the help of his camera and camcorder. It is pretty amazing, and really touching!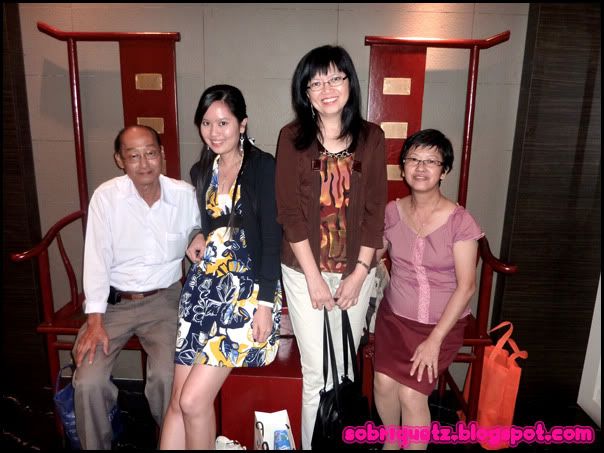 Then the next day on the 26th, I met up with debbie for dinner at Ramen Play (313@Somerset) and to watch Shrek Forever After. I think it was the first time that I talked to debbie for so long, and possibly the first time that we went out together, just the two of us. I guess it is the first time that debbie saw another side of me, because I told her quite alot of my troubles, stuff which I have never mentioned before. I was really upset that day, having held my tears all throughout the day at work. Though I also didn't cry in front of db, but it was nice to have a girlfriend to talk to :)
Because it is times like this when you finally realise,
Family > Friends > Boyfriend and not Family/Boyfriend >Friends
though I guess in the ideal world, it should be Family = Friends = Boyfriend, but nothing is ideal.
Okay, this is the first of my after-hiatus updates, I'll update somemore later!