After yesterday's glorious dinner at
Palm Beach Seafood Restaurant
, it was back at Equinox Private Dining Room 4 for
Day 2
of the Heinz Teambuilding session. This time, we had to reach at
8 am
, so I was really really tired! I'm not such an early morning person, and I knew that my day will be kind of ruined if I had to wake up so early.
So I immediately took coffee after coffee at the Equinox breakfast area. But still, that did not prevent me from falling asleep during the presentations. I'm sure everyone saw, but I really couldn't take it anymore! My eyes just could not stay open! And because we overrun by 2 hours again because of the presentations, one HR section was cancelled. This time, we definitely had to leave on time because other foreign colleagues had a plane to catch at about 6+pm.
The highlight of the day was the semi-buffet lunch at Equinox. I had eaten at
Equinox previously
, but that was for the
high-tea buffet
. Which overall was okay, but not totally wowed over by it.
But the semi-buffet lunch was another story...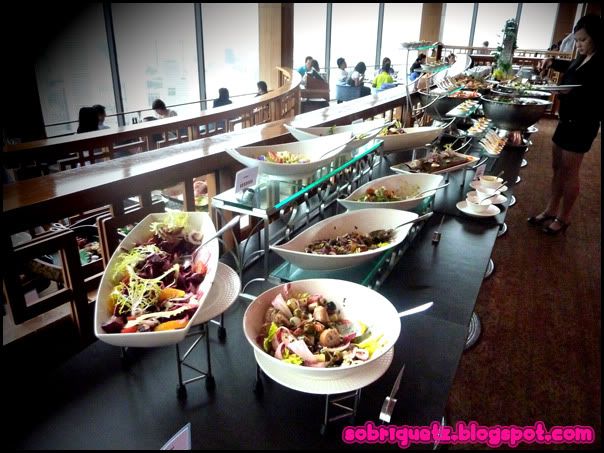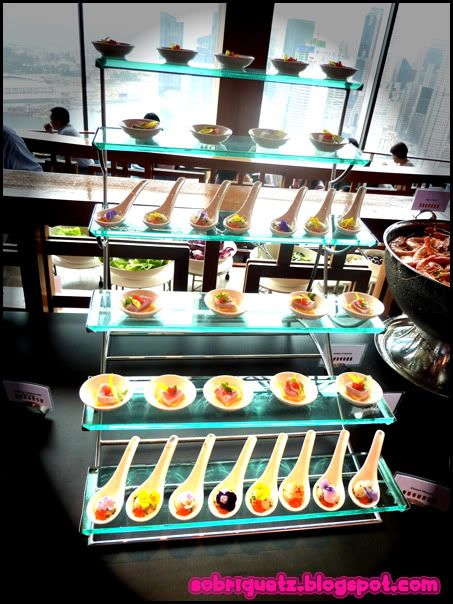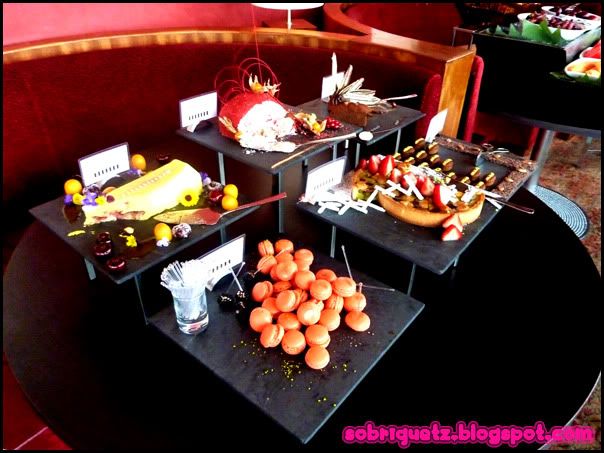 This is the typical layout of the equinox buffet. But what really caught my eye was this: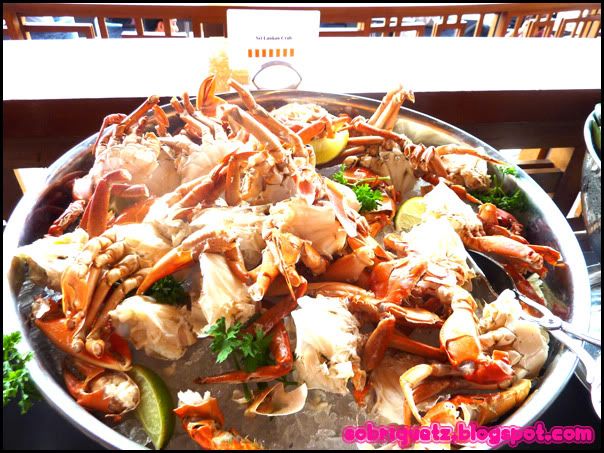 One whole bowl of sri lankan crabs! Steamed and cold, and absolutely AWESOME! :D if I had more time to eat, I'll definitely be eating much much much more! But sadly, we only had 1 hour yet again.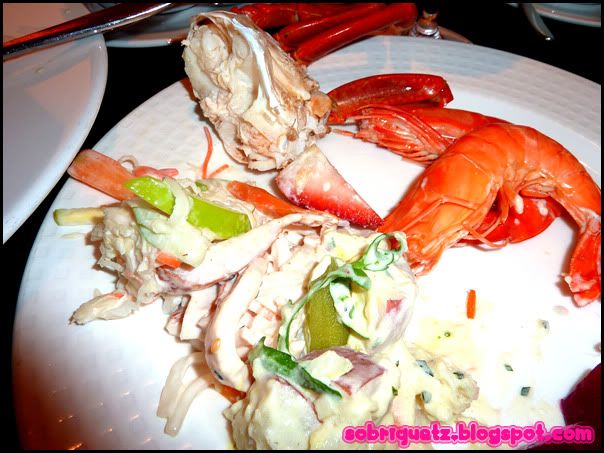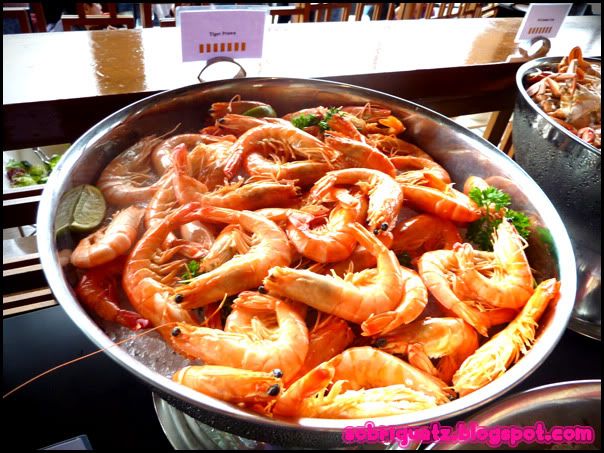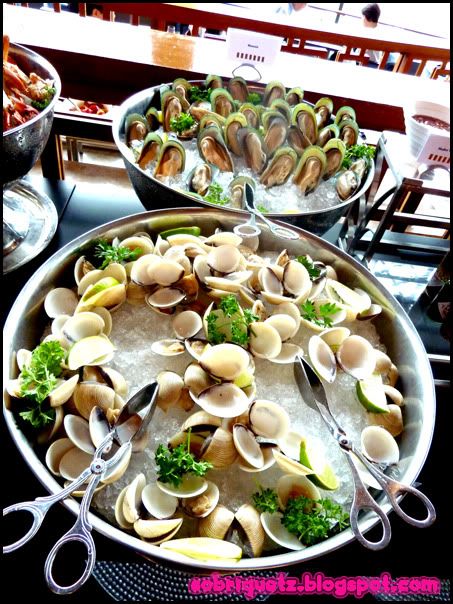 Because it was a semi-buffet, we also had a choice of a main course. I chose the pasta egg with mushroom dish. Many of the rest chose the steak, in which they said was really really good! Cooked to perfection, and it was such a big slab!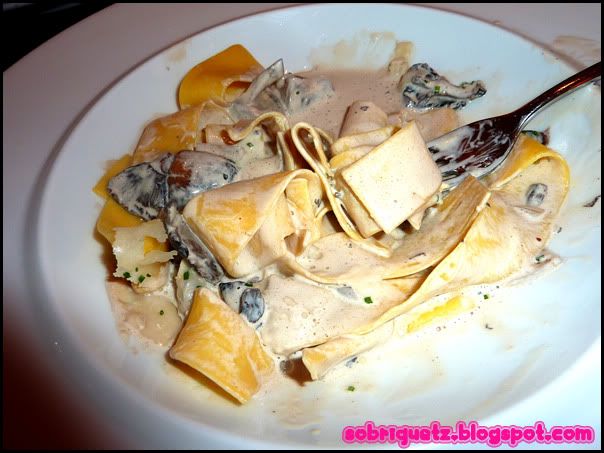 The pasta was really great as well, but I was more interested in the crab. I eat crab very slowly because I will eat it until it is really clean. So I didn't have time to take more :( upsetttttt! :( super wasted!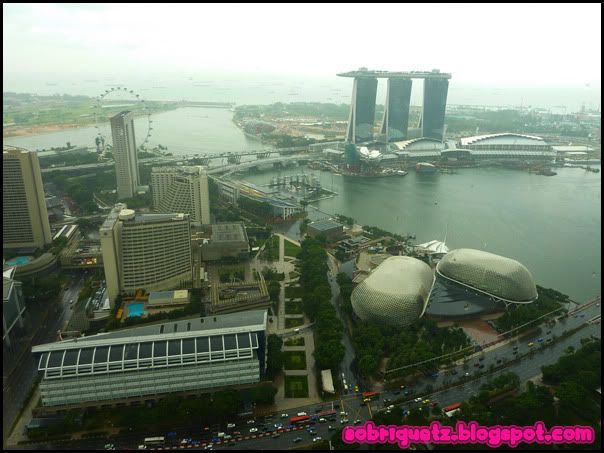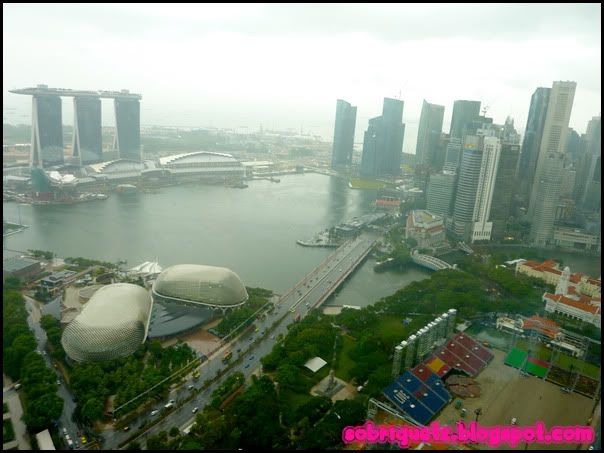 I did however take some time to take the scenary, since that goes into the cost of the meal as well. But it was raining and cloudy yet again, so after 2 shots, I decided that it was a waste of my time and more time should be dedicated to my crab instead :D
After that, it was back to the Private Dining Room 4. After somemore talks, there was this 4 boards where we could put what we liked about the session, what we think needs to be done away with, what can be improved, and what trainings should be implemented. Well, of course I had alot of thoughts on this, but I really didn't want to complain. But after waiting for awhile, the urge to just speak my mind led to me writing on a post it and pasting on the complaint wall as well.
Well, of course we all need some feedback for improvement, right? That marks the end of our teambuilding session 2010.