I have always thought that it is a super expensive place and that I will not be able to afford the food there. Another reason was that I am simply too lazy to walk the bridge from esplanade all the way to One Fullerton. But now, I think it is a good idea to head to One Fullerton, if I want to take a nice picture of the Marina Bay Sands.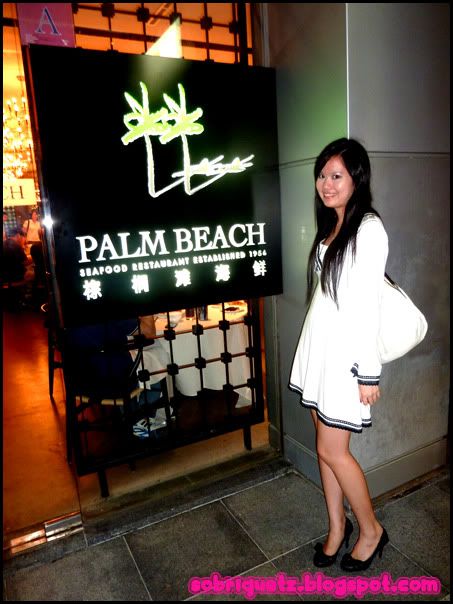 I'm loving my white dress, lots and lots :)
The atmosphere at Palm Beach was not quite what I expected. I expected it to be a super high class restaurant. Based on the table setting and the lighting, it really seemed to be. But it was too small an area, so it was really too noisy! It didn't exude that high class aura with that coffeeshop noise. Not really a place for a date, more like for a big family/friends/corporate gathering.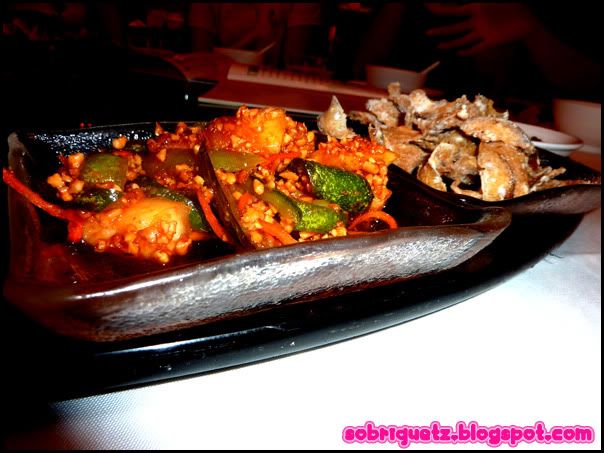 I was super addicted to the ikan billis, perhaps because I was really hungry and the food was taking ages to come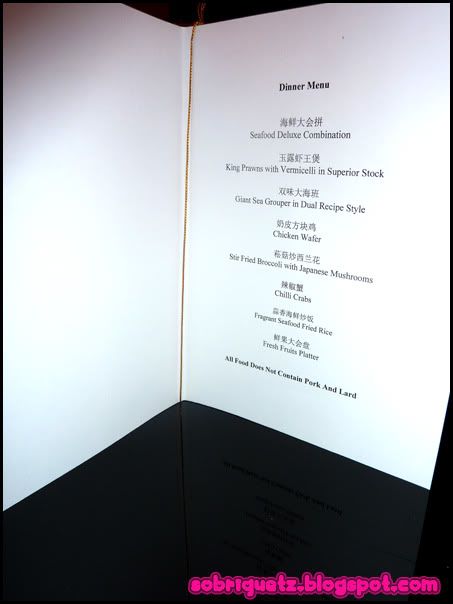 Our Menu
Here's our menu:
1) Seafood Deluxe Combination
2) King Prawns with Vermicelli in Superior Stock
3) Giant Sea Grouper in Dual Recipe Style
4) Chicken Wafer
5) Stir Fried Brocolli with Japanese Mushroom
6) Chilli Crabs
7) Fragrant Seafood Fried Rice
8) Fresh Fruit Platter
I was so happy on seeing the menu, because I can eat everything! :D Usually there will be some stuff like duck, beef, mutton, pork, in which I absoutly hate and do not eat. But here... PERFECT :D of course there's still sotongs and oysters which I don't eat too.
The crab and prawns were really AWESOME! my colleagues said that the oysters were really big and fresh too! aww.... the crab! :D they do not really seem to eat much, and I was abit paiseh to take too much either. But I really wanted to stuff all that crab into my mouth! Subsequently, they didn't finish it for a really long time, so I just took the crab and put it into my mouth *satisfied*
This was fantastic as well! the chicken broth based soup was really nice, and the prawn was really DA KING! It was huge and fresh!
me loveeessss fish as well! Fish is what gives us brains, so we need to eat more fish. more more more! And I love those type of "wedding dinner fish" as I call it, mainly those sea bass and groupers in which they steamed it. As the name suggests, this groupers was cooked in two methods, steamed and deep fried. Both tasted great!
This was really nice as well! the cashew nuts made it really fragrant and crunchy. The meat was all really good. Too bad we didn't finish this. I was quite sure that my stomach has space for a few more, but I didn't eat it. We had to wrap it up, like how peking duck is being eaten. So Yvonne demonstrated how to eat it.
Woah, this fried rice was really impressive as well. Better than the one that I ate at Imperial Treasure! Every mouthful, you will definitely bite into fresh crab/prawn meat! Hmm, I can't remember which meat it is, perhaps it was lobster. But it was super shiok to eat this! They really didn't cut cost by just having a few pieces of meat!
Before Dish 6 came, we already knew what was coming up, because they distributed this to us: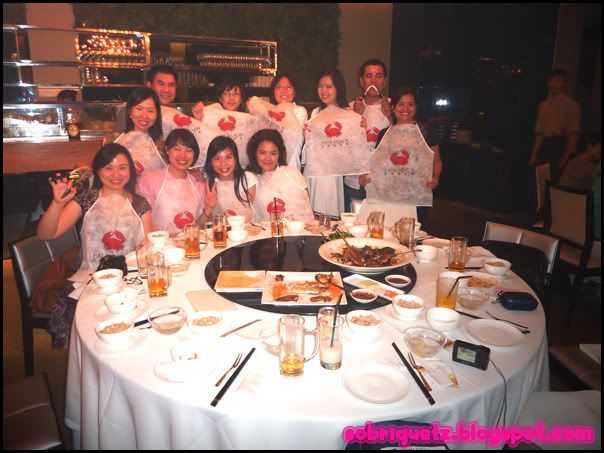 The waiter really doesn't know how to take photos...
It was really hilarious! I've never seen this before! We were all very sporting to take photos with it, and some angmohs were laughing at us and taking photos of us as well. This bib really came in handy for me, as I was wearing a white dress! There's no way I'll want it to be stained with chilli crab!
After our meal, we decided to take some photos at the merlion area. Aish joined us for dinner too and I took the opportunity to take a photo with her, since she will be leaving for good already.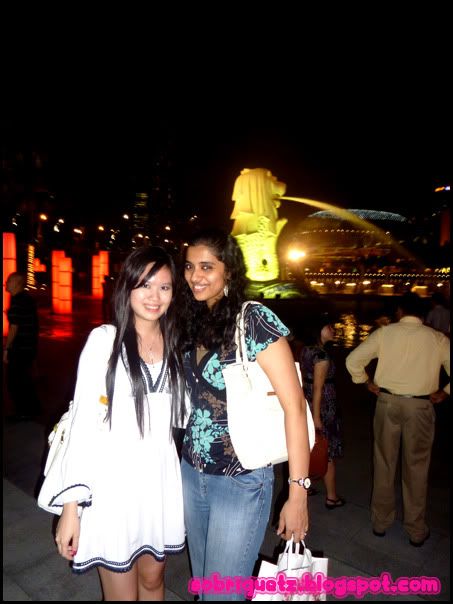 Tracy & Aish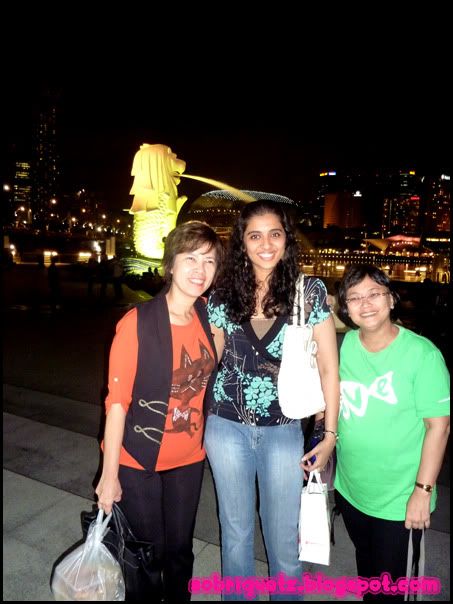 Yvonne A, Aish, and an Indonesian colleague
The most fun part of the whole day was the Singapore Flyer and Palm Beach. And of course all the taking of photos. And this concluded Day 1...