on 30th May, my parents celebrated their 25th anniversary!
It's nice to celebrate anniversaries, though there is no need to celebrate it every year. It may seem like yet another day, but sometimes, it is nice to pause and recollect all the good memories, together with trials and tribulations which led to today. I like to reminisce on the past, though sometimes that may not be such a good thing.
I had initially wanted to plan this whole thing myself. But my mummy was pretty irritating, she kept wanting to give suggestions, ask me to do this and that instead. I wanted it to be a surprise, in the end, there was no surprise. Preparations for the event started 2 days ago, when gh came to my house to help me do the balloon stands for the event. We had initially wanted to do the balloon arch, but to do the arch part, we needed helium, which is super expensive, and way out of my budget. Hence, we just did the balloon stands, with a heart shape balloon on top. Hmm, I realise my uncle didn't take a picture of it. It was no mean feat blowing 100 balloons, but my daddy helped as well. Aside from this, gh also helped to cut out majority of the letters on the banner. I wouldn't have been able to do everything without him.
My initial plan was to make it like a pseudo wedding, where there is dry ice and my parents will walk in, and my family will present them with 2 watches to resemble rings. Well, but that didn't materialise. Good thing I didn't do that too, because everyone came at different timings, it would have been too hard to manage.
It was also the first time that gh will meet almost all my family members. But I was bathing when most of them came, so I think he was very very awkward. I really tried to bathe very fast and to rush down already! Subsequently, I wanted to accompany him more, so that he will not be left out, but I was called here and there, and seowmin kept sticking to me too. Oh well, he has to fend for himself la :p
Everyone eating away, we had 3 tables
tracy & seowmin
I don't really know why seowmin likes to stick with me. I'm not really good with kids, feel abit awkward around such young people. I don't really have that much experience interacting with young kids. But I like kids! Seowmin is really very smart and cute :) except when she plays with my hair, me don't like!
I was classified as the by-product of my parents. Then my Er Gu told my daddy that by-product is like some waste matter -_-" then everyone laugh at me! haiz. Aside from the food, I also did a video show of my parents, from last time till now. Most of the pictures have faded and turned yellow or reddish. But I think I was really cute when I was young! Perhaps I'll post photos of baby tracy on facebook or on my blog soon.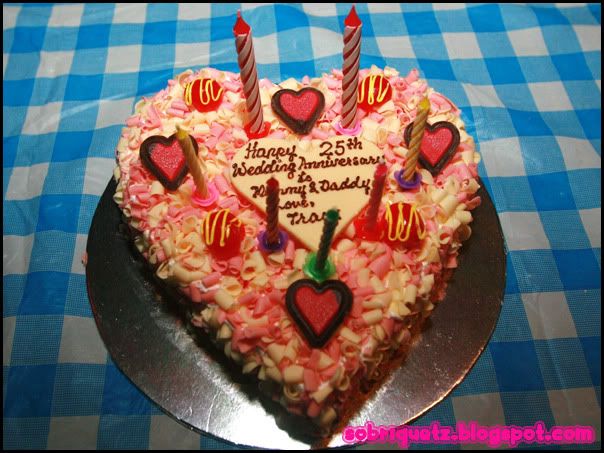 Our cakes from Dino
Seowmin was still sticking to me, so it appeared as if we had a new addition to the family. Then everyone sang happy birthday, and converted happy birthday song to happy anniversary song too.
Then my aunt propose a fake toast, 3 yam sengs to the couple! Haha, it was quite hilarious, because no one had drinks on their hand, so we just faked it. But everyone was quite sporting to follow along!
Finally, it was present opening time! It was quite impromptu la, but I wanted everyone to see the present that I was giving my parents. I spent 10 nights rushing to finish it! Every time after work, I will hurry eat and lock myself in my room to do. I can't believe my mum never manage to guess what I was doing though, it was quite obvious what! Plus sometimes I forgot to keep my thread.
Nice right? I'll post clearer up-close pictures of the cross stitch in another post. There are also beads on the bride's gown. Intially I thought it looked awkward, and I think it is because the shop gave me the wrong size of beads. But in the end, it all turned out well. I like the framing too, with the internal heart framing as well. It cost me a bomb though, but I think it is worth it. Now it is up on my parents' room.
Other relatives gave presents like some osim massager and angpaos too. Gh also bought present, he bought 2 boxes of Royce! I was super happy and gan dong that he did something, because I really didn't expect it! I thought it was a really nice gesture! Sadly, he bought milk chocolate instead of dark chocolate, mummy prefers dark chocolate. He very paiseh to say that it is his present lor... haiyoh, paiseh what la. then I had to tell mymummy for him. apparently he said he told my daddy la, but tell daddy no use one la, he dunno how to react to it what! tell mummy is better!
I wonder whether other relatives will follow suit with the celebrations of 25th anniversaries. I think they should! Even though it may cost abit, but I think it is worth it to recollect the past, and also serve as a big family gathering for everyone. It is nice that both my mummy and daddy's side of the family knows each other. This is something that will definitely not be common in my generation.