If you read The Sunday Times, you will have notice a tiny one-eighth page article with pictures of people in some blue and orange tees. If you bothered to read closely, you will know it's all about:
The Great Audio Experience, part of the Live It Up Without Lighting Up campaign by Breathe.sg!
This is a campaign that I will definitely pledge to take part in.
Smoking to me is... WRONG. I can understand why the older generation smoke, because most of them were not really educated in NO SMOKING. but for our generation, we have been educated about it since primary school. So everyone should know the cons associated with smoking and the dire effects that comes with it. But nope, teenagers these days still smoke.
I really don't get it. Just for that MOMENT of being high, are you willing to potentially sacrifice YEARS of your life assuming you get lung cancer?! I would think that any logical person will not smoke. I'm glad that all my close friends do not smoke though. I know one nus friend who has succumbed to it, and I'm really shock about it. If we were closer, I would scold the shit outta him for smoking!
Okay, those are my angsty thoughts regarding smoking. Now let's here Breathe.sg's reasons for
"Why Live It Up Without Lighting Up?"
For Better Looks - A person who smokes a pack regularly is estimated to look 1.4 times his/her actual age.

For Better Fitness - Research has shown that a runner who smokes 20 cigarettes a day is unable to beat a non-smoker 12 years older!

For Better Spending Power - A non-smoker saves $4,000 a year more than someone who smokes a pack a day.

For Better Environment - Did you know that a tree is destroyed for every 300 cigarettes produced?
so on 29th May, there was a sort of flash mob at 3 parts of orchard road. I followed the Heeren route!
(I thought I was early, and still went shopping at f21 first, end up, I wasn't so early after all)
with Taqinah and Stephen
Little iphone look-alike
to be in line with the name, the great audio experience, we were given little radios, where we had to tune in to 98.7FM where mister young will be giving us instructions on what to do. Well sadly, it was abit difficult to tune in...
see la, so much problems tuning in
me looks super odd actually, cos i just wore over the shirt, and i was wearing a purple skirt
At Heeren, we did some Simon Says thing, and I couldn't really hear properly, and I forgot how to play Simon Says! I thought I'm only supposed to do the action when Simon Says! omg, yes i know, I've no childhood! At orchard central, we did some pose off thingie, haha no one was very sporting though. No top models here, haha!
Guys were supposed to do some cool pose!

me and joanna

erms, this is the backview of the emcee, hahaha!
Then at Istana green, we were supposed to approach some strangers to tell them about the Live It Up message, but sadly, there wasn't anyone around, except for 1 tourist.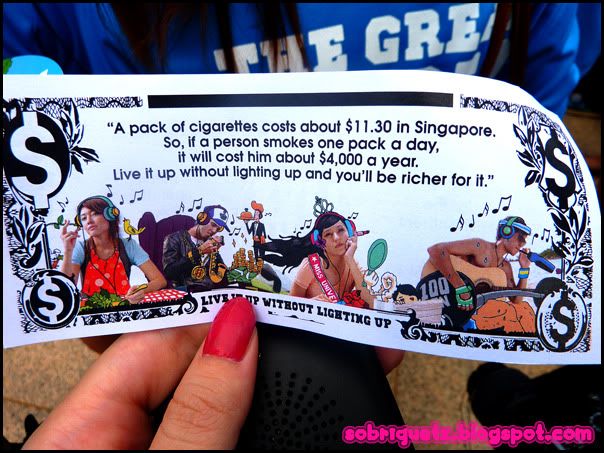 Then we all headed back to Plaza Singapura, and all the other groups headed back too. There were like a thousand participants in this! WOOHOO TO NO SMOKING! :)
ME WANT ORANGE TEE!
back at the PS tent, daniel ong was hosting and the guest of honour was dr vivian balakrishnan (i'm super sure that i spelt it wrongly!)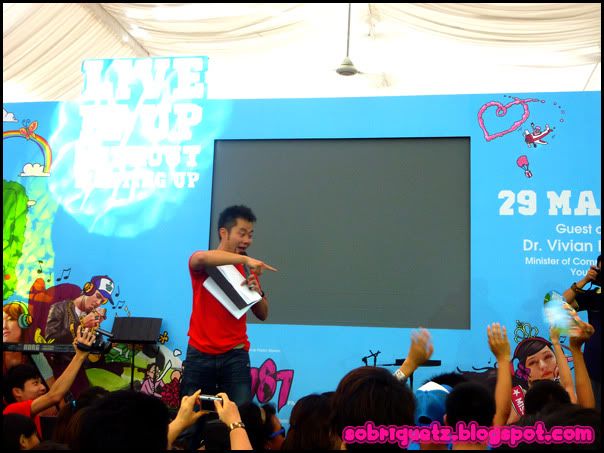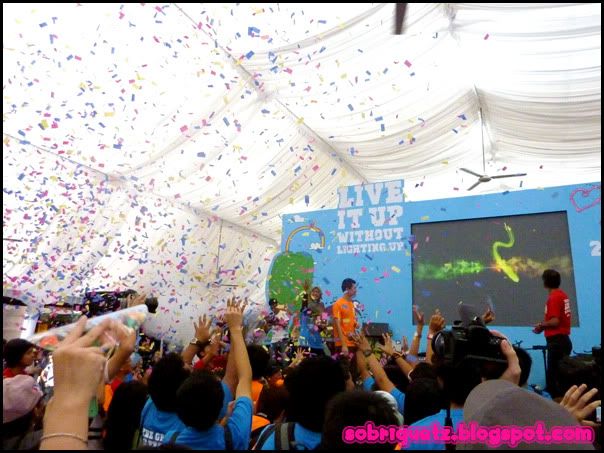 winner of the hip hop dance competition!