Father
and
mother
i
love
you
some say this acronym may be lame. but it really summarises what we want to say to our loved ones. Being in an Asian society, how often do we actually go up to our parents, hug them and tell them "I love you, mummy!" or "I love you, daddy!"? But I guess this love can be expressed through actions as well, instead of just outright words. actions does not equate to big presents or expensive dinner outings, it can be really small things just to brighten up their day.
My family is a small one. just me, my mummy and my daddy. Daddy has been working overseas for many years now, so it's usually just me and mummy. Daddy comes home only about 3 times each year. That has inevitably brought me and mummy closer. Despite working overseas, it doesn't mean that daddy isn't there for me.
Because he is always there to support me.
no matter what decisions I make, he will definitely stand by me. of course he's always the more 'fun' one ever since young. When I want something (eg. an icecream, a ride on that toy machine thingie), I just have to go to daddy, and I'll get it. I'm a true blue Daddy's girl *winks*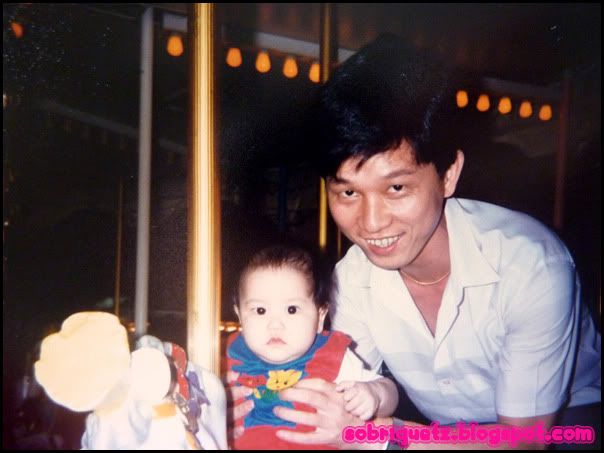 Yes, i know, i've no hair, don't laugh at me! Daddy bringing me onto the merry-go-round for the Nth time
Yup, I've hair now!
When I was young, my parents have kind of always been overseas. Daddy flies to china on business trips, mummy flies to the states. There was once when both of them flew away, and I was placed at my grandparents' house. It was really quite a lonely time for me. The dilemma of being an only child. The plus side is that you don't have to fight for anything, while the down side is that you are most of the time, lonely. I remember that I had to read my own bedtime storybooks at times as well, though I guess that helped me alot with my english. But it's really sad.
my birthday celebration :) times when we are all together. Sidenote: i think i'm damn cute
So when I was 9, mummy decided to quit her job so as to spend more time with me. Apparently when I was 9, I complained that I was neglected. Pretty amazing that I used words like "neglected" when I was 9 eh? That was like primary 3! But it was a really bold and loving move from her. Of course it impacted family finances, and she took up a part time job at my primary school subsequently. Thereafter, due to some issues, family finances has been spiralling downwards, and we are struggling to make ends meet.
But problems aside, I guess we have always tried to be a close knitted family. No doubt we are separated by distance, but we are always there for each other. Whenever daddy comes home, we will bring him around Singapore, much like tourists, to show him new places which have been developed during the time that he was away.
At southern ridges when it first opened
No we did not go to the casino! but we were there to explore Resorts World Sentosa when it first opened!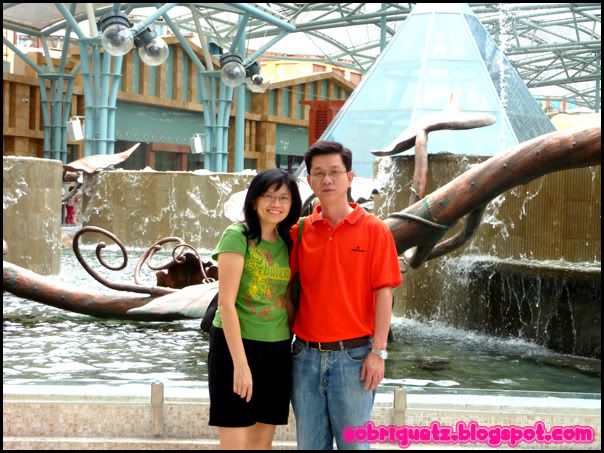 mummy and daddy :)
i just like this candid shot :)
or sometimes we will visit him in China as well,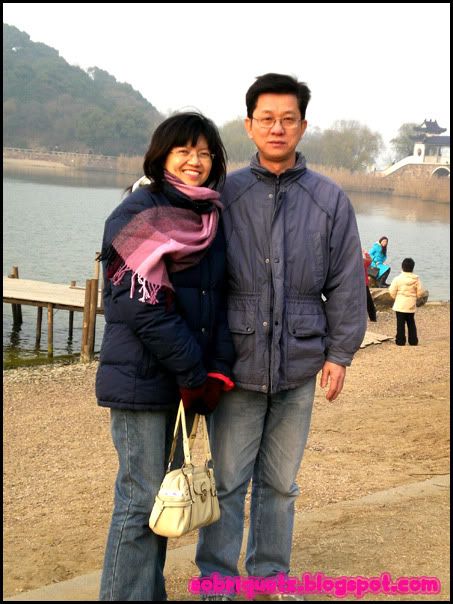 at the Xi Hu (the lake in Wuxi which is 2 times bigger than Singapore)
Daddy has always been kinda a jokester, hahaha!
In fact I'm going Shanghai during end July to not only visit the Shanghai World Expo, but also to meet up with Daddy and to see his new work environment.
Our main modes of communication will be email, and occassional calls and msn. However, I haven been an active respondent in email conversations. And this is to be changed. This year, for National Family Celebrations 2010, the committee invites people to submit their pledges online. A simple pledge to their family. And here's my pledge:
I pledge to email daddy at least once a week to keep him updated with everything in Singapore.
I guess this is reasonable. Even if i email him more, he will be too busy to digest so much anyway. Come to think about it, Singaporeans should be ashamed that we need the government to come up with methods to ensure that we bond with our family. I thought this should be innate within us, but I guess with all the stress, rat race, etc. sometimes we just forget about the simple things in life and neglect the people around us.

And it's such a coincidence that daddy will be coming back next week! He doesn't usually come back at this time, but because this year, 2nd June, will be my parents' 25th anniversary! So daddy is coming back and we are having a mini dinner celebration at my house. In fact, 2nd June is not only their anniversary, but also my birthday! what a coincidence right!
(haha, since you've read till this part, I expect a birthday wish from you on 2nd June!)
I know that we probably can't choose, but I really hope to take the Singapore Flyer with my parents and other extended family members. None of us had the privilege to go onto the Flyer yet, and I'm the only once who have experienced big Ferris wheel ride before. That was on the London Eye which is... erm, in London (duh!).
So spend some time with your family this school holidays! go for some outings, eat some good food, and cherish the time spent together! Also, do remember that 27th May is Eat With Your Family Day! So, gather everyone at home, do a simple steamboat or a potluck if extended family is included, and just EAT! :)
And here is more information about NFC 2010:
NATIONAL FAMILY CELEBRATIONS 2010 (NFC 2010)
Organised by the National Family Council, National Family Celebrations is an annual event which celebrates and reinforces the importance of families and family life. This year, Singaporeans are encouraged to make a personal commitment to their families by being a part of the Singapore Family Pledge Movement.
To provide opportunities for Singaporeans to follow through on the pledges to their families, there are a myriad of activities under the NFC 2010 calendar – which will interest the young, the old, and everyone in between! NFC 2010 will be held from 25 May to 26 June 2010, and this year marks the 25th Anniversary of the Celebrations. For more information on NFC 2010, visit http://www.nfc.sg/