Yesterday, Mummy and I were heading to Bugis. Initially, I wanted to eat the
Blanco Court Prawn Noodles
located near Gateway East. However, as we were on 851, we were approaching Albert Court, and I couldn't resist but to head to
Kichn
for lunch instead.
I just like the cosy (though abit hot due to the weather) atmosphere at Kichn. It seems that time seems to slow down there, where nothing is hectic and it just seems... peaceful. Not that service is slow, but it is just at a more peaceful pace. There is no rush, not like the world out there.
But because of the small size of it and it's inconvenient location (as compared to those in town), I worry that there will be one day when I step foot into Albert Court and not see Kichn around. Hopefully it has a steady stream of loyal customers and has some promotional efforts in place.
Mango-Peach Blend:

$4.00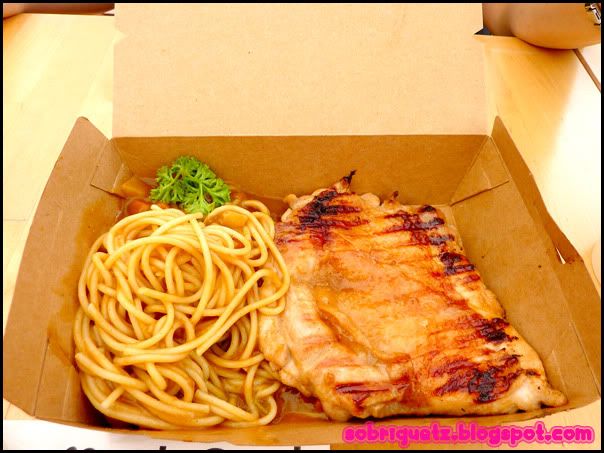 Chicken Chop Spaghetti with Japanese Curry
Mummy tried the Japanese Curry. Even though the picture here looks pretty plain, but it tastes really good! but I still prefer the Chilli Crab sauce. The chicken chop is not bad as well!
Price:

$7.90
Fried Chicken Cutlet Spaghetti with Chilli Crab Sauce
the chicken cutlet was really juicy and fried to perfection! This time, the chilli crab sauce wasn't that spicy as well, and I finished all of it :) Price:
$6.90
When I went to pay the bill, the owner actually recognised me! Haha, I told him that I came 3 weeks ago with bf, and then now I brought my mummy here as well. He was quite happy to hear that, and say he look forward to my next visit. I hope he introduces a VIP card soon! :)
Address:
180 Albert Street
#01-05 Albert Court
Singapore 189971
Tel: 6333 0015
Email: info@kichn.com
Website:
http://www.kichn.com/
(the website isn't fully up and ready yet)