yesterday, my mum went in search for a shop which sells dried food and preserved food. She heard it from my grandma and she was determined to find her suanmei/tianmei from there.
So after our
lunch at Kichn
, we headed to Fu Lu Shou Complex. You may think that FLSC is a dead town, in fact, I also thought so. till yesterday. When I took down the stairs to Basement 1, I saw this: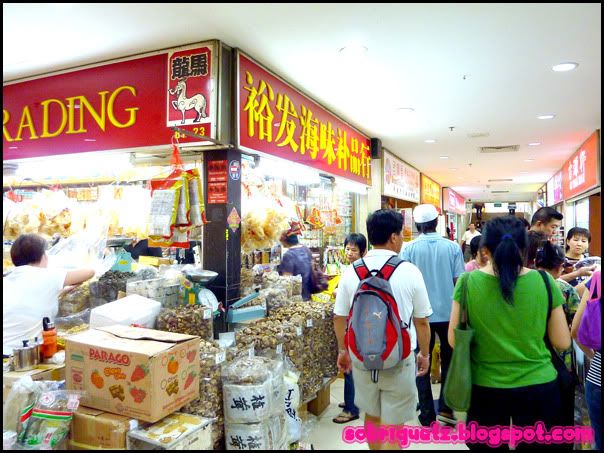 crazy amounts of aunties yelling at the salespersons to take their orders! it was HAVOC! and everyone just keep buying and buying! On seeing this scenario, my mum also seemed quite excited, and kept buying as well!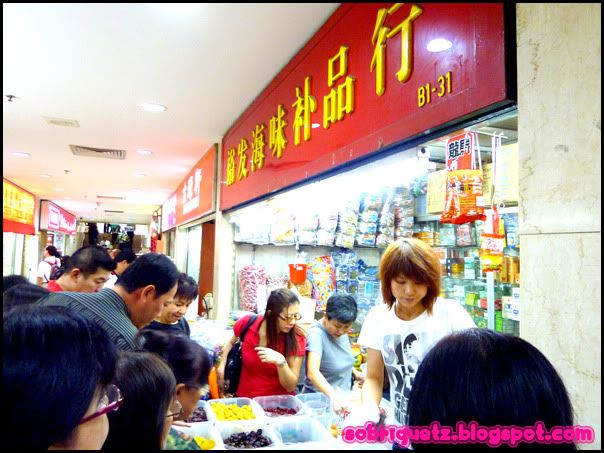 see the girl with the brownish hair? she was in charge of scooping and weighing the dried preserved fruits. and there was never one moment where she stopped scooping and weighing. She was working non-stop for the half an hour that I was there. In fact, I bet she never stops working at all :s It is pretty amazing!
one of the things that my mum bought
apparently it is super cheap, as compared to the market near my house. My mum says that for $2, she will only get a quarter or even less of this packet. However, they sell it at $0.40 per 100 grams here. I'm not sure what this is called, it is kind of like suan mei, but it is SWEET.
this was how the situation looked like as I was leaving. the people just keep coming and never ending! I guess it is of a good location as well, near the temple where all the aunties/uncles can go pray first, before buying their stuff. When I told gh about this place, he said he knew about it long ago and that his mum goes there quite often to buy. In fact there is another outlet at the Albert Centre, above the hawker centre. And that place is even bigger! next time I need to bring mummy there!
Address:
Fu Lu Shou Complex
Basement 1