Asian Markets group, xf didn't come
After going out with gh for
lunch at Kichn
and watching
The Bounty Hunter
at The Cathay, I went to mee my MKT2401 Asian Markets group for dinner at
ION Orchard's Imperial Treasure
. As it was my first time there, I expected it to be quite expensive, based on the name. However, the prices were pretty much Crystal Jade standards.
our groupmate Martin surprisingly
has not stepped into Orchard Rd before
, despite being in Singapore for 4 months already! However, he has explored sentosa, little india, chinatown, kampong glam, etc. Oh, and he has not visited the zoo either. But there is one place that he knows inside out, and that is.... Clarke Quay.
well, we were definitely not surprised!
we chose to have dinner at Imperial Treasure mainly because they offered dim sum even during dinner times. I love dim sum!
zhu chang fen, one with prawn, one with pig's liver
francine, tiara and i totally hate liver, but daniel seem to like it, and introduced it to martin. who hated it as well, HAHA! liver just tastes really bad!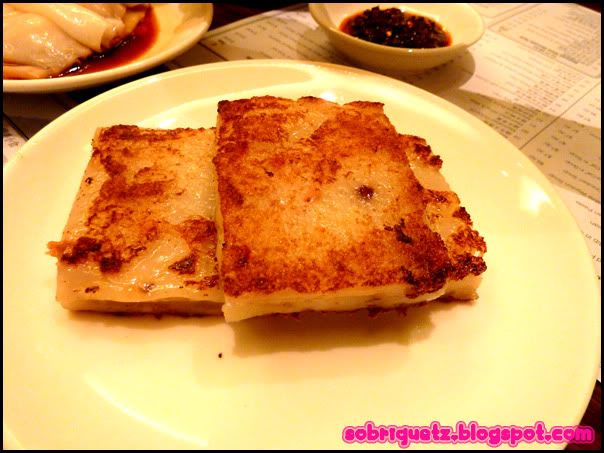 carrot cake was a tad too soft for me
martin must be telling daniel..."pig liver sucks!!!"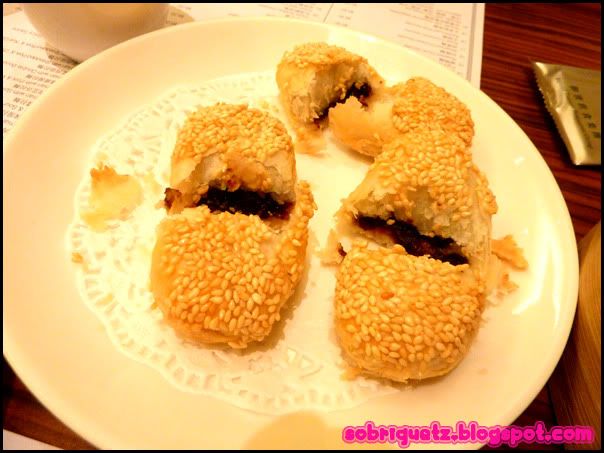 this was martin's favourite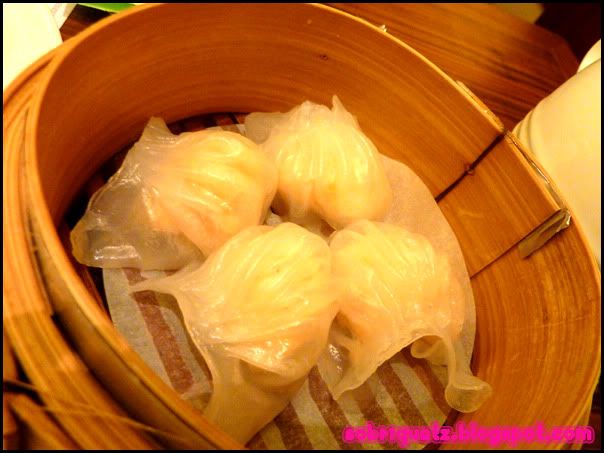 their har kau was not bad, the skin wasn't too thick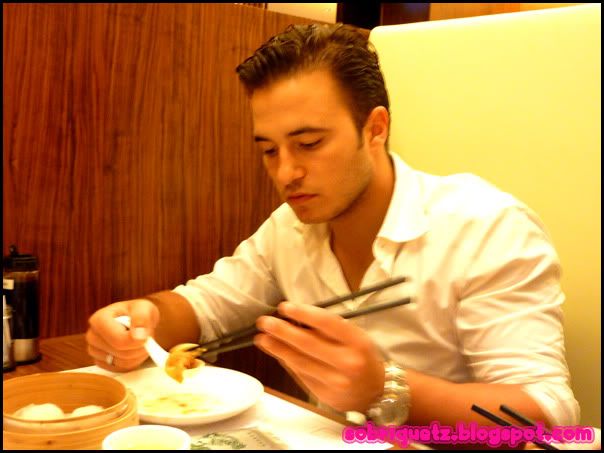 not bad eh, martin can use chopsticks!
teaching martin how to eat xiao long bao
francine was teaching martin how to eat xiao long bao, but he broke the skin while picking it up, so some of the soup had already escape out. I am so not a big fan of xiao long bao, because it is full of pork. and tiara dislikes pork too! finally I found
a fellow chinesalay
(chinese-malay)! Pork just has that weird smell and taste in which i dislike
dislike DISLIKE
!
poor us, tiny bowl of congee splitted into 5 bowls = really tiny bowl of congee
everyone has amazingly small appetites! I was pretty hungry actually, but good thing
lunch at Kichn
was really filling! Dunno how Daniel could survive with such little food, since he is like a guy?! Martin... well, angmohs tend to eat less dinner anyway.
dinner was really fun, and we had alot of cross-cultural exchanges, where we learnt some german, told him about durian, etc.
for 5 of us, dinner cost
$58.50
in total, making it about
$12 per person
. Really cheap in my opinion, I expected to spend wayyy more! Then again, we didn't order alot, think I'll go check out Imperial Treasure again another time! :D
Picture taken outside Imperial Treasure
martin looks really handsome in my opinion, and I'm only saying this because I know that it is impossible that he will read my blog. HAHA! mesmerising eyes, i like! but he already has a girlfriend, who visited him for 3 weeks in Singapore. and he told us something really funny...
martin's gf: "am I allowed to KISS you in the streets? will we get FINED?!"
martin: "hmmm....better not!"
HAHAHA! we have the
perfect FINE city image
in the eyes of foreigners! but we explained to martin that it is fine, we are not a middle eastern country which has really strict rules about such stuff. However, we did also tell him the regulations against demonstrations, how we used to have curfew for youngsters under 16, gatherings with more than 8 people late at night are considered as illegal, etc.
well, all those were enough to make his eyes pop. he couldn't understand it. But he doesn't seem to be favourable with all the demonstrations as well. Finally, a sensible angmoh.
we brought him to walk down orchard road, since he has never been there before. but of course we did not walk the whole way. but we did take quite a few pictures though!
(and I love my camera even more these days. the night pictures just look great, I only had to edit the colours slightly in photoshop)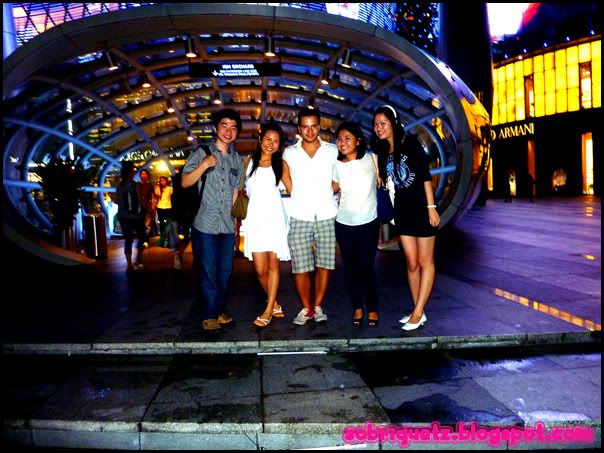 can't understand what are these passerby photographers thinking. why take the pavement? i want the building!
Nicer pictures taken by Tiara and Daniel
jump shots at YOG countdown board, i look really odd
Martin was no doubt the best jumper. I was glad that I did not zao geng, totally forgot that I was in a jersey dress. and I found someone who doesnt do well for standing board jump (SBJ) as well... and that is Tiara! haha we seem to have quite abit in common. I totally hate SBJ (though I hate inclined pull up more) as I always just manage to hit like a C or D. can't really remember, but the distance that I jump is equivalent to my height.
Picture outside taka was slightly marred by the setting up for Fashion Festival
after that, we headed for B&J's at Heeren. Didn't know that B&J's existed at Heeren. In fact, I haven been there for such a long time because it is like a dead town now. They should have left all the tiny shops there, and most importantly, the NEOPRINT MACHINES! I always take neoprints there, why did they have to close it down! :(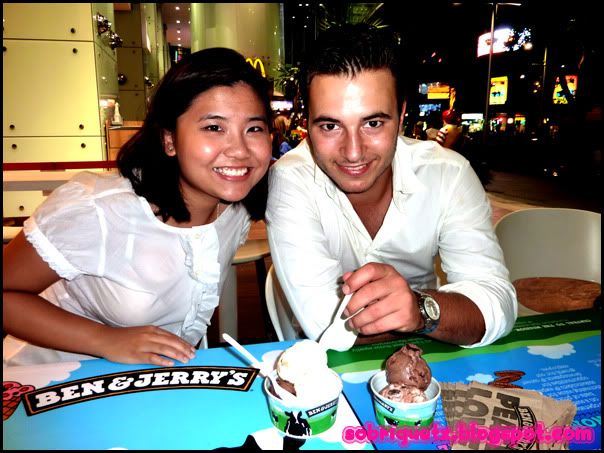 this was martin's first time eating b&j! he is a haigen daaz boy
so we sat down and talked somemore. we also headed to 313@Somerset to walk abit, some of the shops are amazingly open till 11pm! WOW! I didn't know that! but we didn't shop, we basically just walk in and out of stores and continued talking.
at around 1030pm, we decided to head back home. I was really tired from the long day out. but it was a really fun day, and I am proud to announce that I am not sian anymore :)
Read about the rest of my day:
Part 1: Lunch at Kichn
Part 2: Movie Review - The Bounty Hunter