Nuffnang has a new contest - in which of course i'm taking part!
it's like the big CHINESE NEW YEAR NUFFNANG CONTEST! because the prizes are huge! and well, it happens to coincide with CNY you know. it's much like the $5million Toto draw (which is opening tml) but of course, not the equivalent prize la....
on the 3rd day of chinese new year, as I was counting my angpao money...
OMG! some heavy 'wa wa' ang pao crashed down on me!!!
after battling it off my back, and opening the BIGGGGG opening, i saw a....
OMG, $1,000 NOTE!
i've only like seen this note one other time in my lifeeeeeee!
since it was "chu san" and it was still a holiday, why not take the opportunity to relax, chill and do some major major major SHOPPING some new collections to my very bleak wardrobe?
SOUNDS LIKE A
GREAT
PLAN! :D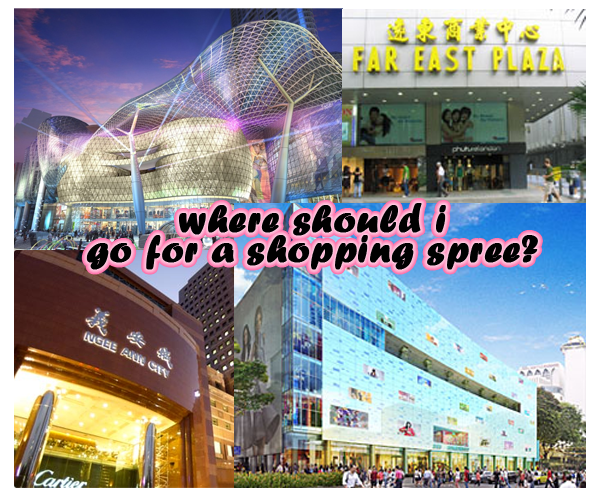 of course when i think of shopping, i'd naturally think of the orchard shopping belt! where else in singapore will you have loads of stores to choose from? couldn't decide whether to go to ion, taka, cine, far east plaza for some cheap deals....
and then! it suddenly striked me!
LET'S HEAD TO THE CATHAY FOR SOME SHOPPING!
Okay, why The Cathay? why not Ion or 313@somerset, which are so much newer?
1) it has unique shops, not those typical shops like topshop, f21, zara, etc.

2) some of its shops open till really late! take Spin The Bottle for example, it closes at 1am on weekends! really great for late night shopping!

3) aside from great shopping, there's great food there as well! ranging from affordable to slighly more pricey ones!
muahahhaa, i've reached The Cathay! they really should make the shop directory spinnable! it'll be so cool to spin it, and then head to the shop which it stopped at!
before going for some shopping, it's best to EAT FIRST!
eating earlier is better as well, because Astons gets really really crowded and the queue takes quite long! at Astons, you can choose indoor and outdoor dining, though outdoor dining is of course risky should it suddenly rain! i love Astons, there used to be an outlet at NUS's Prince George's Park (PGP) residence, but it moved away to somewhere else in the west (please do not tell me it ended up in NTU or SIM...).
So at The Cathay, i can finally get to eat my favourite Astons! and i always take grilled fish with herb! eating fish is good kz, GOOD FOR THE BRAIN! and of course, do remember to feed your helper/bf/bag carrier as well :P they need energy to carry heavy loads ya ;)
okay, tummy filled! 1st stop: DIGISKIN!
I've always wanted bling bling stuff, but i do not have the patience or talent to actually do them. and of course, no $$, cos crystals are really quite expensiveeeeee :( but now with $1,000 in my hands (okay, minus off lunch money at Astons), i can get my handphone or laptop blinged! i hope to GET a blackberrybold2, and then get it blinged :D
now i don't need to look at xiaxue's blog in envy, and wonder how she gets all the patience to bling her camera, blackberry, etc! because i can get mine professionally done at Digiskin!
who can get enough of japanese cosplay-like costumes? lolita fashion at Black Alice!
After Digiskin, head to Black Alice (located on the same floor, #04-09) to check out some lolita outfits! it's probably not something in which I will wear normally, perhaps for more dressed up events. but it's always nice to have one! imagine if you suddenly have a costume party... well, i'll just whip out my lolita outfit, slap on some makeup, and viola! :D
Clique @ The Cathay!
Because The Cathay has so many interesting and unique shops, there is definitely a need to spend some time walking through every level, because you will never know what you may find! After Black Alice, I was exploring the 3rd level and saw Clique (#03-15/16).
okay honestly, i was attracted by the bling bing half naked torsos. Bling just attracts me, I dunno why people will NOT like bling! Clique sells really interesting ornamental items, and handmade notebooks and cards. Most importantly, it's unique! it'll be quite fun to give friends a G-string christmas card for christmas eh ;) There is also a flea market corner at the Clique, selling old clothes. but i guess it's not really the selling point of the shop...
subsequenly, it's more shopping, less talking!
At The Cathay, there are not only apparel shops, there are also quite a few furniture shops! I'll definitely buy home a nice sofa for my family, my sofa is spoilt :( so saddddd! mummy is quite sad that she cant replace it too, because of lack of $$ :(
There is also a mixture of pricey and more affordable apparel at The Cathay. For slighly cheaper merchandise, I'll head to the shopping carts on the 1st level, most of which sells really cute stuff! There is also a shop called Dress Code which features clothes designed by a Hong Kong designer, whose pieces have been worn by Anita Mui, Leslie Cheung and Hacken Lee!
erm, abit suay to say Anita Mui and Leslie Cheung, since they have already passed on... but still, they were really impactful in the cantopop scene!
and how can i forget, i'll definitely make an appointment at Strip as well! body hair has always been a cause of my problems, i really hate it, and sometimes, it gets really troublesome to shave/epilate! :( and of course me being very busy and lazy has more often than not, let me to being unkempt... after much shopping, i will head down for a hair-raising experience (literally) at Strip!
of course, never forget your friends when you've a blessing of fortunes!
get them some cute and hot stuff at Totally Hot Stuff! They sell really special items, great for birthday gifts! i think i'll just buy Naughty Lovers vouchers for all my friends, it is such a laugh!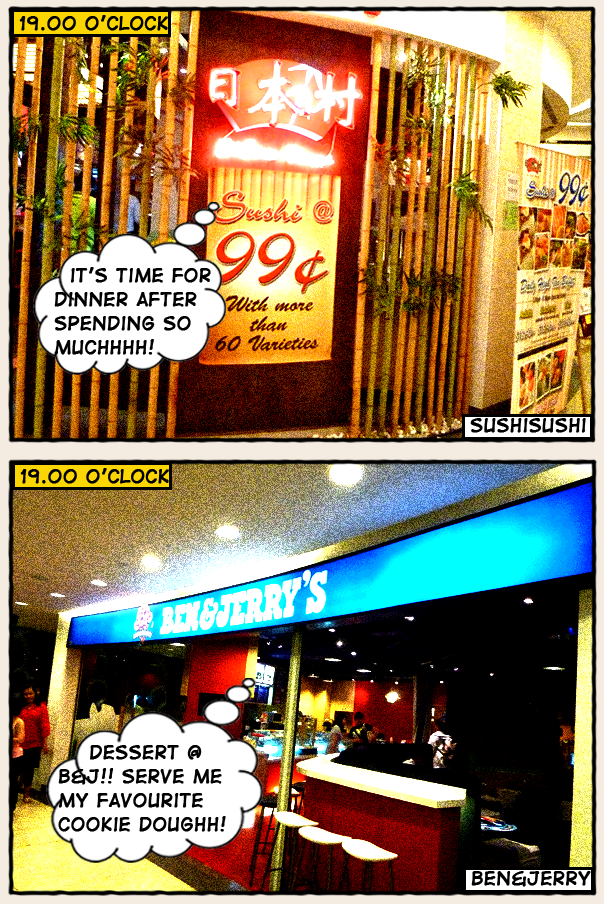 after much shopping, it's time to rest my POOR POOR FEET! :(
Dinner at Nihon Mura, which has cheap cheap sushi! after spending much money, naturally I'll feel guilty, so save by eating affordable restaurant food! it has a nice ambience as well, great to sit down, relax, and chit chat with your helper/bf/bag carrier ;)
and of course, dinner is never complete without dessert eh! so from Nihon Mura, i'll 'fly' up to Ben & Jerry for my favourite Cookie Dough icecream!! or if i was really craving for icecream, i'll share a CLOUD NINE! :D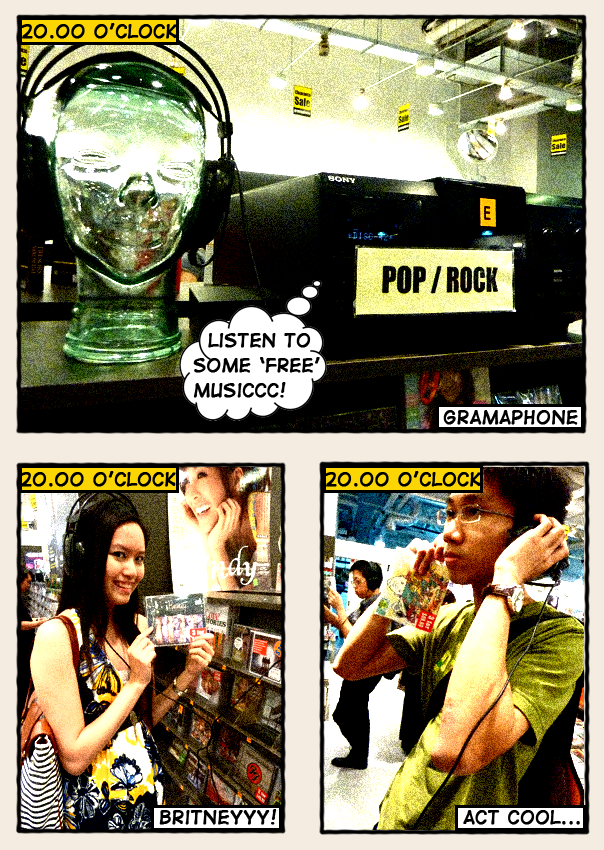 listening to some music at Gramaphone
After dinner, i headed down to The Cathay Gallery first actually, just to get to know more about The Cathay. However, no photos allowed! and the security guard was really really strict that she will not even let me take the picture of the sign OUTSIDE the gallery! :(
The Cathay Gallery is really quite interesting, a place for a trivia hunt as well!
Qns:

how many wives did the founder Dr Loke Yew had?

Ans:

he had 4 wives, and 10 children!
Qns:

what is the oldest camera on display at the Gallery?

Ans:

Kodak Catridge No. 4 from USA (1897 - 1907)
not bad eh... Galleries do not have the be boring, if you can find some way to spice things up! do note that the gallery closes early though, at 8pm!
after The Cathay Gallery, head down to gramaphone for some nice music and just chill out for the day after much shopping! :)
so what are you waiting for? head on down to The Cathay for a unique shopping experience!
"Join The Cathay Facebook page (
www.facebook.com/thecathay
) to get updated with latest promos, events, contests & giveaways!"