yesterday we headed down to the Nuffnang Office for a mini bbq session with
Glitterati+
committee members, nuffies, and some other bloggers :)
not everyone here though :(

i wun say that it is not fun, i mean we did have fun and games
but it was one word:
awkward.
i dunno, it was hard to think of something to say, and there were lots of like pregnant pauses along the way! then i was thinking really hard of something like relevant to say, but my mind came up as a blank :(
i guess we somehow need more outings to just familiarise ourselves with each other. there can't be nothing to talk about as there is surely something in common amongst us! maybe not ALL of us, but some u know!
sure will link here link there, then okay one! :D
because last time when i went for those random kbox sessions with rk, zh, sw, elyn, etc. there were also other random people there! somehow there was still something to talk about. but perhaps that's cos we talk about songs... hmm
okay la, solution:
host a kbox session
:p
K, ENUFF CRAPPING!
basically we had a bbq session where food just kept automatically come out from the window :) hahaha, machiam
ala carte bbq session
:P i ate like loads of chicken wings, it was really not bad! better than the satay at least... oops :p
then we played
taboo
, haha shit why play the green side
if play the blue side hor, i totally own le la :P
i think i can rmb quite alot of words from the blue side, because somehow when we play, we always pick blue!
then we also played
Wet Heads
!
ryanque & stephen

basically the cap is filled with water and it is passed around
the person after you will pull out a stick from ur cap
and depending whether you are lucky or suay, u'll get WET!
hp and joanna

joanna is totally NOT wanting to be wet and hoping hp gets it :P

but no worries, it was...
.
.
.
.
mr president andy who got wet!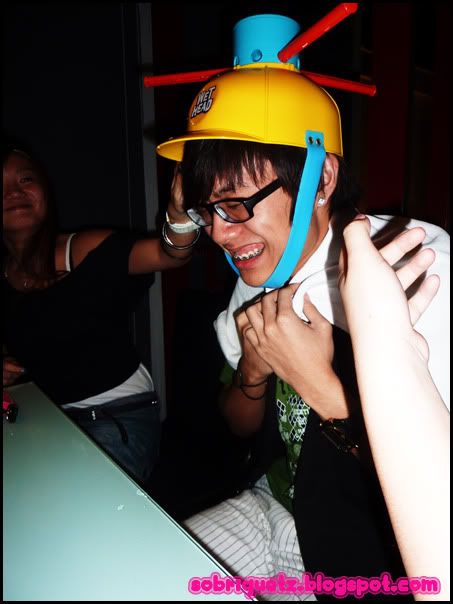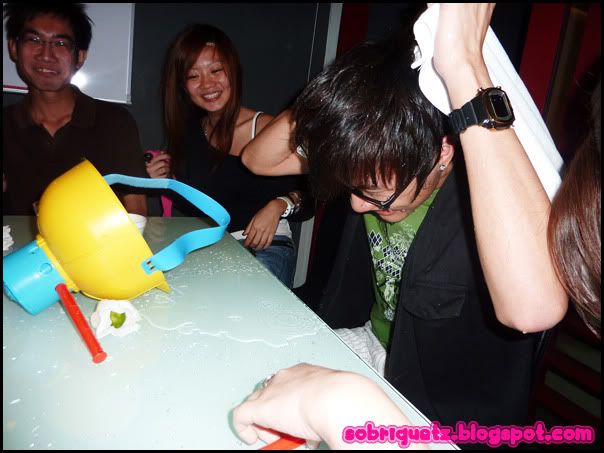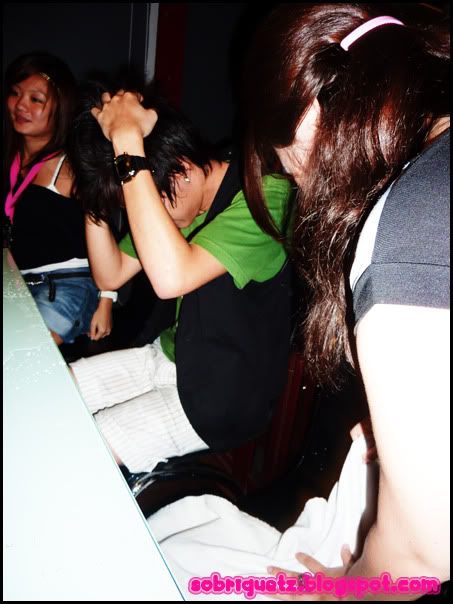 hahahaha, sad :p

he zhong TOU JIANG LA!

after that we went to the rooftop and play other card game
there was a swimming pool at the rooftop but it is pretty shallow and tiny. i've no idea how the angmohs SWIM in it?! i think they just treat it like a mega bath tub!
hahaha, i thought i was not bad in the game :P

until xf called me and totally distracted me!

basically stephen & hp lost, and they were supposed to do a forfeit
i did video it down, but i'm so lazy to upload it now laaaaaaa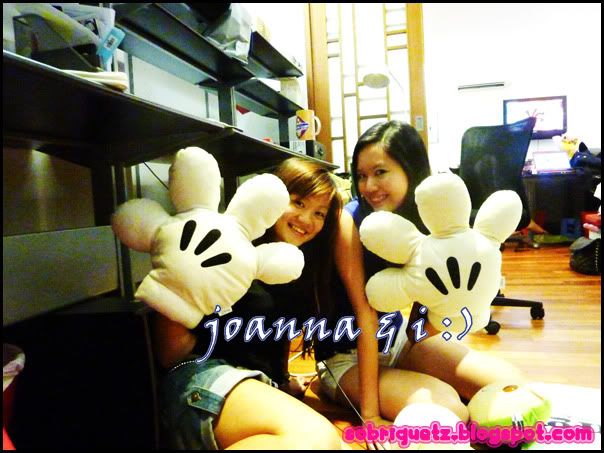 last picture, joanna & i!

awaiting, the next outing :)