been abit busy to blog, work is coming down on me like some torrential rain, and my nose also resembles the monsoon season.
my flu just won't go away and it is amazing how much mucus a tiny nose can contain! i'm quite sure i've used up a box of tissue already, with the skin area around my nostrils suffering much abrasion :(
anyways!
before i fell sick, i went for dinner with gh's prof (kelvin), gh and vineson to
Old Airport Road
for dinner! Melvin was supposed to come too, but he sadly had lessons!
kelvin drove us there, i think he drives quite fast around bends, so scary :p or maybe because sitting at the back, i feel the effect even more! okay, but his
scary-o-meter
will not beat me :p
upon reaching old airport road food centre (which is around
ford rd
area, quite near to
east coast park
), kelvin went to buy food for all of us to share.
but sadly! being a Monday, alot of stores were closed! :(
lesson learnt: go and eat on tuesday, wednseday, thursday, friday, saturday, sunday instead!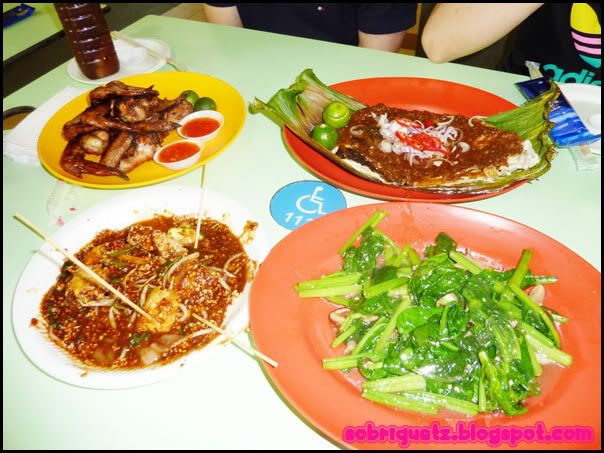 of course i was armed with my trusty lumix :)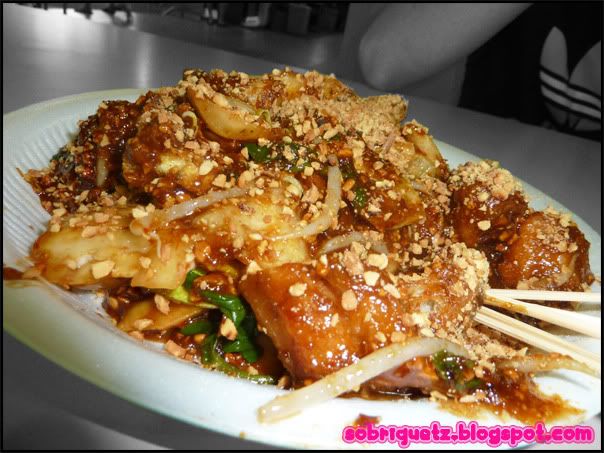 toa payoh rojak
it's nice! especially the pineapple which was really sweet!
dunno if this is the same rojak as the one at
Toa Payoh Hub Gourmet Paradise
. The rojak stall there is so popular that you will need to get a queue number and wait for about 20 to 30 minutes before you get your rojak! the speciality there is that everything is really very crispy and they are very generous with their nuts! Sadly, Gourmet Paradise is
under renovation
now, apparently most of the food stalls have moved to a temporary location near Courts at Toa Payoh Hub. Have not checked it out yet though.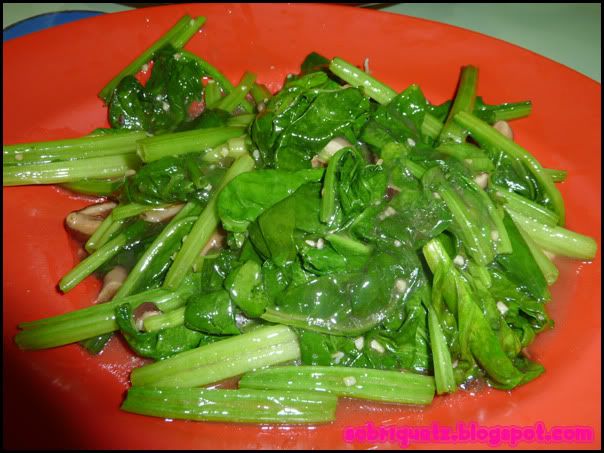 vegetables, don't know whether it is from the same zi char stall. seems like, since the plates are the same colour
Mattar Road Stingray
i love eating stingray! no matter how spicy, i will also eat! this stingray is not spicy though. the chilli is abit different, doesn't really taste like those sambal chilli sort of chilli. It has practically no chilli oil at all!
BBQ chicken wing
it was really nice! best eaten hot of course, because after it cooled down, it seemed extra sinful somehow. it's like the skin 'thickened'
chilli crab!
the meat was really good and solid! like those of sri lankan crab! not really sure if this is sri lankan crab though, but whatever it is, GOOD MEAT! :D but the sauce was too spicy for me, lips were burning on eating it! but well, this goes to show that you don't have to go to expensive Jumbo Seafood Retaurant or UMDC restaurant at East Coast Park just for good crab!
after that, kelvin sent all of us back. and i realised how untrustworthy a GPS is. even though it does bring you to the location, it goes through odd ways though! I think using my 'eyepower' on a street directory, i can come up with a better route :s
it was a nice dinner though :) i think this is my first time eating with my prof. last sem we went clubbing with a prof, erm, but that's different.
thanks kelvin! :)