on monday night, i went with the other
ST interns
for a ktv session at
Ten Dollar KTV Chinatown
after work
it is my first time there even though i've heard about it before
last time i tried to book on weekends then fully booked le! :(
it was really cheap! free flow of drinks, plus one bowl of shark's fin
and it cost
$11.60 nett per person
! from 7pm to midnight!
moreover, we can da bao food from downstairs also
they don't really care actually!
of course it is definitely not as nice as kbox
we had a big room as there were 12 of us
but the tv was placed slanted, so it was really hard to see!
the karaoke selection system also sux
it's much like
Teo Heng ktv
though
but aiyah, CHEAP LEH! cannot expect too much
wanxin is missing from this picture because she left le!

from clockwise:

landon, zhihao, jingwu, ig, tracy, cheryl, gemhl, kevin, leslie, kenneth, peifen

the bad angle of the tv

the karaoke selection tv was right at the corner

the projecting screen was like covered by part of the tv

quite a retarded layout to me...

gemhl, cheryl, tracy

haha, two potatoes and half a potato :P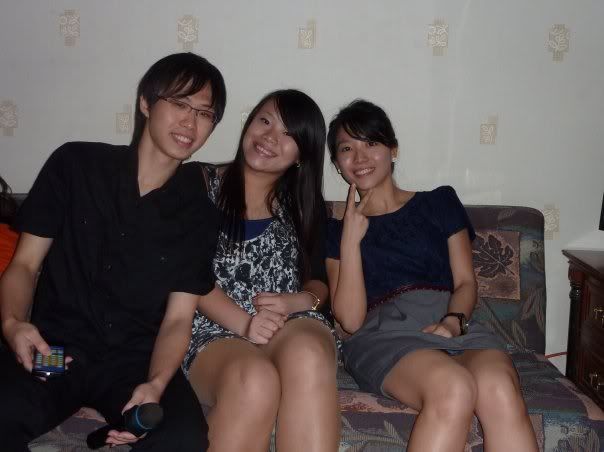 jingwu, cheryl, gemhl

jingwu, tracy, cheryl

omg, they went to film a video of me and jingwu singing ni zui zhen gui!
i'm obviously not going to put on my blog, haha, it's v zou yin
and i'm
SUPER PAI SEH
LA OMG!
gh also totally not jealous anyway
loads of self confidence that guy :p
wanxin, gemhl, tracy

wanxin so shy can!! never sing much and the guys kept trying to get her to sing!

ig fake shy

jingwu and leslie

omg, leslie sing super duper omg nice la!
*swoons*
totally got made fun when this pic was taken -__-"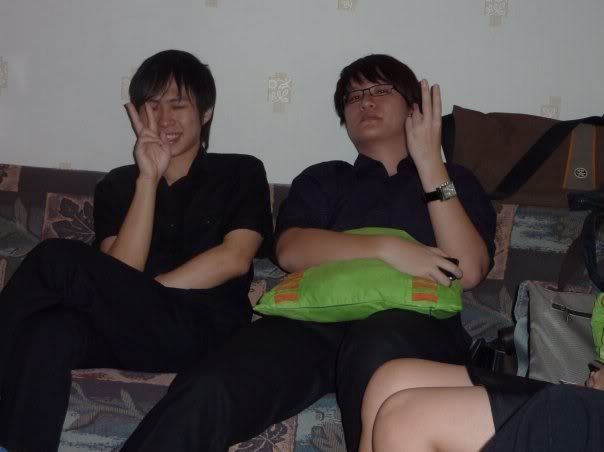 around 10+ and everyone was sleepy already!

working so tiring eh
i was also dead tired la..
haven had enough sleep :(
loving my wideangle camera :)

ig took this pretty upclose but good thing i don't look overly big here!
ig, tracy, cheryl

i think this is a nice pic!

with an absolutely vain ig

and no, i was not leaning on ig la

it's the camera angle okayyy

jingwu, ig, tracy

after that at around 11+pm, we left already
else cannot catch the last bus and train home
i went to take 851, and i
couldn't find the bus at the bus stop
!
i was so scared la! so late le :(
so i called gh for help, but by the time he told me where to walk, i already walk up to the next bus stop and found my bus le
i walk damn fast la
cos late at night, i scared...
it was a nice outing :)
hope we have such an outing again!
but then again, i'm leaving next week already!