**UPDATED: NEW PICTURES**
I've been MIA for awhile, due to the onset of something called
INTERNSHIP
as compared to my previous internships and temporary jobs,
i'm VERY HAPPY with my job and i've barely any complaints about it!
and the contributing factor is:
my boss is FREAKING NICE!
really, i've never met such a nice boss before!
because all my previous bosses were just mean in some way...
ST electronics has just moved up my "Desired Companies to Work In" list
top on the list is still P&G though...
ST electronics is quite a female unfriendly place though
if you look at the picture above closely, notice the BIG DRAIN in front of the gates
every morning, i've to theeter over it in my heels,
as like all the other women have to do...
WHY CANNOT JUST HAVE A NORMAL PAVEMENT FOR ME TO WALK AR?!
seriously -__-"
other than complaints about a non-living object,
i'm really happy this time, and i really feel that i'll learn much more in this internship!
for the past two days, we had an event at Singapore Sports School
this is because ST Electronics is involved in the Youth Olympic Games Singapore 2010 where it has developed a virtual world for its atheletes. Titled Singapore 2010 Odyssey, it is set to launch in March.
This was already published news la, so i guess i'm not breaching any rules by blogging about it...
on the first day, we had a booth in the opening ceremony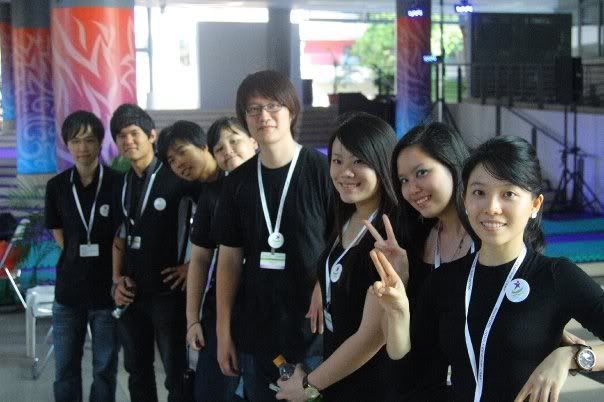 some of the interns plus gemhl



jialin, a SYOG member



there was another SYOG booth beside us, super crowded la
i'm not slacking even though i'm just standing there watching kz...



played some memory game

so we waited around for some time before the actual event started
think we went wayyyyyyyyy too early! i was really stoning about, and thinking of the free movie that i could have been watching (Nuffnang's screening of Princess & The Frog)

and we had a very very sucky dinner at Singapore Sports School
it was kinda like the army set up, take plate and the aunties will scoop inedible food into them
it tasted even worse than army food!


how do the atheletes survive?!!?!?


but finally, the event started at 630pm!


of course there will always be lion dance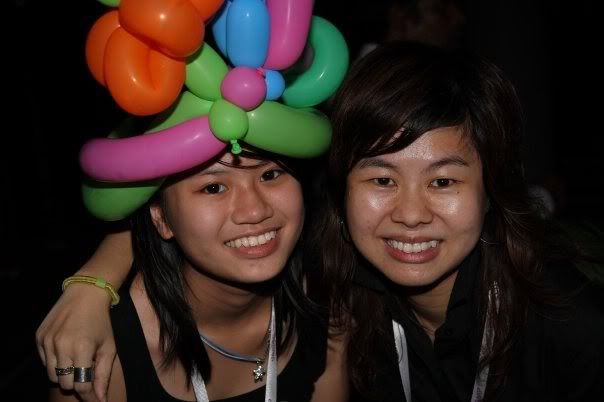 mr yee's daughter and erin, my boss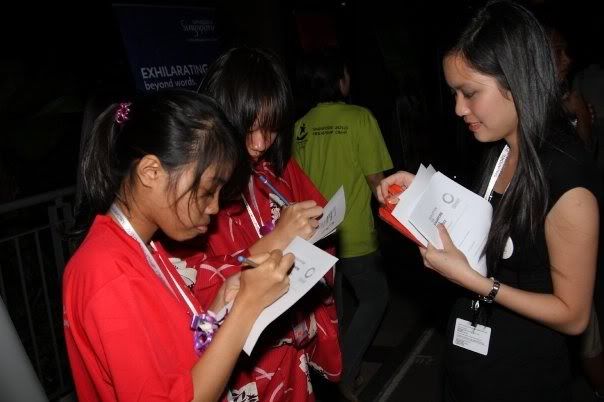 had to ask peple to sign up
most were willing to considering it was free
it is best to approach a group of people, especially a group of guys
they will all sign up one

there was this percussion stomp sorta performance
which i like, but i thought it was too long and over

photos with the mascot!


some people did not really know how to speak english
so communication was abit sorta a problem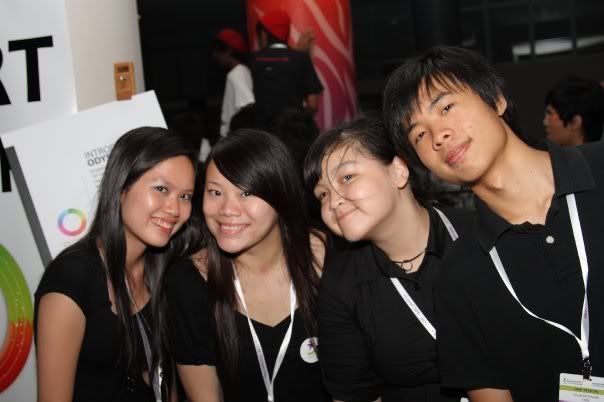 overall i did enjoy myself alot
as can be seen from my too-wide smile :( not nice!

i think the atheletes had a blast too!
look at the pool side clubbing!!
bet the ang mohs TOTALLY LOVE IT!
i was surprised no one fell into the swimming pool though

group picture of all of us :)
i had a balloon hat! :D


on the second day, we had a workshop there

Cheryl, my fellow NUS intern, a year 2

really glad to have her around! :)

the tiny lab in which we have to squeeze 70 people
poor atheletes, good thing they are not that bulky....
I love the odyssey graphics, really nice!

i also signed up for it, i wanna play too!

for the second day, i did not really have to do much, just had to distribute posters initially and then take photos for the event

my lab was like the most hyped due to 俊男美女!!

there was this cute el salvador guy, but he was kinda cocky...

but the main thing was this girl, lorraine from germany

she was also interviewed by some camera crew, and also by Youth.SG

however, i thought she was from germany, but she's wearing kinda like a dutch outfit.... :s

confusing...

here are some sneak shots i took of her!

i think her side profile is really nice!
but she can't take photo with her mouth open...teeth abit funny
so of course we went to take a picture with her!

she's a swimmer, so i guess aside from cheering for Singapore, i'll be cheering for GERMANY in swimming too!


there was this other cute el salvador guy
but he was annoyingly cocky though


awaiting another day at work tml!

i've decided to go even more full blast ahead :)

my first week at work has been going well :)