went to melv's house on 24th dec for an impromptu gathering
which only 7 of us could make it :)
gh was at my house before that, doing balloon twisting
so after that, i provided the car while he drove us there
and with my superb street directory skills, i manage to direct him safely there without getting lost!
vince and mel were both lost can
haha, gps sucks la, just use the old school street directory!
finally everyone at melv's house!
i was starving and pizza only came at 8.30pm
by then i was half dead already and kept popping grapes into my mouth
not a very good idea though,
grapes = fruits = acidic = makes u more hungry
was quite close to the point of gastric i think :s
basically we chit chat throughout, talking about school, grades and MARRIAGE
hahahaha, i can't stop laughing at vince everytime we talk about marriage
"after we get married, the first kid must be out by the 2nd year"
CLASSIC LINE! he totally got ready a timeline and is gonna frame it up in his own apartment next time!
then we had christmas exchange there, with minimum of 10 bucks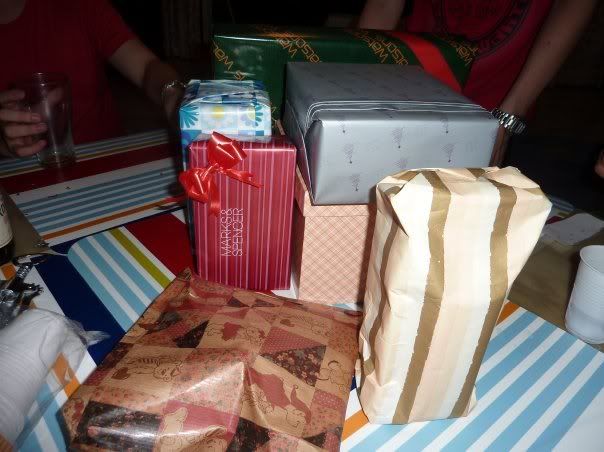 i was abit dots over the minimum of 10 bucks, v ex can
cos during christmas exchange you dun really get what you want mah
(even though i got pooh bear in the end, but..
i dunno what to do with it now :s hahaha, asking charles whether he wanna change back with me again)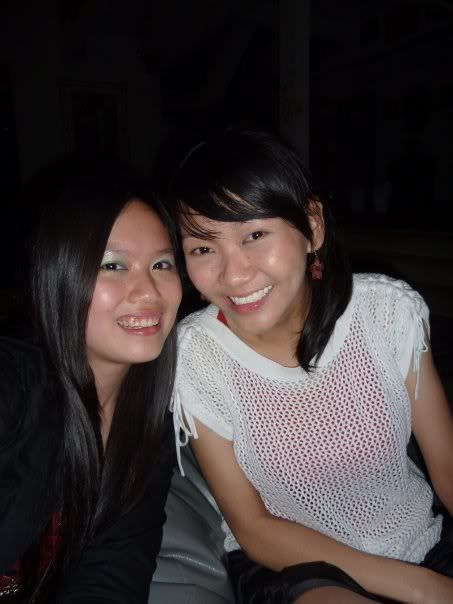 me and xf

oh, btw, the dress theme was red and green
and i totally fit the theme with my f21 scottish girl red dress okay!
and to fit the green part, i actually put some red&green clip on my hair
but not everyone follow the theme la!
borinnngggggggg!
gh's present from charles

mel's boring towel present from vince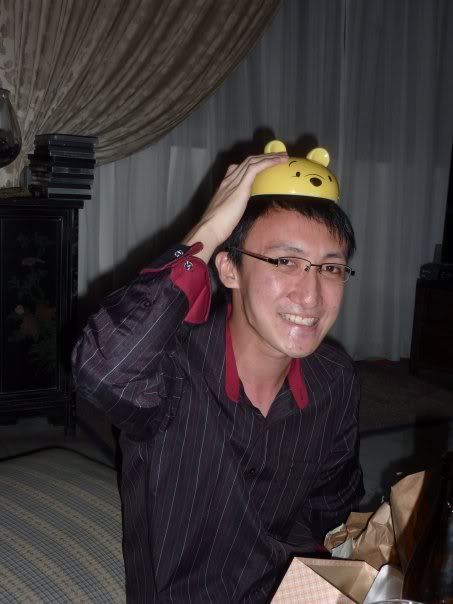 charles with mel's pooh bear

will not be with him for long la

xf's coffee/tea maker from melv

i abducted pooh while charles got xf's chocs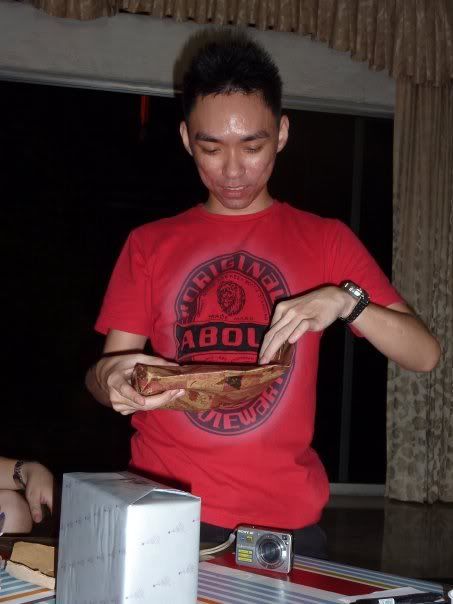 vince got my present, and he was totally dreading it

cos i tell him it's very OMG

in the end, he quite like the chewing gum la :p

i think...

and then charles got swopped again by melv

and he ended up with gh's playdoh set

i think it's damn funny what!

i quite like playdoh last time
it was one of my few toys OKAY!
our loot!

mel brought a log cake

so we actually attempted to sing WE WISH YOU A MERRY CHRISTMAS
before eating it
i can't believe the hols has just flew past
and we only met with each other like ONCE
okay, some of them met twice
but still... the hols are FLYING FLYING FLYING!