today i was dated out for dinner :)
went with gh to vivo
suishi tei
after IT meeting
and i ate some zuchi crab with fried rice
i think it was not bad! $12! the crab portion was quite generous
just that the rice had
TOO MUCH
garlic!
i can totally ward off vampires now, ward off cancer (antioxidants) and ward off anyone coming too near to me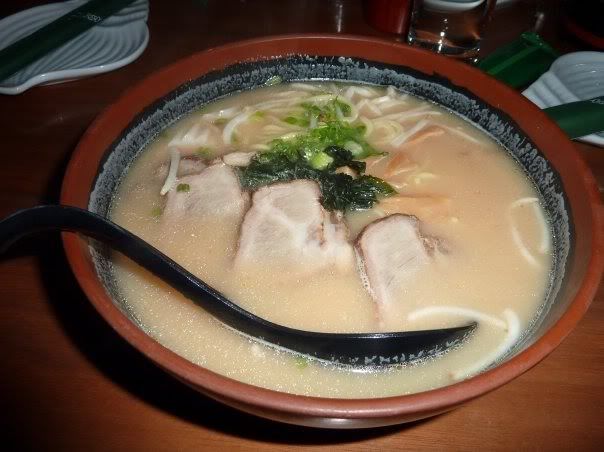 gh's boring ramen, which he chose the wrong soup base
took 855 all the way home from vivo, it is suprisingly not that long
just about 1 hour, not as if i get home much faster by train (including waiting time)
in fact today, i tried out the 165 and 95 route to school, as recommended by gj
he seriously needs to get his time estimation right la...
i took during offpeak period, but i still needed about 40mins to reach holland v and then change to 95. but all in all, i took 1hr (from amk) to get to school, usually i take 1.5hrs, but that's from my house
well...i guess i might consider the 165 and 95 route if it is during offpeak times
because peak period, confirm mrt faster!
recently in the mid of all projects and reports due,
i've recovered my flair in scolding and dissing
this trait has been absent for sometime, but somehow it has erupted yet again
refering back to my friendster testimonials, rk did say that one should not get on the wrong side of tracy. this is true.
project work is the most crazy and unfair thing ever, save for some groups in which you really like to work with :)
the amount of stress and trauma that it brings to you is really HUGE!
and we basically have projects for every module.
haiz.
depressing issues.
on a happier note,
jamie teo is pregnant! and daniel ong tweeted this!
i totally LOL la! hahahaha!
and sharing some dumbblondeness,
hahaha, fj is really funny, i wanted to blur off the name actually,
but ah well, it's okay la :p
and having a randomly funny convi just now,
XXX says:
haha, juz now me and my fren still talkin about relationship stuff
XXX says:
like close to graduating.. the both of us worry cant find suitors
XXX says:
lol
*____ s o b r i q u e t ` __ //*心跳 says:
hahaha! cant even find time to do projects, and then study, where got time to find suitors lor!
*____ s o b r i q u e t ` __ //*心跳 says:
uni wasn't a dating playground after all... haha, last time my uncle v wth, he say just need to work hard for a'levels... then in uni, just find a rich capable bf, then no need to study already

XXX says:
that;s true!
XXX says:
haha
XXX says:
dun u think thats the ideal path for girls
XXX says:
haha =/
*____ s o b r i q u e t ` __ //*心跳 says:
noooooooooooooo, i must be independent woman!
*____ s o b r i q u e t ` __ //*心跳 says:
okay la, at one point of time when i was like too sian with all the work, that thought did fleet past my mind
*____ s o b r i q u e t ` __ //*心跳 says:
like how nice to be tai tai

XXX says:
how nice to be gong gong too
XXX says:
hahhaahhahha
*____ s o b r i q u e t ` __ //*心跳 says:
noooooooooooooooo, u can't have such thoughts!

XXX says:
eh wait.. gong gong = eunich

XXX says:
-.-

*____ s o b r i q u e t ` __ //*心跳 says:
hahaha! totally

XXX says:

lol =x
*____ s o b r i q u e t ` __ //*心跳 says:
gonna printscreen that and put on fb
XXX says:
!!!!!!!!!!!!!!!
XXX says:
NO~~~~~~
hahahaha, okay, guess who!
and it is hereby time to sleep...