i was so happy chilling out on friday night and saturday!!
haiz, but it is soon reality check time on sunday
and it is back to the world of mugging and more mugging
and i don't think i can chill for a WHOLE DAY anymore,
at least not until 26th november!
here's why:
1) 20th Oct: Corp Finance case 2 critique due
2) 26th Oct: Corp Finance case 3 report due (worth 20% i think)
3) 27th Oct: Islamic Banking report and presentation (30%)
4) 6th Nov: IT group assignment due (10%)
5) 7th Nov: Corp Finance FINAL EXAM (40%)
6) 10th Nov: Financial markets final exam (20%)
7) 10th Nov: Corp Finance case 3 presentation
8) 13th Nov: SCM project due (30%)
9) Reading week: CP report and presentation
10) 24th Nov: SCM final exam (40%)
11) 26th Nov: IT final exam (50%)
omg! and during one of the weeks, will also have SCM assignment 2 due which is worth 10%!! i'm DYINGGGGGGGGGG!
anyway, back to the fun part about chilling out...
met fj and db on friday night at city hall
and we had dinner at Just Noodles cos we were cheapos who just wanna refill and refill our drinks and icecream :D
chocolate chip icecream nice la! i don't care if it's low quality, it's still not bad to me!! i had 6 scoops of it :D
my camera clear right? say yes!
then we went into an ulu toilet in suntec to camwhore
but the toilet not very nice looking leh, nothing much to take
fj and db
the height disparity will always exist :p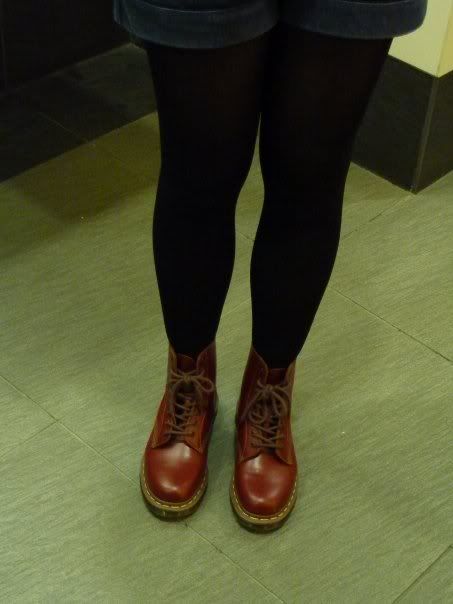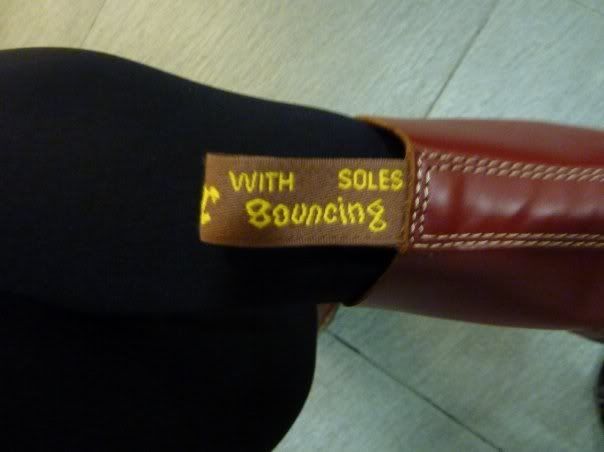 fj's limited edition dr martens
with BOUNCING SOLES!
fj is like a TIGGER la, bouncing around in her red martens :p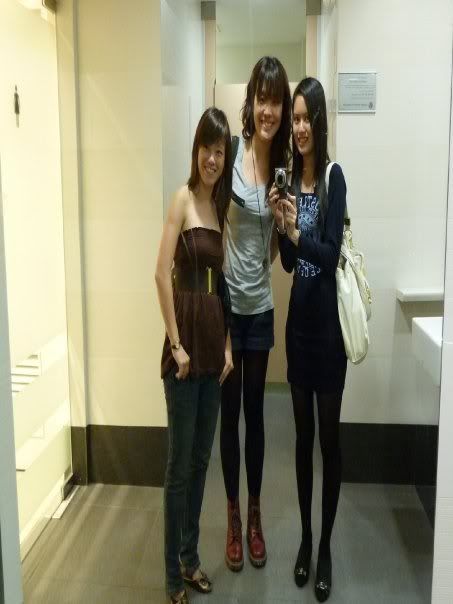 played with super skinny camera functions
i think there are alot more functions to play with
i just haven explore finish yet
next time then try again!! :D
on saturday, i went for health check up
first time i go for health check up, but it was such a basic check up!
getting report in 3 to 4 weeks time
oh, and amazingly my blood pressure was in the normal range
because last time my blood pressure very low, like 80+ type :s
went to eat blanco court prawn noodles with my mummy!
but she say longhouse prawn mee and beach road prawn mee is much better :(
really meh... i think this one is nice enough :D
went shopping with her at BHG, cos she wanted to find something to wear for wedding
but alot of clothes not very nicee
not to be mean but,
i'll definitely undergo slimming programmes if i'm just a tad overweight
especially after pregnancy
must be hot mum, like those mediacorp mummies like that :p
after that she went home to prepare, while i went to loiter around before meeting gh for dinner. so i went to orchard, intending to go kinokuniya and read
but i ended up at the
Takashimmaya Fashion Show
, in conjunction with their 16th anniversary. So they having fashion shows throughout the weekend
at 3pm, it was the men's fashion show
with celio, timberland, guy laroche...etc.
the celio outfits were revolving around suspenders
i'm sure gh will not be caught dead in it :s
i think it looks pretty awful
suspenders with shorts looks cuter at least!!!
this is a total school outfit!
everyone should buy that hat and wear to sch!
i didn't like this asian model
for some reason, he just seems odd to me
next was Timberland, which revolved around windbreakers
look quite nice actually
i think they had the best collection of all!
AND I LIKE THIS MODEL!
i did not take pictures of ALL the outfits
but whenever he's on stage, i'll definitely snap away :p
next was dunno which brand la
but they had bowtie themes
totally fitting for fj's party
and the cute model comes out again!! :D
so after like 30mins, it all ended, and we were 'released' to go shopping
and i went to buy a clutch from Chomel
i was trying all the clutches, to see whether my camera can fit into it
and it managed to fit into this clutch, which looks small but still can fit in my camera!! :D and of course it has blings, cos i like
and it was the last piece.
again! so many times when i buy things, it's always the last piece!
do i have good taste or am i just plain suay?!
but i stlil bought it in the end, because now got 10% off
i think it's nice :)
sharing cost with mummy, but the money has not arrived into my pockets yet -__-"
okay next! it was the women's fashion show
never heard of ANY of the brands before, so i shall just post some random pictures
boring
country girl
model that just keeps moving so fast that i can't get a steady shot of her
i wish i can wear this to work, like half pants
i quite like this
i think i like purple dresses
just like the purple dress in Topshop!
but it's too ex la...
i like this alot!!
i aspire to have such a working clothes style next time!
for some reason, i like this hat!
but i dare not wear in singapore :(
this looks like garbage bag :S
so after the women's fashion show, i headed off to find sexy black heels
went to alot of places but i ended up at Mondo at far east plaza
and nope, i did not get sexy black heels
i got sweet black heels instead, will post photos another time
i wanted to buy another shimmering pair of heels too, but end up i didn't :(
honesly, i should start getting mondo membership, this is like my 3rd pair this year already! but the membership only lasts 1 year :s
after that went to outram park to meet gh, and we headed towards Mariners' Corner at Maritime House! yet again! :D
oooh, hainanese style leh!
why no chicken rice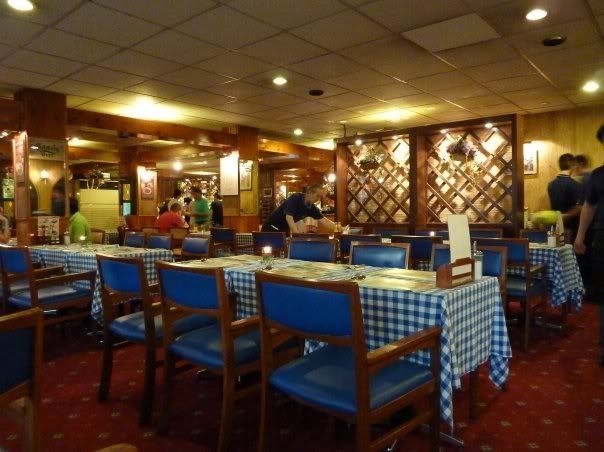 i like the place cos it's cosy :)
not alot of people there at that time, cos it was only about 6pm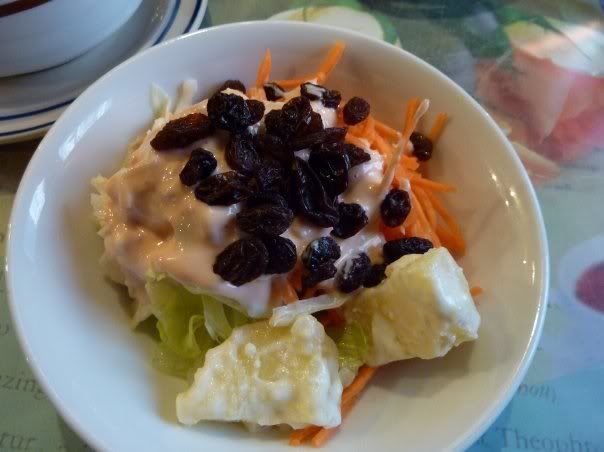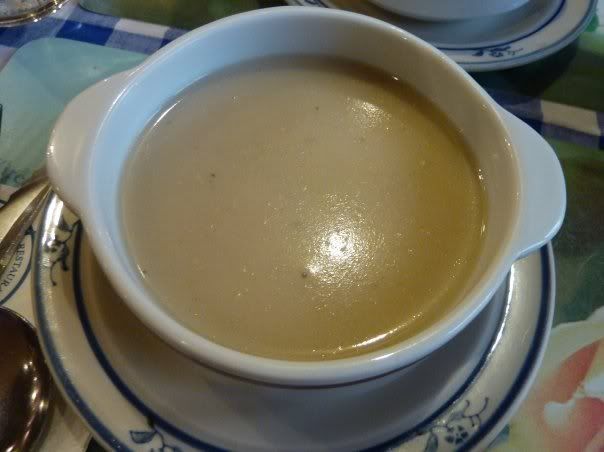 mushroom soup was really nice! with fresh mushrooms!
i like! perhaps it is shitake mushrooms!
our meal, gh had chicken, i had fish
every other table had LOBSTER or beef
lobster... omg!!
but it is actually quite worth it still
dessert was something, but i don't know what
it was really a very filling meal!
but i like :)
next we walked down towards chinatown and clarke quay
saw singapore's largest recycled lantern
and went to sit at the singapore river banks and watch people on gmax extreme
crazy people, i'll never dare to go reverse bungee jumping!!
just sitting by the river, i was already paranoid that i'll fall in
it doesn't help that gh told me that a dead man was scooped up from the river
and then asking me
"how many handphones do you think has dropped into the singapore river before?"
ughhhhh
i held everything tightly to me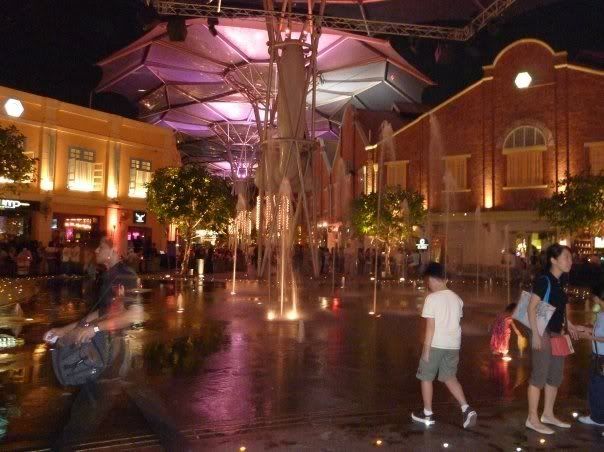 clarke quay was really booming with activity
but i was feeling too hot and too tired
so went home after awhile
and it's back to doing work after this blog post :(
*sigh*