after antm cycle 13 episode 8 panel, the girls headed back to the house
when they spotted this when they entered
apparently tyra banks had to send in the homecleaners
because it was the
most disgusting top model house
ever!
disgusting girls who do not wash up at all
wth, do u think there are servants around?!?!?
sundai's suitcase, which tyra calls it a
"home for the rat"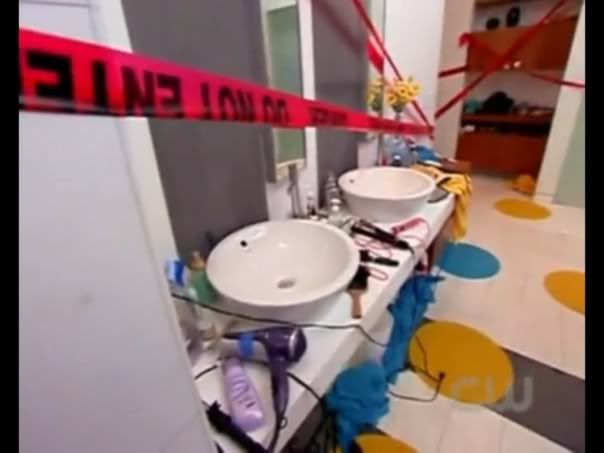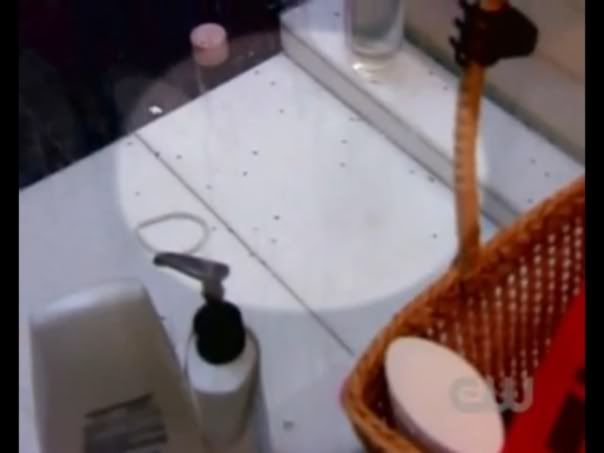 ARE THEY DISGUSTING OR WHAT?!?
america's next dirtiest top models!
oh wrong, it should be
america's next dirtiest petite top models
i'll die living with them
this is unhygenic! and i hate messy places!!!
and here comes the anti climax end to this...
because the model house has been condemned, they will be moving to
HAWAIIIIII!

what sucky msg is this...
"do not clean ur house, if it is too messy & dirty, just move!"

ugh
i was hoping to see her make the models clean the house
that would have been interesting, and possibly bitchy!
so after the girls packed, they headed for hawaii
not very exciting to me, it's still part of US anyway?!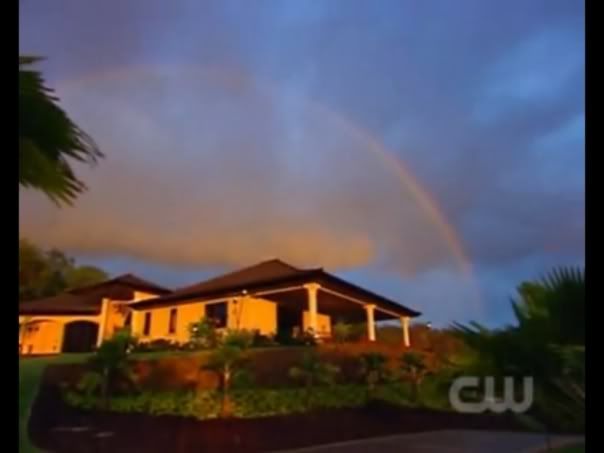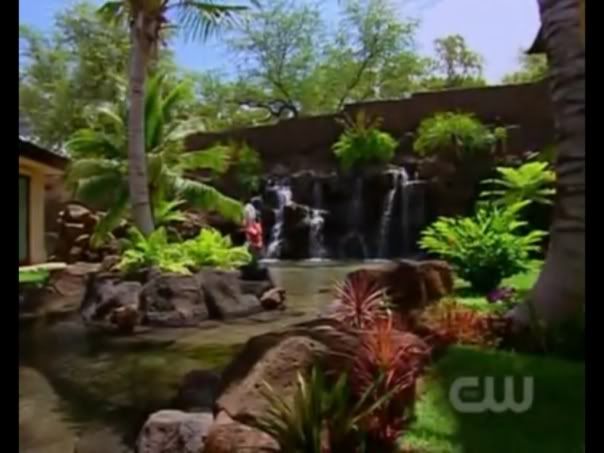 their beach villa under a rainbow, looks heavenly!
the bathtub, with a plasma tv, their house looks perfect!
so late at night, after the tyra mail, erin and brittany kinda bitches about each other, this is totally a sign of who is going to be in the bottom 2!
the next days, the girls got up and were taken to the beach
where they were supposed to learn how to surf
because apparently it's kind of related to modelling, regarding the balance and posture :s haha, i'm sure tyra banks can surf
photoshoot challenge! the girls will be surfing alongside two male models/surfers
and they will be judged on poise and balance
laura the surfermodel
that is a really awful swimsuit though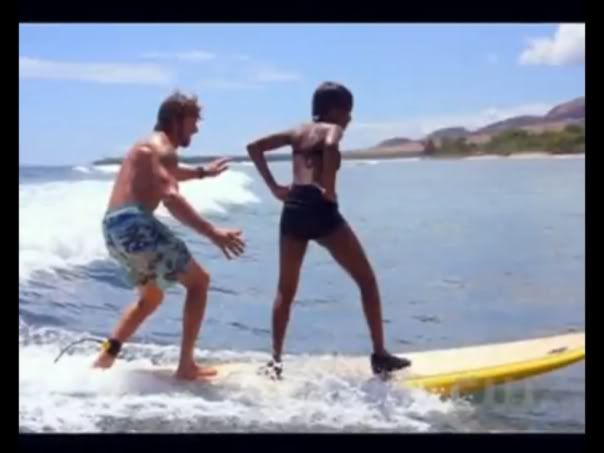 sundai the surfermodel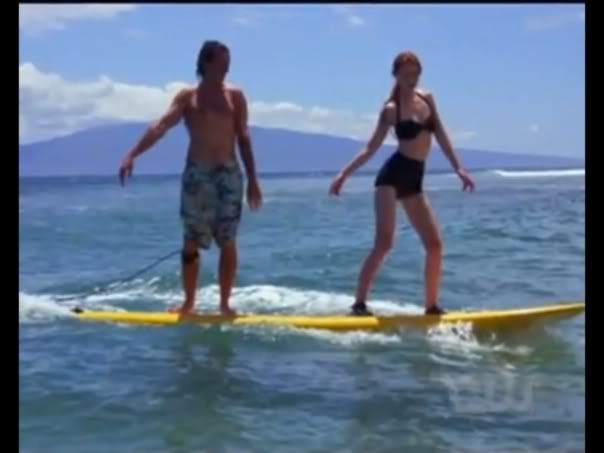 nicole the surfermodel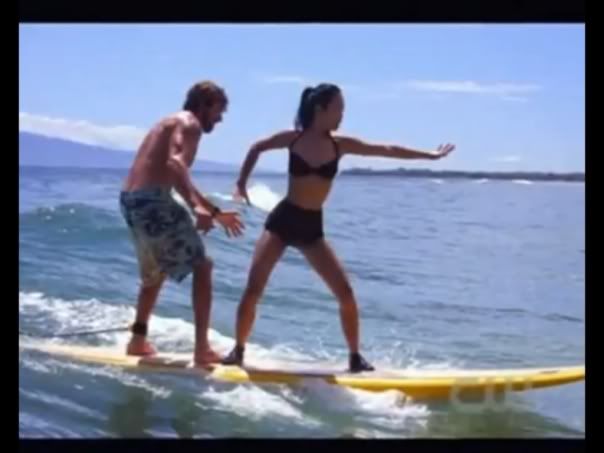 jennifer the surfermodel
this looks the strongest so far...
brittany the surfermodel
erin the surfermodel, looking the most modelly actually
she's gonna win, like totally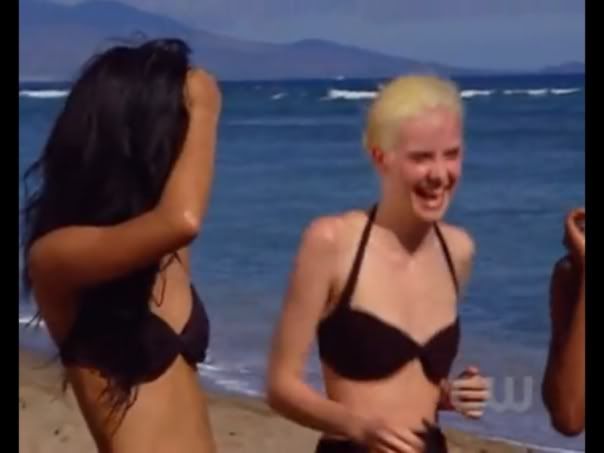 and erin wins the challenge again!
she is a no boobs model :s just realised
she picks nicole and brittany and they were treated to a
helicopter ride around the island
!
nicole looks funny here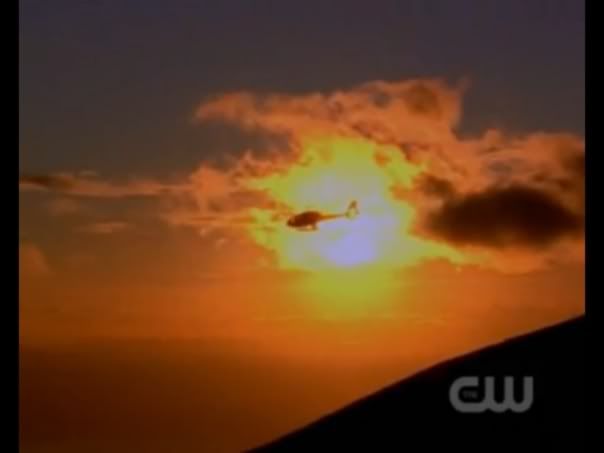 this looks totally breathtaking!
and erin complains about not winning anything tangible yet in the competition...
what is not tangible! she did win a seventeen shoot!
i think that is tangible! grow up 18 year old, having a photo in a magazine probably beats winning a diamond necklace
because that photo may generate
more cash flows
in the future from other modelling jobs, hence there is a need to calculate this hopefully
perpetual
cash flows
and compare the
net present value
(okay, i've gone off the bonkers studying for finance...)

anyway everyone in the house was annoyed by erin's immaturity
poor laura was awfully sunburnt after all that surfing
she's afraid it will affect the upcoming photoshoot
next day, the girls are driven to some sugarcane plantation
where tyra and jay pops out of the bushes and the girls learn that tyra will be photographing them
so after some lame commentary about immigrants to hawaii and barack obama,
the girls learn that they are supposed to photograph as two races
laura - mexican and greek
erin - tiebetan and egyptian
sundai - morocan and russian
brittany - native american and east indian
jennifer - botswanan and polynesian
nicole - malagasy and japanese
erm, okay i know there are alot of typo errors in that
malagasy are people from madagascar
sounds quite cool actually
this sounds like an interesting photoshoot!
erin did not do well, she blamed it on not knowing more about tibet
i was quite sad for her too, her photos have been one of the strongest actually
laura did great! and good thing she was smeared brown, covering up all her redness
and suddenly after laura's shot, the scene moved on to this...
.
.
.
.
.
.
.
.
.
.
.
.
.
.
.
.
.
.
.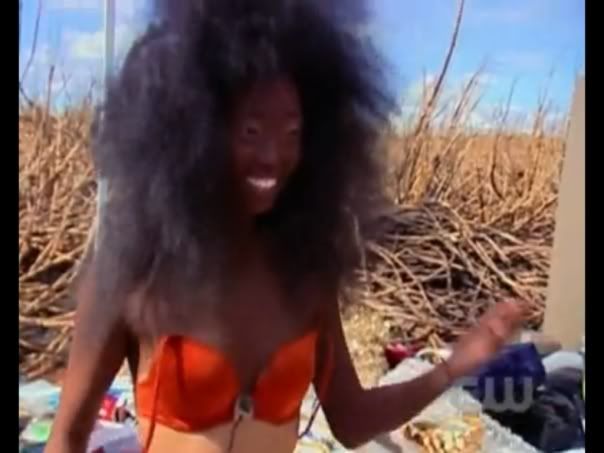 this picture popped out and
SCARED THE SHIT OUTTA ME!

but i wish i had really white teeth like jennifer too
nicole did great! i hope she wins TOP PHOTO THIS WEEK! :D
however, i don't see ANYTHING really japanese about her shot
or was it supposed to be javanese?!?
the kimono like thing she was wearing isn't really japanese i feel :s
brittany had no variety, but i like her outfit!
sundai, i can't understand why they like her?!
her pose were mostly boring
the next day....pannnellll!!!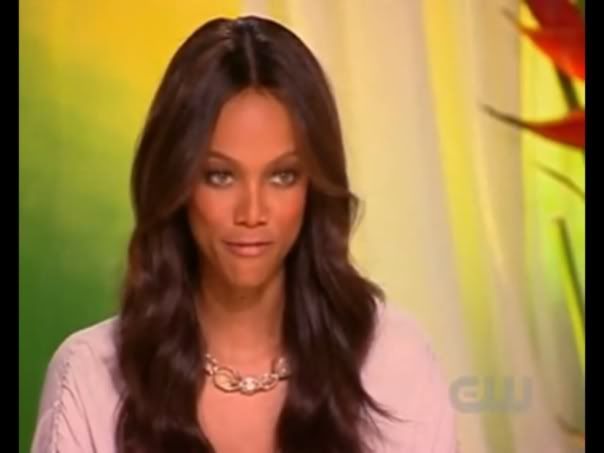 i like tyra's hair here, it looks really soft and nice!
jennifer did not bad
laura look good! i like her, she's nice!
erin shows her childishness in front of the judge, blaming her lack of knowledge on tibet again...
brittany looks beautiful but there was no shape at all apparently
sundai apparently looks like a 12 year old model cos she still photographs short, i still don't see what's so good about her, besides good attitude, but i think she should be out like soon...
nicole did great!
results:
nicole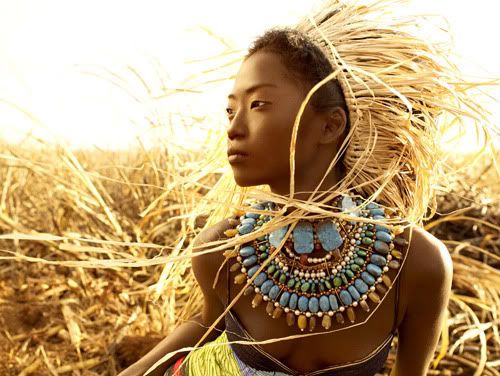 jennifer
laura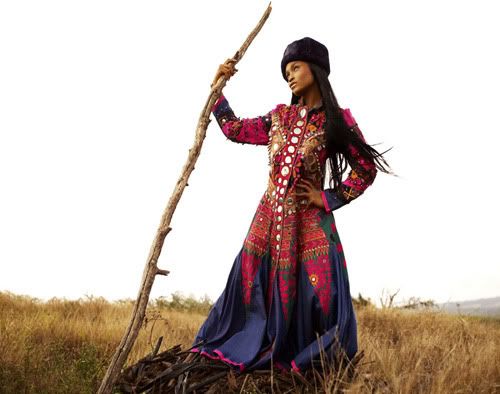 sundai
erin
out: brittany
i'm so sad that she's out! i think she models really well!
this was just unlucky for her...
and being analytical is nothing wrong, it did work for her for so many rounds!
there's nothing wrong with being smart!