this week's episode started with rae talking about her daughter
well that could be really good or really bad!
it either means she will do damn good this episode, or she'll be out!
erin bitches about nicole yet again, ugh everyone bitches about nicole!
i hope nicole wins, and that will teach them!
it must be really boring or really stressed being in the Model house
the girls ended up having some hair tossing competition
the next day, the girls arrive at the studio to see the host of The Insider
and finds out that they will be learning how to interview someone today
they took turns to interview this comedian who impersonated many roles
most were like okayyyyyy (at least they spoke)
but nicole was really stunned
on a sidenote, she looks naked in this picture :s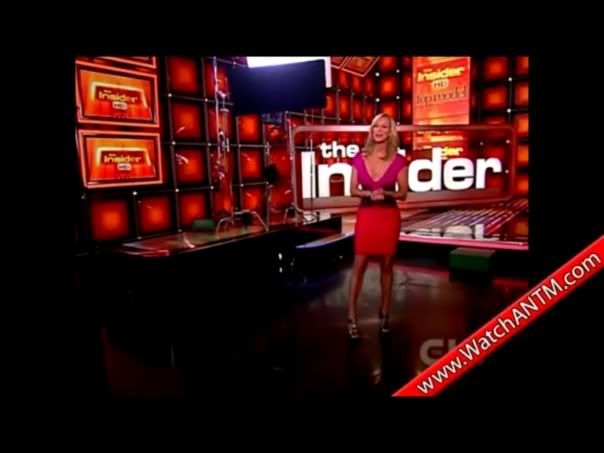 next the girls were brought to the actual Insider studio
where they find out that they will be interviewing jessica from 90210
so all the girls will take turns to interview her, and the winner will be featured in a beauty story on Seventeen magazine
so the girls have to interview jessica for 2 mins each (jessica is damn hot btw)
and the sly production team will cut off their teleprompter halfway
so as to see how they react to it!
not a very nice screenshot of jessica
but she looks really hot! typical angmoh look though
jennifer was great!
sundai sounded really really fake
laura 'erm...ed' through the show...quite sad for her :(
erin was great too!
and nicole was HILARIOUS!
she could not think of any qns to ask and so she asked "so did you have kids urself?"
jessica is only 20 btw! and she was shellshocked by the qns
so erin WINS! she totally deserved it, really did THE BEST!
and she picks jennifer and rae for the magazine shoot with her
pictures from the beauty shoot:
erin
rae looks really good here!! i like this picture!
really wish i look like her, moreover she's a mother!
haiz, i want to be hot mum next time too :p
jennifer
when the girls reach home, the doorbell rang and the found boxes outside!
and it was their preparation kit for their cover girl advertisement
each of them has to come up with a 25seconds script for cover girl
well, i don't see why it is necessary for them to do their own script
in the real world, i believe they provide the scripts!
this is like a test of language abilities...
so the next day, filming!
and teyona was there, as she's the latest covergirl spokesperson from last cycle
i always thought teyona looks weird, and i stil think she looks weird now
nicole was up first and she did great despite a poor start!
she look great, her script was great, she looked easy breezy beautiful!
sundai sucked
nigel liked jennifer, erm, i thought it was abit fake
laura, poor girl who cant memorise her lines
brittany was like a robot
rae did miseraby too :(
erin kept screwing up and crying
and it's time for pannnelllll!
the results!
jennifer
nicole (yay girl!!)
brittany
sundai
laura
erin
out: rae!
(as predicted from my first line i must add :p)