went to school today for meeting
wore super high heels in which i bought yesterday
retail therapy to motivate myself for finance
(which didn't work, i feel very burnt out cos of finance)
anyway, cheap high heels at mitsju! I LIKE! $34.90 only!
i don't think elsewhere is cheaper, except online sprees
even mondo is like $39.90
then because of some turn of events, i ended up meeting zh at ion orchard for icecream buffet
swensens icecream buffet $18.90++
but i got 1-for-1 voucher!
and you can print out the voucher too!
click here: http://www.prism4u.com/promo/2009_030/index.html
after 1-for-1, it cost $11nett per person!
quite a wide range of selection
50 types of icecream, 40 types of topping
and there is still waffles, mini panckes, brownies, cakes, chocolate fondue!
i think it is really VALUE FOR MONEY!
SUPER WORTH IT!
and there are various classes of icecream, the fruity, the chocs, the lip smacker, gelatos, etc. really alot!
there was such a wide selection of icecream!
then zh and i decided to clear them, 4 by 4
i'll take the first 4 flavours
zh will take the next 4 flavours
haha, the guy scooping the icecream was secretly laughing at us i think
but he soon understood our pattern already
oh yes,
IMPORTANT TIP #1: ASK FOR SMALL SCOOPS OF ICECREAM!
in that way, you will be able to try out MANY flavours!
we only learnt that after we finished our first round...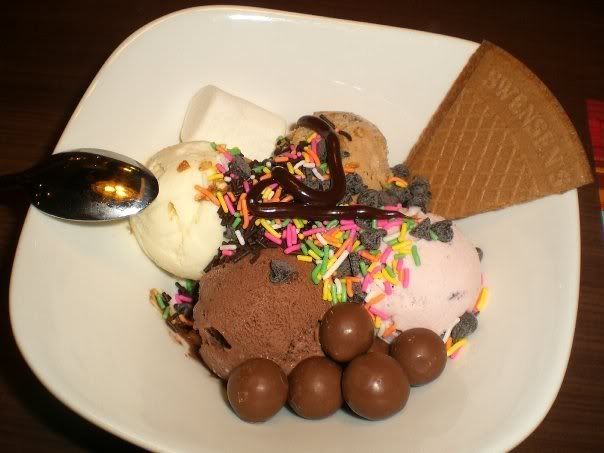 first serving of icecream
as you can see, we still put alot of toppings
soon it gets lesser and lesser!
i can't really rmb all the flavours
but there were common ones like chocolate chip, strawberry, frosted chocolate malt, mocha almond fudge, sticky chewy chocolate, rocky road, etc.
there were also new flavours like kiwi raspberry, peanut and sesame gelato, green apple gelato, milo, chendol, etc.
i think the milo and chendol, kinda copying Island Creamery and Udders?
hmm, well, it was okay only, not very fantastic
flavours not to take: those that looks like shit, i mean LITERALLY
it LOOKS like shit and TASTE like crap too!
esp Coffee Caramel Gelato
the coffee taste is sooooo strong, and SUPER bitter!
oh, and Super Lemon sucks too, the Venezia's lemon is MUCH MUCH MUCH better!
2nd serving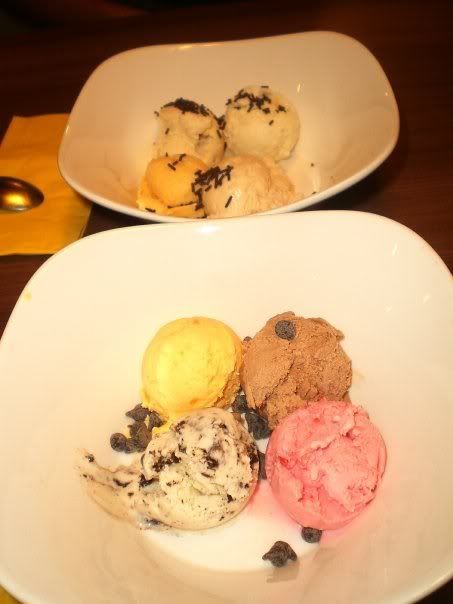 3rd serving
4th serving
which means we covered about 32 flavours together!
and still DID NOT FINISH!
and we only ate icecream, never try other dessert cos we were SUPER full!
going to go back again for Round 2! so as to clear alllllllll the other flavours!
before 30 sept! cos 1-for-1 is worth it!
after that went to lido to watch Nuffnang's screening of G-force
waited for gh for ages...haiz
anyway, the movie was pretty funny overall
though abit ridiculous about how the mole operated the monster, etc.
and the touching part was just too short! i'm sure the baddies repent so easily!
it was funny but not THAT funny
it was abit touching but not THAT touching
it was cute but not THAT cute (i cannot stand the sight of the mole)
yeah, so it is just okay
worth a watch though!
think they should have lengthened the movie abit, develop the feelings MORE!