yesterday was huiyan's pyjamas party at goldkist chalet!
quite excited, my first time going to a pyjamas party!
but on reaching there, not many people wear pyjamas la :(
haha, i wore a nightie, charles wore his daddy's pjs, gh wore singlet, vineson wore RACERBACK and shortshorts, melvin wore boxers (long one la), clara wore elmo tee (eh, NOT CONSIDERED LA! :p)
nus pple so peng chang RIGHT HUIYAN! :P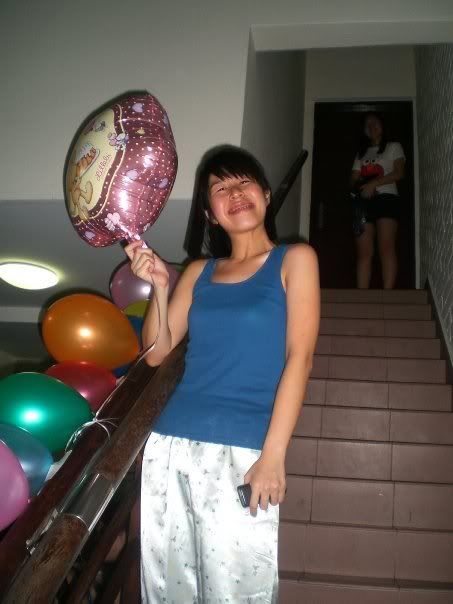 the birthday girl :)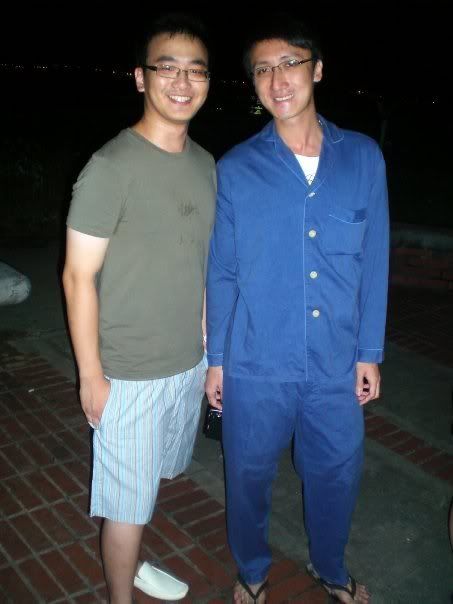 vince say it is like a prom dress -___-"
thanks ar, i wun even wear it out as a NORMAL dress can!
where got people go for prom in nightie?!?
ate abit after that, food was not bad
and then huiyan started her games...
i thought it'll be drinking games, but it was not...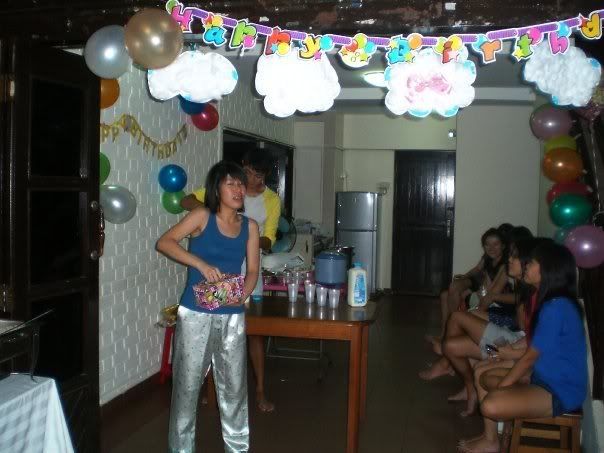 she'll pick out names from her tissuebox hahahah
first game: drinking milk contest which clara took part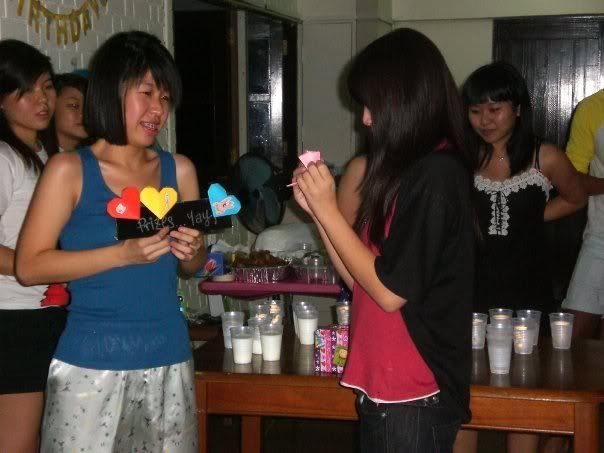 winner gets to choose her price!
2nd game: blind dancing!
totally FOC can, omg, i'll never forget the paisehness
and charles ended up going up for that, hahaha!
actually xf was also called out, but she wasn't here
anyway, CHARLES WAS DA MAN TOTALLY!
hahaha, i actually took a video, but he say cannot put on facebook "pls pls" hahaha!
i very bad la, know it's v paiseh still make fun of him :P
but it was damn funny, hahaha! din know charles so enthu!
and of course, HE WON LA!
actually i think the video will only have me and vince's laughter anyway
and a shaky camera, hahaha!
next is best dressed award
had to catwalk down the stairs, and say why you should win
in which i've totally no idea why i should :s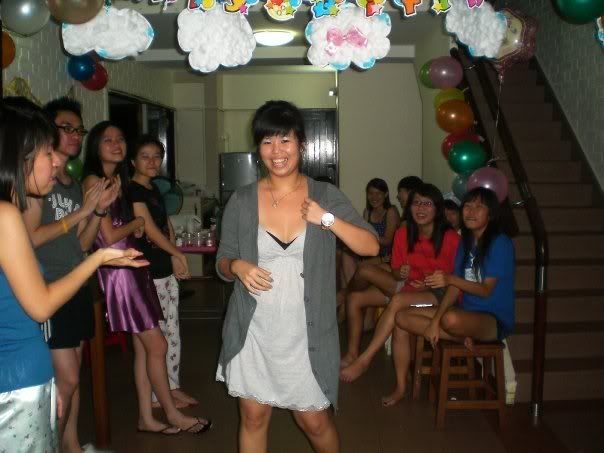 after that, huiyan tried to get us to play some ji niu nai game so that we can finish bo bo cha cha for her... totally FAILURE GAME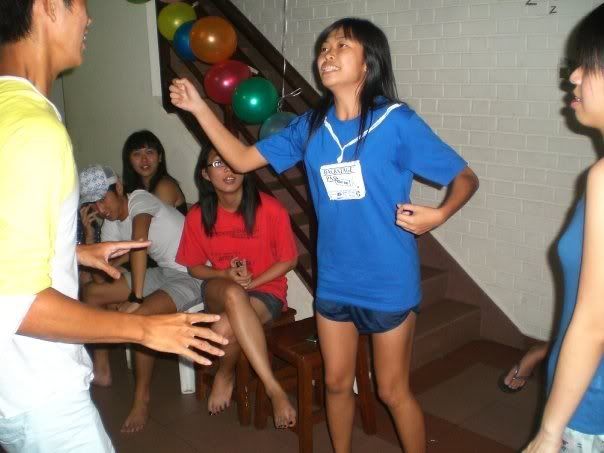 cos huiyan herself also confused can :P
damn funny la!
in the end, we changed to WHO WHAT HUH, which was more effective, and winners had to drink finish the bo bo cha cha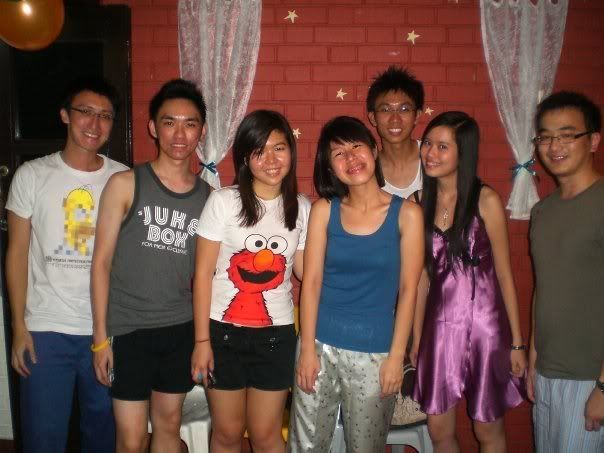 after that was cake cutting session!
huiyan 'successfully' broke the crown when she was putting in the candles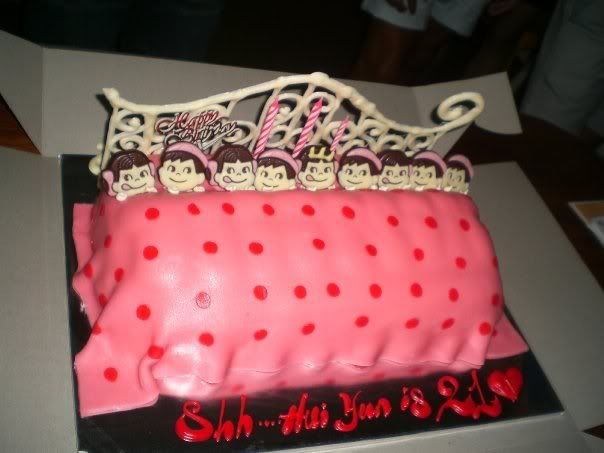 i think the cake looks really nice!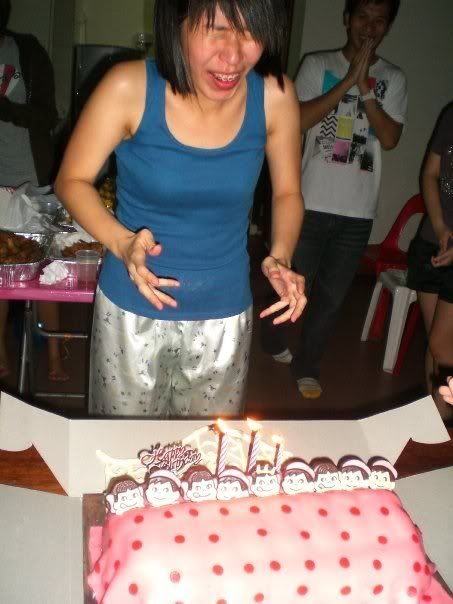 and thereater, the bed head was burnt because the candle was too near to it
happy 21st huiyan! :)
yayyy! i had a very fun time! :)
good relaxation in the midst of mugging!