yesterday, we celebrated fj's birthday at Grand Hyatt Scott Lounge!
theme was bowtie and ribbons!
guys had to come in bowties, girls had to wear ribbons
i wore my purple ribbon dress! :)
the birthday girl with her many many balloons!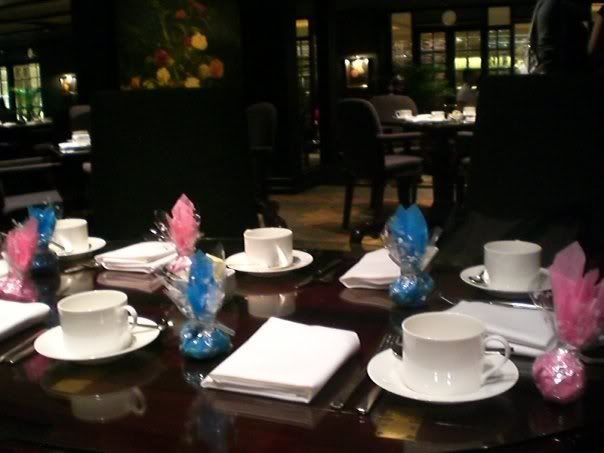 we had a cosy little corner to ourselves
really good ambience, but the lighting wasn't very good
can't take very nice pictures, unless u have a super pro camera
there wasn't alot of choices of food, just a small area for high tea buffet
and it is western styled, so mainly there were cakes and bread
but the food was really good! esp the prawns! very big and fresh!
they are cold prawns though, i kinda prefer them hot
oh, and the scones were FANTASTIC la! super nice!
the cherry crepe was also very nice!
it looks super bloody though, bj's creation
debbie & bj
tracy & debbie
fujing & tracy
group picture!
bj totally looks like a professor
the girls!
haven seen lynne for a SUPER LONG TIME!
we were like eating, talking, and taking photos
while fj was busy table hopping haha
it's quite tiring one lor
she barely ate anything!
happy 21st fj! :)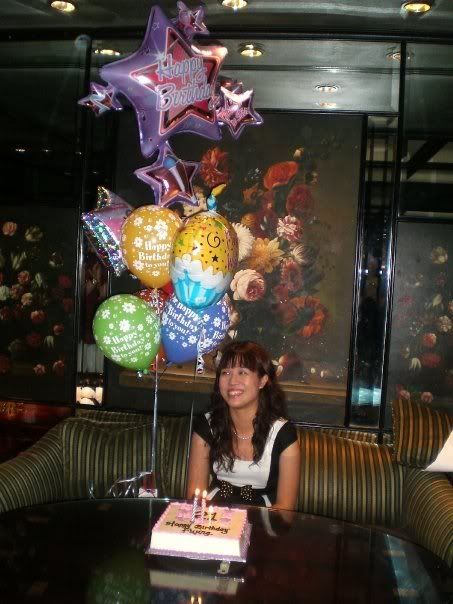 the birthday girl
hahaha, she was super funny, still give BIRTHDAY SPEECH!
well, i know some people do give la, but it's quite odd
haha, and she din want us to sing happy birthday actually!
should have sang EXTRA loud!
then, her fren made her take out a candle from the birthday cake using ONLY her mouth
it was SUPER DUPER FUNNY!
hahaha, damn bimbo la, omg!
since we were all quite full already, more camwhoring!
showing off our ribbons!
the professor :P
who kept actively promoting the movie Bruno
pls lor, i will never watch it!!
Borat was enough to disgust me, a scar in my life okay...
lynne & tracy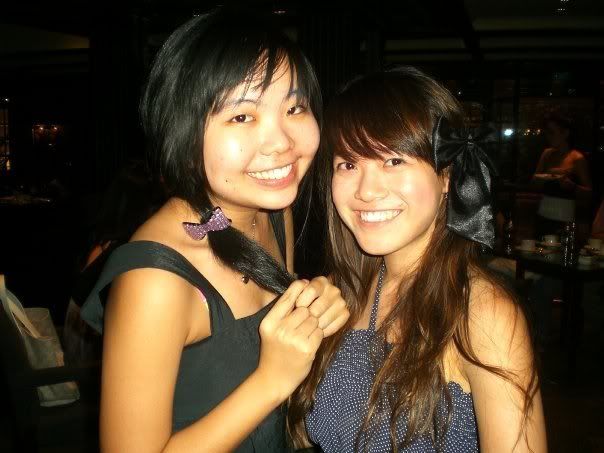 peiwen & debbie
surrounded by balloons!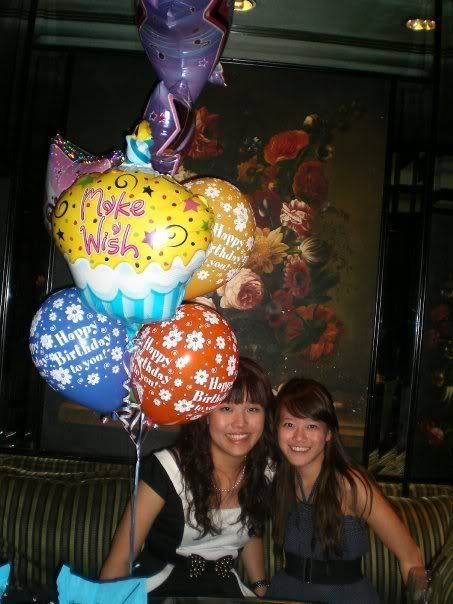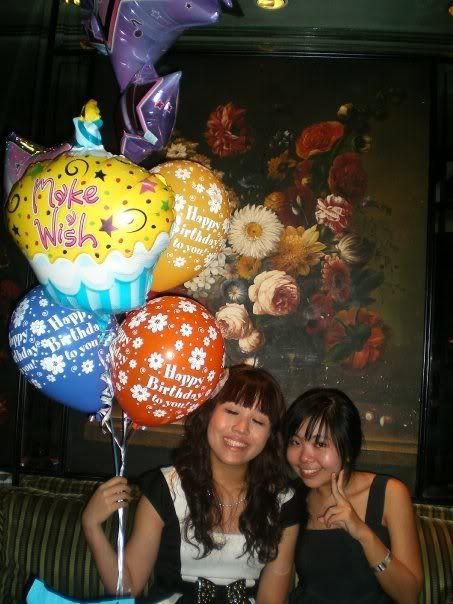 pictures with the birthday girl! :)
another picture with db!
sch is like so busy that we only have such occassions to meet up!
then as we were sitting around, waiting to leave soon,
for some reason, we started to talk about tampons -__-"
oh, it started with bj promoting Bruno again, and somehow debbie led the convi to tampons
it was damn funny la! fj missed the convi totally cos she was at other tables!
Debbie: "i just bought, think very convenient, very clean also"
Tracy: "huhhhh, how can that tiny thing contain all the blood?!"
Debbie: "got bigger sizes one la..."
Lynne: "oh, u mean bigger as in the LENGTH or the WIDTH?"
HAHAHAHAHA!
Bj: "is it this long? -he pointed a 20cm ruler length-"
Debbie: NO LA! you think SEX TOY AR!
HAHAHAHAHA!
we were collapsing on the sofa and laughing, damn funny la!
well, i still dunno how a tampon works, like, how can that tiny thing absorb all the blood!
i dun believe leh :P howhowhowhowhow?!
haiz, aiyah, but anyway, not as if it prevents cramps
i rather it prevents cramps! haiz!
okay, enough about tampons...
more photos :P
we ended up camwhoring at the toilet too :P
soon, we left grand hyatt
and it was super funny to see fj struggling with all the balloons plus her heels
and so many kids were looking at her
then debbie and i left for home while the others went shopping
haha, apparently after we left, got some indian kid approach fj and asked her for a balloon!
but fj says NOOOOOOOOOOO!!!!
haha, yeah, yesterday was a good relaxing day
but i ended up studying till 3am last night just to make up for lost time :(
ah, it's time to do more work before heading for sch for focus group!
i'm actually very nervous about focus group :(
howwwwwww!