i the first Changi Aiport Race was held on 5th sept 2009!
race: the jett 8 B747 against the Porsche 911 GT3
for more information about the build up to the race, click
HERE!
met gh at Terminal 3 (he was LATE!) to register and get our passes!
was abit confused where to go initially, because there were mainly 3 counters
and we did not fall into any category!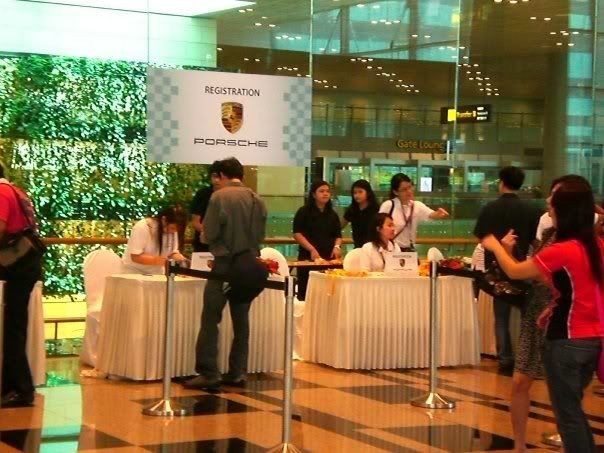 the Porsche counter
Jett8 Counter
Lucky Draw Winners counter
yup, but managed to call raine from nuffnang and collected our passes!
we were then allowed into the departure area, and guided into the holding rooms where people rest before boarding the planes!
muahaha, nice passes! :)
invited guest :P
if only we can just escape the ushers and run up a plane!
a perfect weekend getaway :P
holding room b7
before entering the room, there was the usual security check
where gh keep beeping when passing through the scanner
so much metal on him eh!
it was quite strict, everytime we left the room to go toilet, we've to be scanned all over again!
OH! i NEED TO TALK ABOUT THE TOILET!
the toilet was just FANTASTIC!
it had a permanent toilet attendant inside who cleans up right after you finish using
and who greets you once you step inside
and the whole toilet was totally GLEAMING!
even the mirrors were SHINING!
and the tabletops were not wet at all!
SUPER IMPRESSED!
LIKE CAN ANY OTHER AIRPORT BEAT THIS?!
(the answer is no, btw)
so upon stepping into through the security area, we were AWED by the set up
there was a rockband playing, and there was catered food too
which looks SUPER MOUTHWATERING!
laksa corner
for some reason, the picture turned out blue :S
pink guava juice
there were waiters serving us too
dessert! :D
oh and i was super amazed by this innovative plate
see the hole at the side? it's for you to dangle your glass while you are taking your food
i think this is INGENIOUS!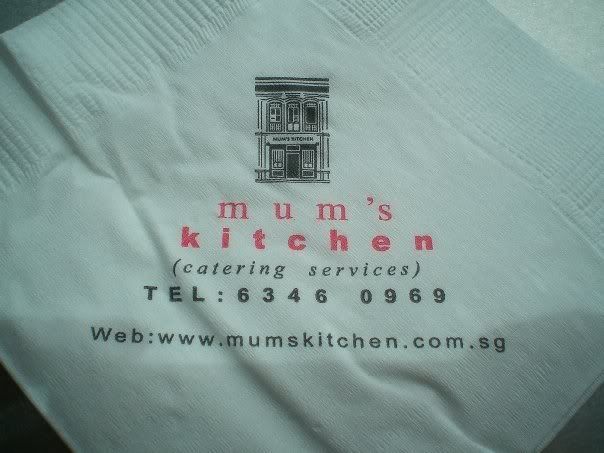 food by Mum's Kitchen
the food was REALLY good! everything!
well, maybe except the spaghetti, too spicy for me
but the rest, i give it 4.5 outta 5 stars!
picture with raine from nuffnang! :)
i like her little black dress! simple and nice!
there was a band playing for us while we were eating
i think they sang really well! :)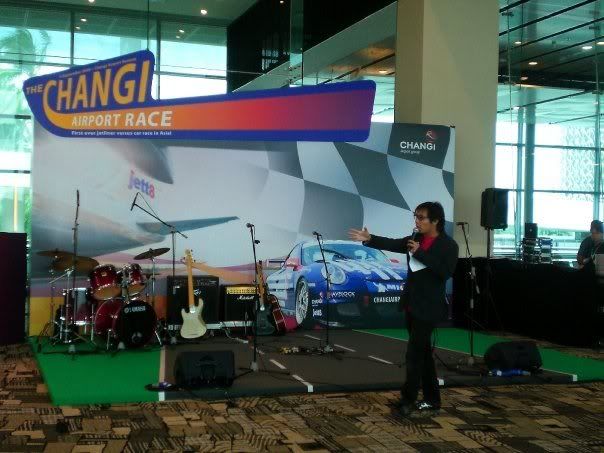 funny emcee, who was also giving out some gifts for Q&A
in which amazingly i also answered
but got WRONG! :(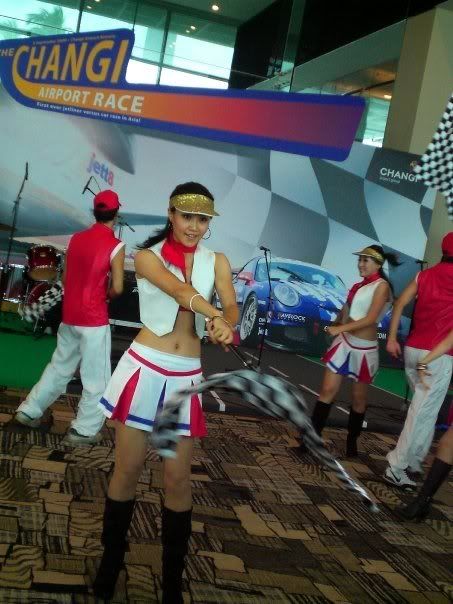 a dance group, dancing to Shut up and Drive
very apt song for this event
but the moves were CHEESY TO THE MAX!
hahaha, i don't know whether to roll eyes anot
professional photo taken!
and developed --- FOC!
i think gh and i are really overly 'sua gu'
hahaha, amazed by such little stuff
we were quite scared that they will ask us to pay for the pictures actually!
us! :)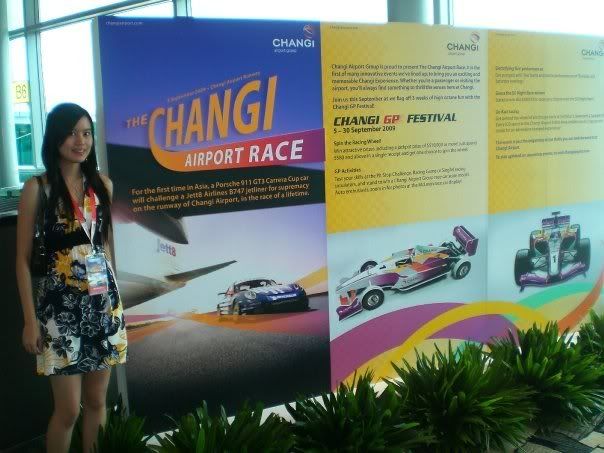 taking with the poster
and soon, it was time for us to head down to the grandstand!
3 buses brought us there!
but first, we had to SUIT UP!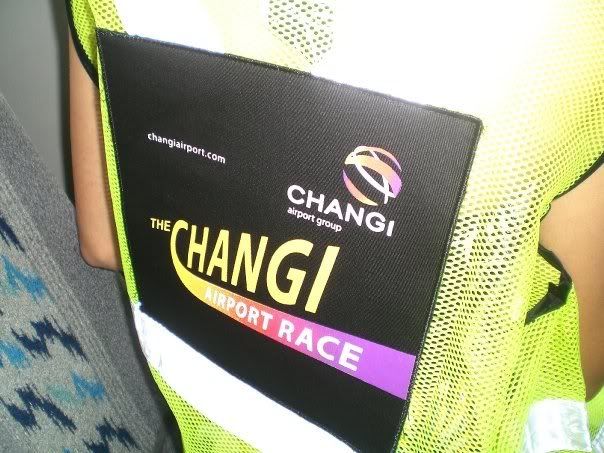 totally looking like a traffic warden!
and we got to keep that luminous yellow jacket too!
omg! keep for what ar?!?! well, if anyone wants one, can get it from me :P
there were cheerleading performances by ntu aces
and also a few race queens
a big screen at each side of the grandstand
and there was also a tie-in with daniel ong and jamie teo inside the departure hall where some 500 people (i think) were watching the race from the tvs
we were MELTING in the heat!
and we were really literally next to the runway
so quite a number of planes taxi past us!
of course we snap snap snap pictures away!
and we waved at the pilots too
and no pilots waved back except the Jetstar one
not concentrating ar...
the planes
and it was soon time for the race!
yuey tan, getting ready and heading for the starting line
my camera zoom is not bad for a pathetically old digital camera! :)
we were sitted super far away actually
i could barely see this with my bare eyes, needed to use camera to see!
and the humongous plane piloted by peter leo also headed for the start line!
there was much anticipation in the crowd, when we were told that the race is about to begin, and we just needed to wait for clearance from the control tower
and everyone was on their feets
and suddenly the porsche zoomed past and the plane barely moved!
we were bewildered, then we realised it was a false start!
well, more like a GIMICK la!
so the second time, it REALLY began
they are supposed to compete along a 1.7km track
where the car is supposed to end on land (like duh)
while the plane is supposed to cross the finish line on air
video that i took
not very good la of course...
another video taken by klik.tv!
i had a tiny second of fame inside
haiz, why mine so short :( is it cos i was the last to be interviewed?
but anyway, i look funny on video :(
yup, and in the end, the CAR WON!
like duh la, the runway was too short for the plane to gather enough acceleration to take off! they should have made the race longer!
but actually, i feel that the race was not exciting enough
partly cos it was too short
and partly cos the commentary of the race wasn't good!
to see a race with GOOD commentary and EXCITING action,
watch the Topgear race!
link to the Topgear video can be accessed by clicking
HERE!
some improvements that can be made to the next race:
1) longer distance
2) use turns
3) use a fighter jet
4) use a faster car, think ferrari, lamborghini
5) do other things instead of racing (can adapt from Topgear's car football)
6) can have a race between a few sports cars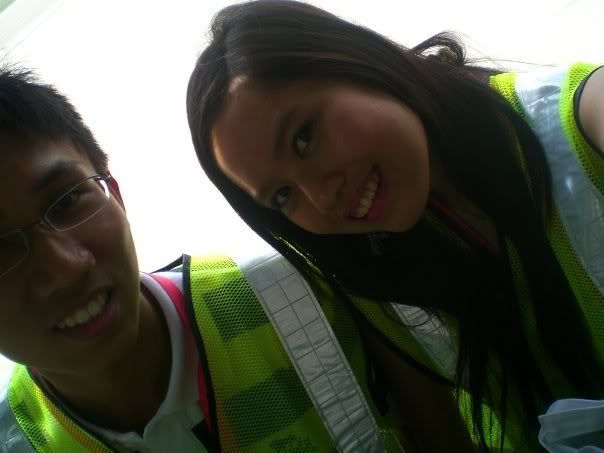 after the race, all tired and sweaty, but still happy :)
changi airport is also holding some other events
so as to build up the hype for the upcoming F1 Grand Prix in Singapore
go-karting at carpark 3A basement 2 terminal 3
the go-kart is like a toy car la! don't even think it is exciting
but the place is nicely decorated
just spend $20 at changi airport and you get 2 rounds around the circuit!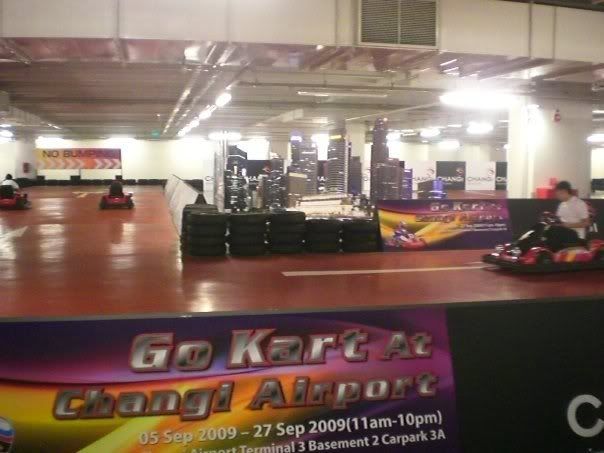 the nicely done up circuit
overall, it was really an enjoyable experience, and i hope i get invited to more events by nuffnang! :)