we had a
vjc perc outing
today! abit out of the blue, considering the last time we met up was like 2 years ago if i'm not wrong! like super long!
okay, it was vjc perc + andrew ong la
hmm, initially din know what to say la
but with wy there, haha, always quite funny one :P
walked around abit around ION first before heading to
Canton at ION orchard
for dinner
i rmb seeing it in the newspapers
but trust me, it's nothing fantastic
just that the atmosphere and the design of the place is nice
food is of tiny little portions, and it is pretty expensive!
we ordered dishes and share mah, or rather, wy ordered la
order like free somemore -__-" but the food wasn't alot
most of which was pork which i dun eat anyway :S
and the bill totalled up to $182, which was
$23 each
omggggg! i think i'll choose
crystal jade
or
tung lok
ANYTIME over canton
this is a damn AMAZING photograph
the waiter probably has never handled a camera in his life
how can take until SO SHAKY?! and it was like we were not even READY!
and he already snap le, totally stunned us!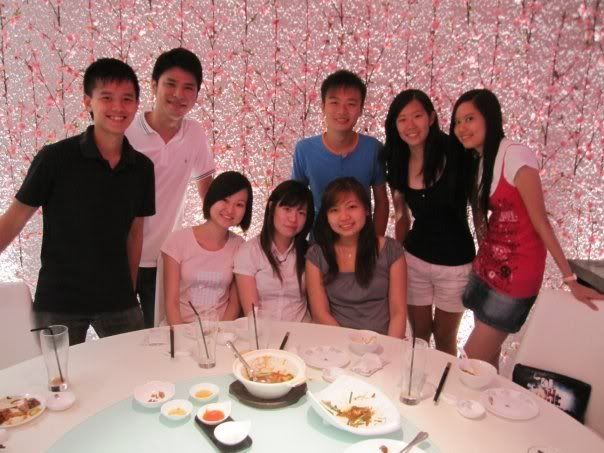 this pic is much better! :)
everyone pretty much looks the same anyway
quite tired now
and blogger is still weirdly screwed up
quite pissed off with it