took part in a charity event today!
well, it's rare cos it has been a very long time since i did CIP
also dunno what spurred me to do it, just saw it on ivle and decided to join
event: Spread the Love @ Junction 8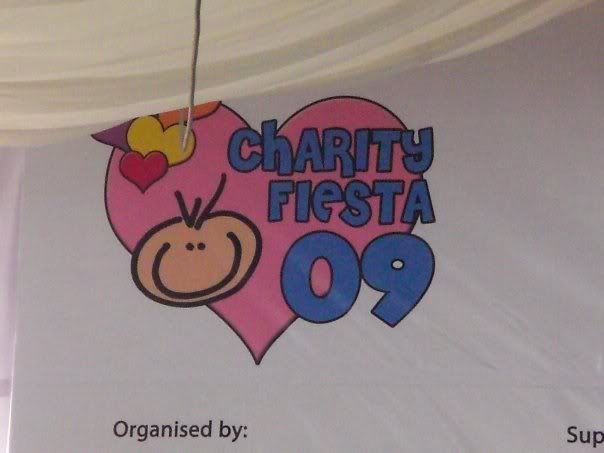 it is the last leg of the Charity Fiesta'09
a 2 day carnival at J8 open plaza
met gh at bishan mrt and headed for the open plaza at 10am
and basically was quite lost cos din really know what to do!
gh was supposed to do balloon sculpting,
while i was under mobile sales, to walk around first level of j8 to sell muffins
so i approached the food&drinks committee there, introduce myself,
only to be brushed off with "can u pls come back at 1030?"
-____-"
why dun ask me come later?
and right, when i saw the sign in list, they put me as 10.45am
HOW COME LIKE THAT?!?
I WAS THERE AT LATEST 10.05 AM OKAY!
ughhhh
gh at least still got balloons to pump
while i stand around and take photos
and then after that decide to go help him la
too wu liao le pls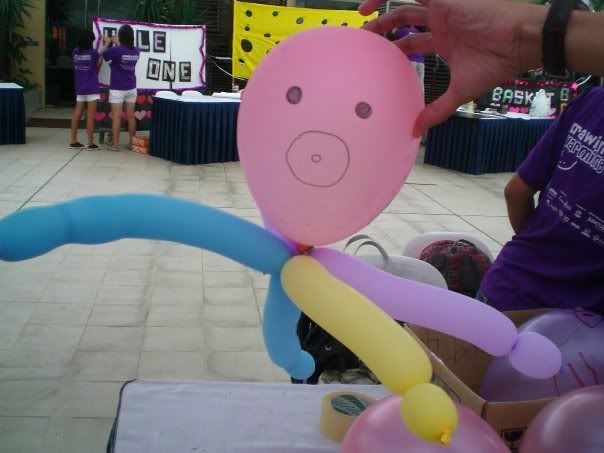 and this is by far the most FUGLY BALLOON SCULPTING EVER!
like OMG! and it was placed at the DOOR of the open plaza?!
yeah thanks, i'm sure it will attract people in...
oh, and then while i was still waiting for 1030am to come,
got asked to do some poster thing la, just write words on the poster
and there was this girl, who made the committee pretty frustrated
they were like on two different wavelengths
my eyes were rolling like mad -___-"
but in the end i also never help to write words la
pls, there are 2 poster boards, 2 brushes, and 10 people?!
no need so many people of course...
so what to do, take more photos lor...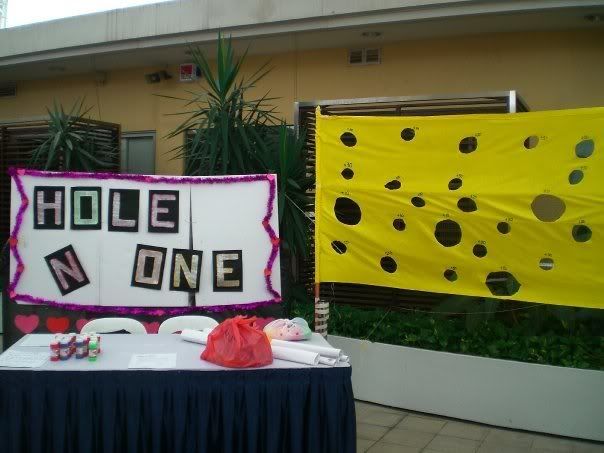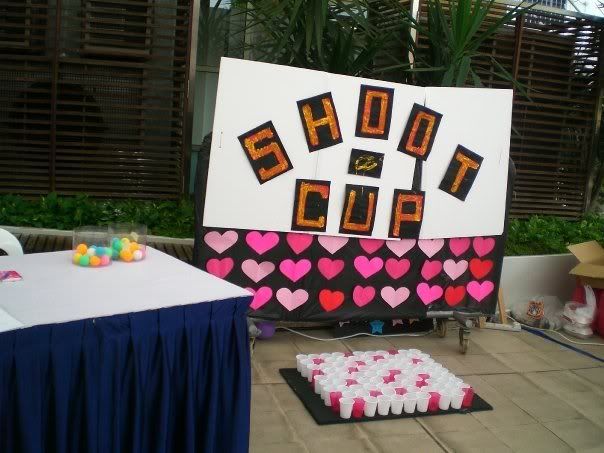 some carnival games
i think the food and drinks booth was the most organised and looked the most presentable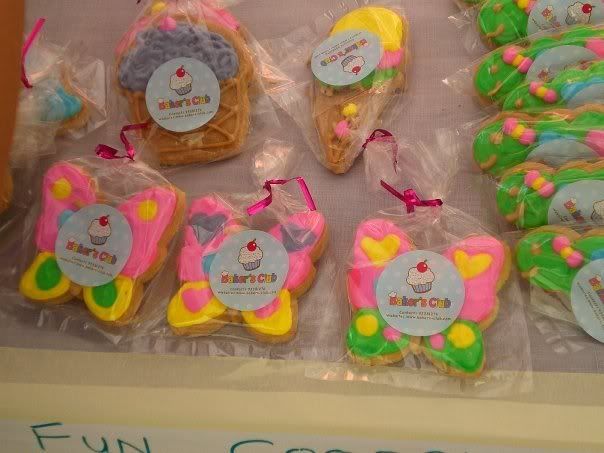 this is nice looking and expensive!
dunno whether it taste good anot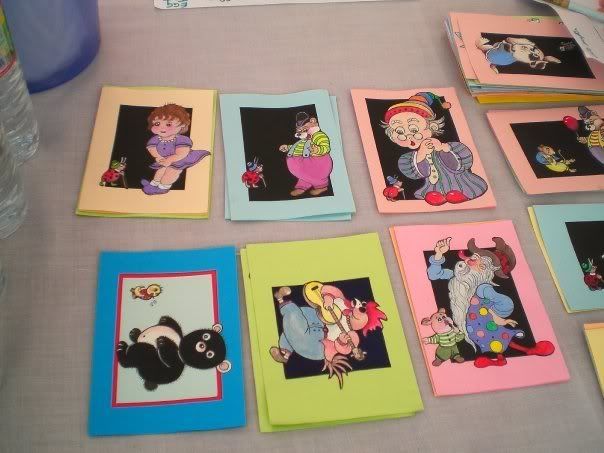 cards drawn by one of the beneficiary
i think this is SUPER NICE!
one for $5 if i'm not wrong
so anyway i finally embarked on my mobile sales journey
which was really bleak
i think i only sold 19 muffins in total!
and we used ntuc green baskets to sell somemore
when i told my mum, she was like "HUH, SO UGLY! i've better baskets at home"
hahahaha!
yeah well, i tried to decorate the basket abit with a poster
which makes it easier also cos pple know what i doing la
and not think i'm an idiot walking around with ntuc basket
rk walked past with xt and his malaysian friends
and did NOT buy anything
SO NOT PENG CHANG!
just cos i dun have change for 50bucks note
rich la, nowadays go out only with 50s la! just cos it is like 20 pounds only la!
hmpf
then zh also came, and bought 3 MUFFINS!
which he sadly say that it taste totally CMI
hahaha, and when i told my mummy, she say she should have helped to make and sell instead
of course mummy's muffins nicer la (even though i never try the charity one)
and of course i also know how to make muffins :D
hmm, forgot his name, but basically the other guy who did mobile sales with me
he is a graduate already! and he sold alot of blueberry/walnut muffins!
came back at about 1pm for lunch, and thereafter did not head back to mobile sales again :P
cos i went to play balloons with gh
so much more interesting pls
i fold poodle and flowers :)
flowers nice la!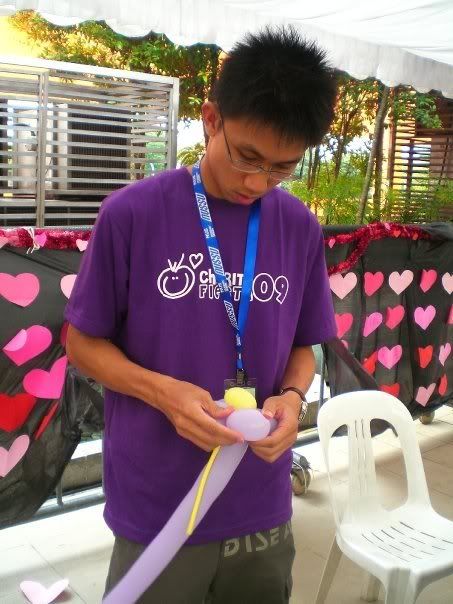 gh making flower bracelet for me :P
the hat was not something that i voluntarily wanted to wear...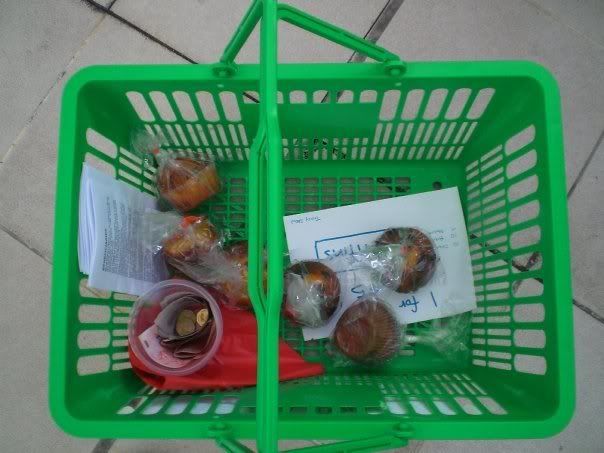 my ntuc basket -___-"
us in our purple barney shirts, which we got to keep!
new pyjamas!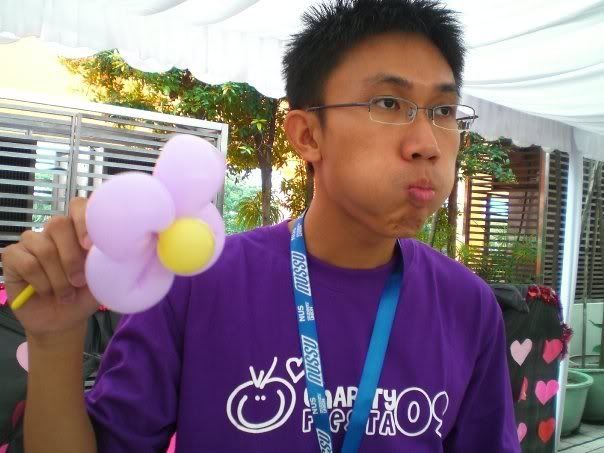 haha, unglam!
they sang okay la
and they did a very weird remix of Wondergirl's Nobody by adding in many other song chorus into it, well, i totally did not get that
but they quite sad eh, not much audience
cos not much pple at the open plaza in the first place
oh, we did some embarrassing flash mob in an attempt to draw more pple to the open plaza
in the first place, we did not have enough pple for a flash mob
and then, there were not many people at the second level to draw them to the third level either! there were really very little pple in j8 leh, amazingly!
so after that, our shift ENDED! changed out of our barney shirts and went to eat
ended up at Swensens for dessert because i had this 1-for-1 voucher!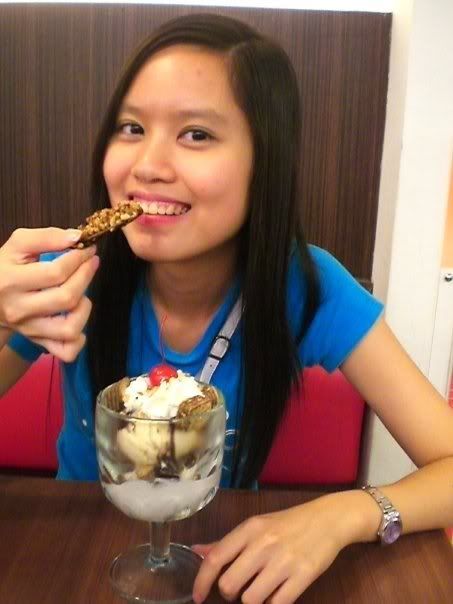 hazeldaze
well, i'm not really into mocha almond and hazelnut
too nutty already
i prefer frosted choc malt and sticky chewy choc!!
okay, there's sch again tml
cos need to meet with prof, oh man...
work is going to pile up again this week!