YAYYYY! another nuffnang movie tickets giveaway!
hope i win this one too, cute comedy shows = I LIKE!
introducing the latest blockbuster...
where the villians strike...
and everyone is in despair...
the chase is on to hunt them down...
will the good triumph over the evil again?
.
.
.
.
.
.
.
.
.
.
introducing...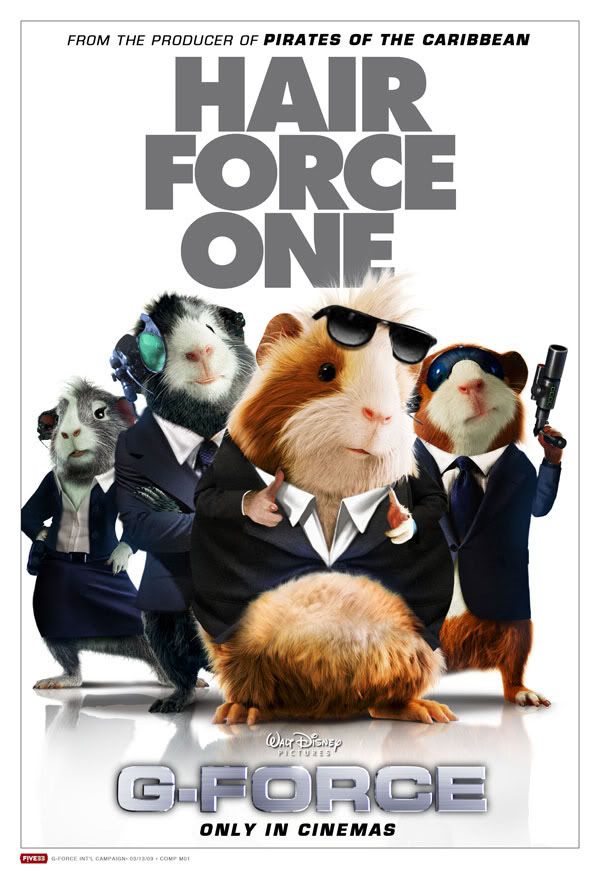 G-FORCE - THE LATEST AGENTS IN TOWN!
*if you don't get what is Hair Force One, perhaps you are not old enough
go watch AIR FORCE ONE first! a blockbuster terrorist movie in which i never get tired of
a much furrier version (x4) of James Bond
and they are the new weapons of the FBI
the new spies in town are...
1) small
2) furry
3) but menancing
The agents are...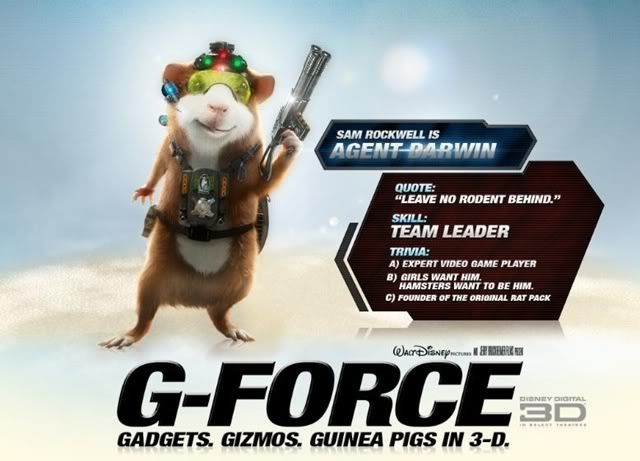 Leader of G-Force: Agent Darwin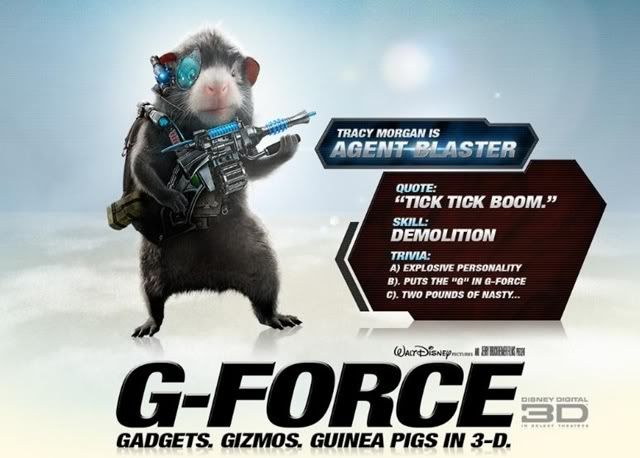 Agent Blaster
well, you can guess that he just loves BLASTING people's heads off probably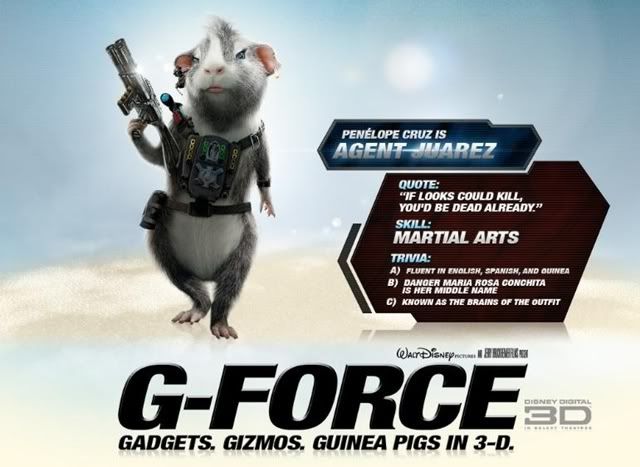 Agent Juarez
of course, there is always a female in the team
though not as hot as the bond girls
but still, in the eyes of the guinea pigs, u never know!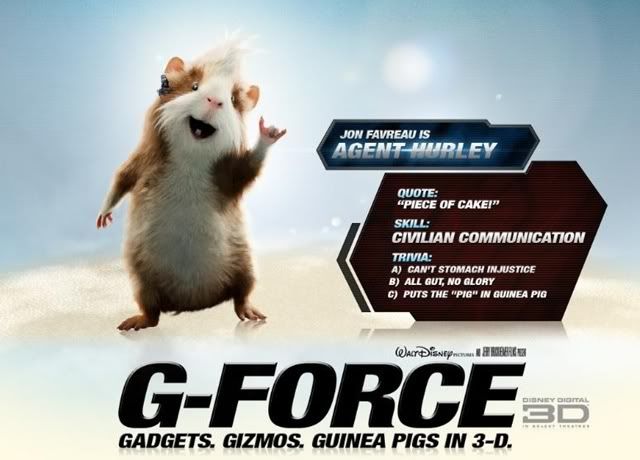 and lastly, agent hurley
he looks quite like a happy-go-lucky, absent-minded agent,
but will somehow stumble upon clues to lead to victory
G-Force Movie Trailer with official music - Jump!
*note: this is not the official trailer, you can watch that on youtube
however, i couldn't embed the official trailer, so here's another one instead!
it's basically about the same
haha, well, it's not REALLY a blockbuster
another Disney film (in 3D) featuring guinea pigs as the AGENTS
besides the cutesyness of the main characters, other hit points of the movie includes the famous voices of some of these characters!
Some well-known stars: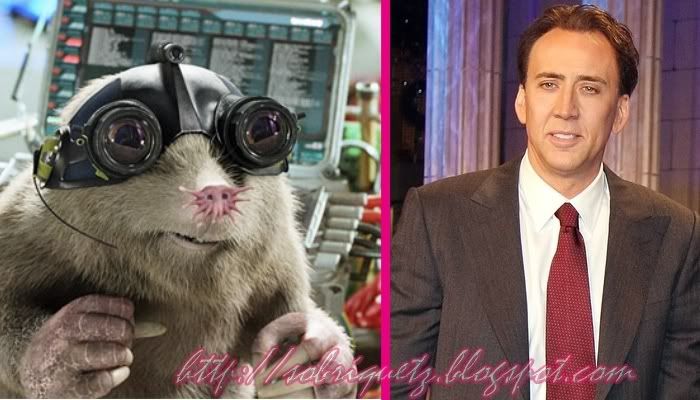 Nicholas Cage as Speckles in G-Force
Speckles is a MOLE, not a guinea pig, which probably explains its lack of cuteness
Penelope Cruz as Agent Juarez in G-Force
omg, she's HOT LIKE TOTALLY!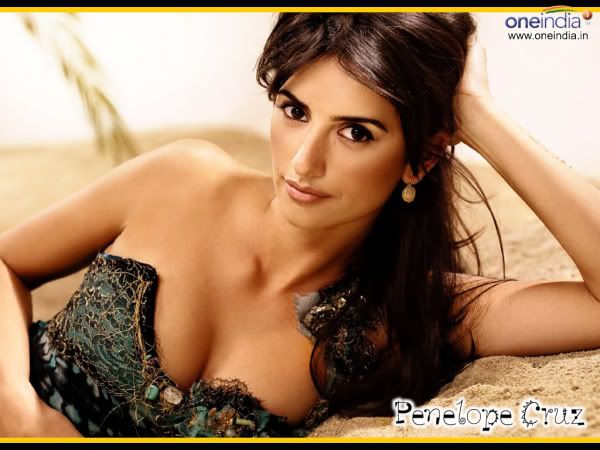 extra picture of her because she is hot :P
hopefully her voice sounds as good as she looks!
Other voices of G-Force:
*they are lesser known to me, i've never heard of them before!!!
Sam Rockwell as Agent Darwin of G-Force (the leader!)
Tracy Morgan as Agent Blaster of G-Force
hahaha, i purposely chose this retarded picture of Tracy Morgan
and i'm so glad that "Tracy" is not really a unisex name in Singapore
perhaps only in the States!
Steve Buscemi as Bucky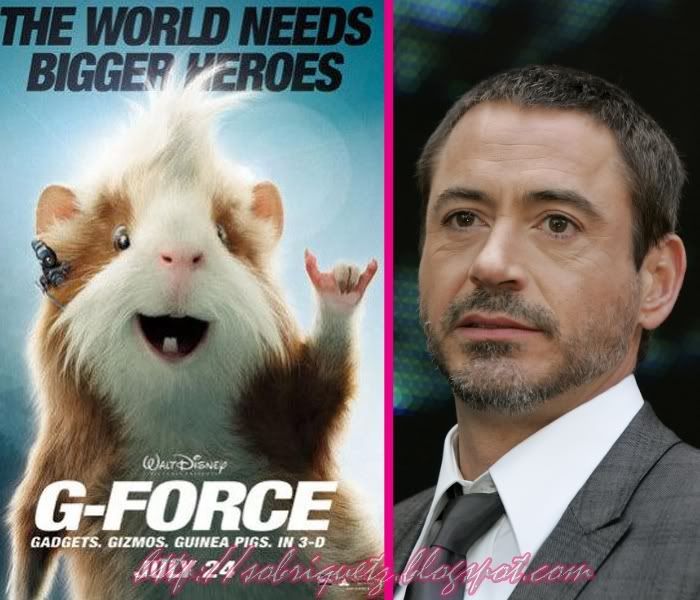 Jon Favreau as Agent Hurley
well, guess who is my favourite character?
it is....
.
.
.
.
.
.
.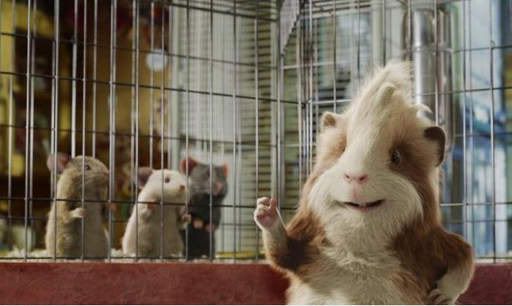 AGENT HURLEY!
because he is PLAIN RETARDED like what a guinea pig might be!
and he really brings out the PIG in guinea PIG!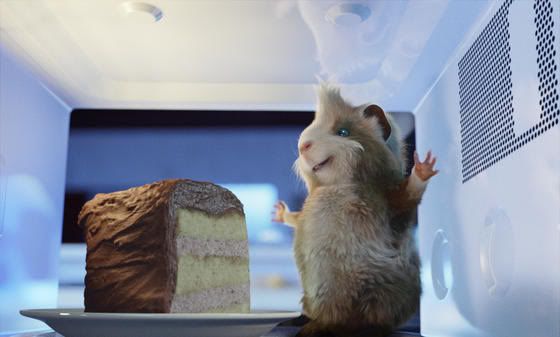 i decided that he will be my favourite character after seeing this picture!
such gluttony reminds me of *cough*gh*cough*
oh, and the standing hair too
such resemblance...
HAHAHAHA!
happygolucky Hurley, who will probably get into trouble because of FOOD
but i guess he is somehow special too, and may probably end up leading the team to VICTORY!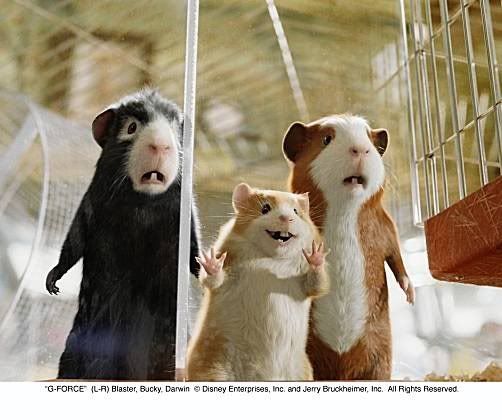 i actually quite like Bucky too! but well, he is not really part of G-force!
he is cute! seen here with Agent Blaster and Agent Darwin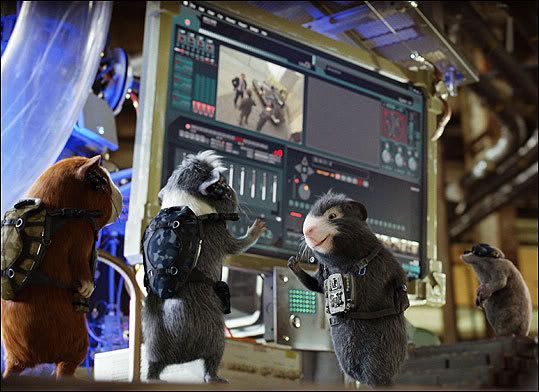 cute high tech guineas
agent juarez and agent darwin
i wonder whether there will be some lovey scenes!
but..er, i guess not
children show, G rated :P
Catch G-Force in cinemas 4 Sep 2009!!