i was finally un-quarantine this week!
on tuesday, my daddy was flying off to china in the afternoon
so we headed off to east cost park tung lok seafood for lunch! :D
where i drove there.
haha, cos mummy went to work, and it is easier to get my daddy to lemme drive :P
mummy is just too worried at times, this also cannot that also cannot -___-"
i think driving feels great
which is obviously a bad thought, cos it makes me too pampered, haiz!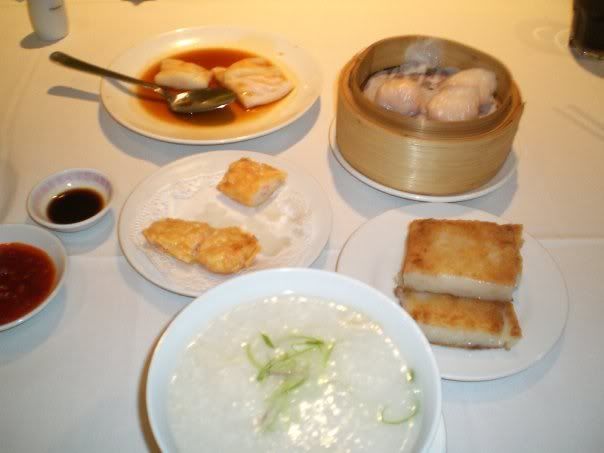 we mainly ate dim sum there
i like the crab porridge because there was really alot of crab!
but the porridge is abit too watery, and not THAT nice la
it cost 8bucks for that bowl
one of the main reason why we went there is because we have SAFRA DISCOUNT VOUCHER!
if we eat until 50bucks, it will be less 25bucks
if we eat until 100 bucks, it will be less 50bucks
i think it is DAMN WORTH IT LA, OMG! like 50% off leh!
end up, we paid about 30bucks only! and we ordered alot of food!
of course they earn through like the tower fee, drinks, nuts, etc.
they also have lunch buffet there
$19.80++ is ONLY for dim sum, but if u want with seafood, it is $29.80++
and SAFRA has discount too! 4 people eat, 1 eat free! not bad eh!
i wanna go......! still got quite a few coupons and it only last till end july!
headed to terminal 3
i think the departure gate of terminal 3 looks really nice
pictures before leaving!
next, mummy and i headed for tampines ikea, not to go there, but to park the car there, cos they have FREE PARKING and free shuttle bus to tampines mall! it is really convenient actually!
mummy was going to meet her friends in bugis (hip hor!) and i was meeting zh and sw at tampines one! new mall in which i have not been too!
ate at this japanese place
which is not cheap... $8.80 for this omu rice! haiz!
and still got gst!
on wednesday, i went to watch night at the museum 2 with gh!
watching movie on the last day that it is showing in cinemas...
it's quite nice actually, i like it!
then we had crystal jade kitchen for lunch!
favourite ee fu noodles!
nice nice nice!
the fried toufu was not that nice though, not enough taste!
super satisfied with good food! :D
then i went for my interview while gh went to shenton way to collect stuff
and met back again at bugis!
my interview...
well, i'm not sure i want it already
cos i'm worrying about this semester's workload!
i really want cap 5! :(
went to the new mall in bugis, ilumno or something, can't remember
it was quite like a dead town, not many things open yet
and the escalator was SUPER DUPER SCARY!
it goes from the 1st floor to the 3rd floor and it is very very very high
highest escalator ever!
we ended back in bugis junction and went to crystal jade la mian for dinner!
it was a day of crystal jade man!
ugh, need to start eating hawker centre food and save money le!
haha PINCH UR NOSE! :P
omg! time is running out
going for jl's bdae party now!
need to rush to bathe!