today was quite a long and tiring day
went to the
airport
to send off my mummy's cousin
and it was a mad rush because mummy din trust my time estimation skills, keep saying too early too early!
whatever lor...
I TOLD YOU SO!
i hate rushing around, almost running for aeroplane, etc.
why do you need all the panic in your life?
just go EARLIER! simple as that. better early than late!
after airport, headed for
hougang mall
because i wanted to borrow some books there
but it was not to be found and i had to place a reservation instead
hougang mall was super duper crowded! noticed some new stalls too
haven been there for a super duper long time!
took mrt to
cityhall
to meet fj to buy present
walk the whole of
suntec
and finally decided on a nice little present!
we've upgraded the standard b-dae present shop already :p
upgraded from body shop which was so jc...
to crabtreen & evelyn, which looks totally high class
walked around
raffles city
too, and ended up at
vivo

window shopped, had dinner at kopitiam, and window shopped somemore
ended up in riverisland trying clothes!
and it was
SUPER HILARIOUS
!
because for some reason, river island had to produce this
CHICKEN LIKE dress
omg, it is seriously like a chicken cos it seemed like
FEATHERS
and it was
BEIGE
colour!
anyway, some photos from the dressing room: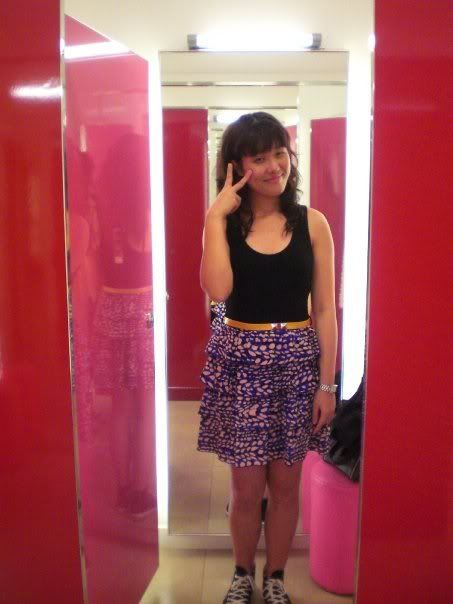 fj's dress which she almost bought but did not
fj says this looks like
tweety bird
!
got meh!! haha, i quite like it leh!
but dun really have occasion to wear :s
and for the
chicken dress
...
.
.
.
.
.
.
.
.
.
.
.
.
.
hahaha! it does not look that bad here actually
but if you zoom in and see the feathers... OMG!
check it out at riverisland if you want a chicken outfit!