today i was finally released from my mum-quarantine!
woohoo! :)
since my daddy is flying off tml, we spent some quality family time together
headed to sembawang shopping centre around lunch time
sembawang shopping centre has changed ALOT ALOT ALOT!
totally looks different! and they provide a free shuttle bus service from khatib and yishun too! quite convenient actually!
but mummy drove us there, and there's really limited parking spaces!
there used to be free parking, but now i think it is $1 per entry or smthg
or at least we just paid $1, not bad!
walked around awhile deciding what to eat
and finally ended up in fish and co due to this:
fish and co's eat more for less
what they mean is eat less for not less
rubbish la
look at my black pepper stingray!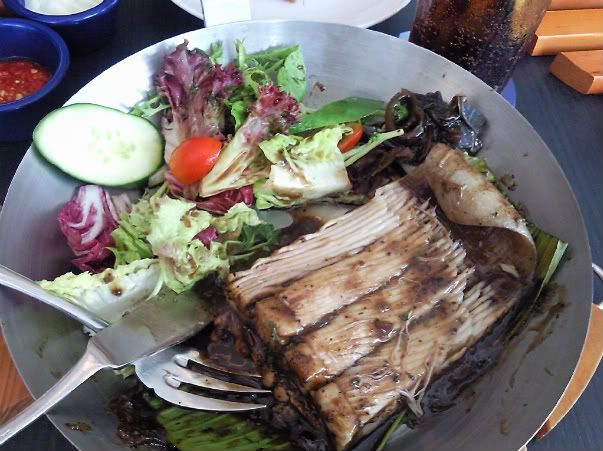 stingray is SMALL
they replaced the rice/chips with garden salad which is quite little too
and all they did was to add a beverage
but the coke tasted SO BAD! my daddy said it was BITTER!
we shopped around after that
found out that my singnet broadband contract can only be renewed in december
which sucks cos i'm having problems with my wireless modem!
ugh! and now singnet has offer for 6mbps unlimited broadband plan at $39.90 which comes with a free wireless modem! offer till 10 july
which means i can't get the offer
which means i've to suffer more with this lousy plan and modem
ughhhh!
dinner was at this zi char place beside casuarina curry
i forgot what it is called, but it is super busy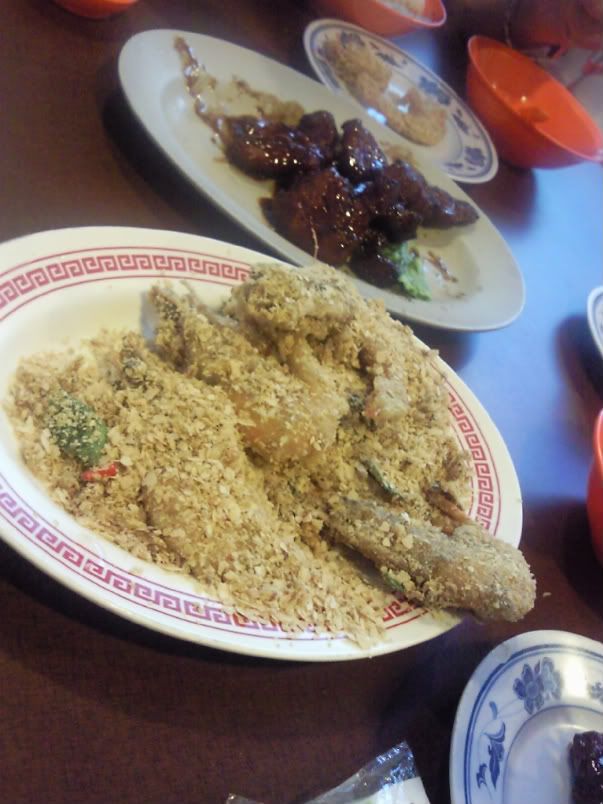 had cereal prawns and coffee pork
one of the rare times that i actually eat pork
cos it did not taste like pork at all! taste abit like chicken/fish
and there is no smell of pork!
it's not bad actually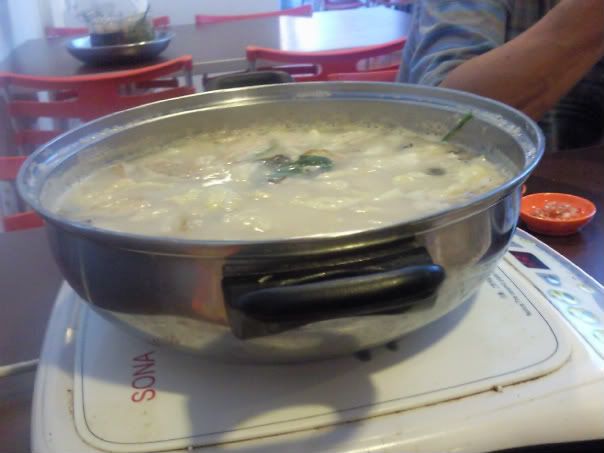 but their popular dish will be the red garoupa fish head steamboat
it costs $20, if u want fish fillet meaning just the meat, it will be $38
not bad though, quite a large portion, enough for 4 people
but since we ordered fish head, there was not much meat
the soup had too much ginger in it though, making it quite spicy
tml going to tung lok seafood for lunch! :D
then fetching my daddy to the airport
then meeting zh and sw at tampines! :D
i'll be periodically blogging about my june europe trip!
but that needs to wait awhile though
cos even though i've all the photos on facebook,
but i have not uploaded them to photobucket, and it's taking AGES!
xoxo,