on thursday, mummy asked me whether i read wednesday's newspaper
about how Goodyear is leaving Temasek Holdings
tracy: nope, can't be bothered about it
mummy: oh, u know his picture, very handsome la! i told my colleague i wanted to cut it out and frame it
tracy: *OMG*
mummy: really what! his features very defined, mature looking, looks like richard gere!
tracy: all angmohs have defined features and look like that -___-"
this is the guy whom she say is very shuai.....
Goodyear, leaving temasek
to me, he really looks like a typical angmoh
what's so different?
and this is Richard Gere...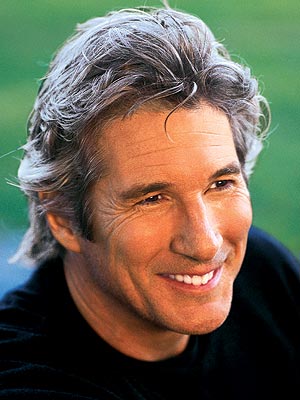 richard gere in his younger days
well, he does look good seriously
just like the
andy lau style
, grow old, but still look good
i wikipedia-ed him and found out that People Magazine actually named him the
sexiest man alive in 1999
! omg! hahaha, seems like mummy has pretty good taste eh!
of course he doesn't look like that anymore, he wears glasses now!
i dunno anything about him, except the once upon a time news about him kissing the bollywood star shilpa shetty which was really over-enthusiasm on his part (i feel)
well, but overall, i'm still stunned by the convi with my mummy
she said her colleague was stunned when she told her too
cos mummy usually doesn't say such things la, haha!