omg, blogger has RESUMED and is normal again! amazing!
met up with sw, zh and mel at ps today for lunch at swensens
had swensens 1-for-1 and also ordered icecream
the bill was pretty odd, usually i thought they will charge the two most expensive items
but they ended up charging one ex, one cheap item...weird
but of course we did not clarify with them the mistake :P
after that we were deciding between minds cafe and kbox at suntec
because suntec has this promotion, no cover charge!
just pay for drink + titbits + KOD
but that turned out to be pretty ex also, $13 per person in the end!
because drink = $6, titbits is like $6 for 2 persons, and KOD is $1.50 per person
and of course plus gst and service charge
but this promotion is also valid for k golden!
if it is $13 for k golden, it is BLOODY WORTH IT LA! OMG!
k golden is from 8pm to 4am, yups, super long!
but i think suntec kbox is very chui, perhaps that's why they need such promotions
quite odd, considering it is city area, and it is not popular!
so many rooms were empty! but the seats were very old
heavily scotch taped and pretty rough to sit on!
with sw
sw and mel (aka potato)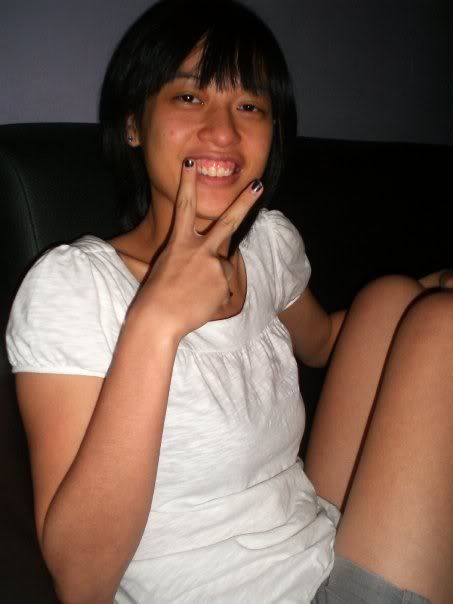 random shots :)
haha, it was the first time i sang FINISH all the songs that was on the chosen list!
like amazingly...haha, usually we'll be chased out before we finish leh!
anyway, i think i like really high songs
haha, high songs make me happy
example of some high songs we sang are...
孫燕姿 - 第一天
F.I.R - Get High
F.I.R - 我要飞
五月天 - 孙悟空
五月天 - 離開地球表面
蕭亞軒 - 代言人
蕭亞軒 - 幸福的地圖
hmm, i can't rmb le!
and we also sang ndp songs, PATRIOTIC ANOT! like Together, and the Stef Sun's song
i haven heard this year's ndp song, but from the newspaper reports, it sucks like mad
why can't they just dick lee to compose something which is of the same level as Home?
it is catchy and modern and easy to sing!
but anyway, the most INSANE SONG we sang is this!
為你而活 by 神木與瞳 (Y2J)
i like the song alot cos the girl's vocal is DAMN POWERFUL!
it's something in which i die also cannot reach pls :S
haha, but this was a very funny song, esp when we switch roles and zh sang the female while i sang the male!
the male one is so much easier than the female...
hahaha, but it was SUPER DUPER FUNNY!
the next time we go kbox again, i'll choose this song and i'll RECORD zh's high pitchness down!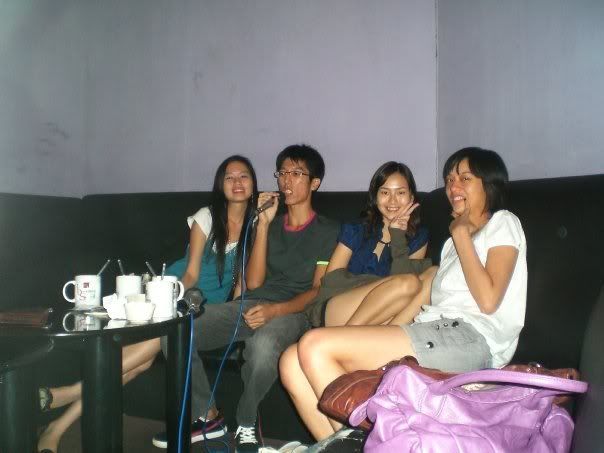 ends off with my usual 3x self timer shots! :)
ah, kbox...feel like going again
why is karaokeparty down :( sadness