on saturday, went to jl's house for his 21st birthday!
went pretty late, met fj at the bus stop before walking in
quite a few distinctive groups of friends
05s46 people mainly 'hid' in the mahjong room la, haha
very long never see them le!
i really really miss jc alot...
all the rubbish talking sessions
coming up with new rumours/gossip
the closeness of having recess together as a class
or even outings to parkway or katong as a class
*sigh*
uni sucks big time.
oh, and i found out that wy, bj, daniel have BLACKBERRY!
jealous shit, i also want!
haiz, i hope next time when i start working, my boss will give me one :D
cos i checked singtel, and it's really expensive cos need to pay for the line, and also blackberry charges! ugh, cannot afford la :(
while they have triplet blacberry,
fj, sw and i have triplet samsung f480 pink! :D
haha but that i knew beforehand le la, wasn't surprised
but samsung f480 pink is really a very CHIO PHONE!
but it was really no technology at all, basically a look pretty phone
no wifi, no gps, no anything :(
photos which i kopped from jl's facebook: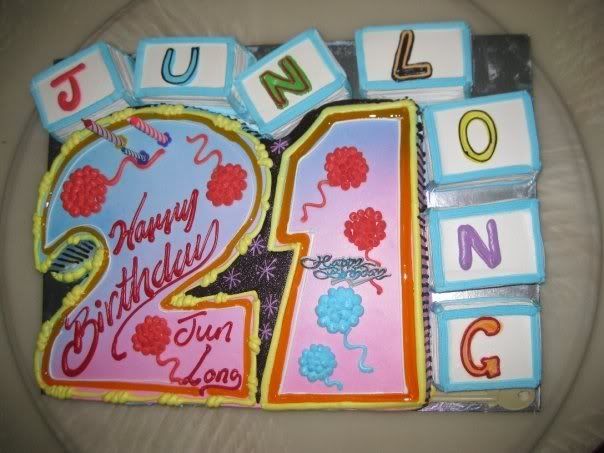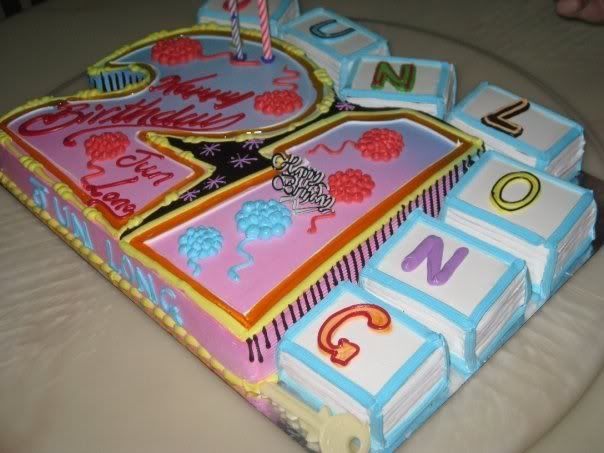 very colourful cake!
jl and his birthday cake
haha, he has changed amazingly alot!
and he has a new english name called GARETH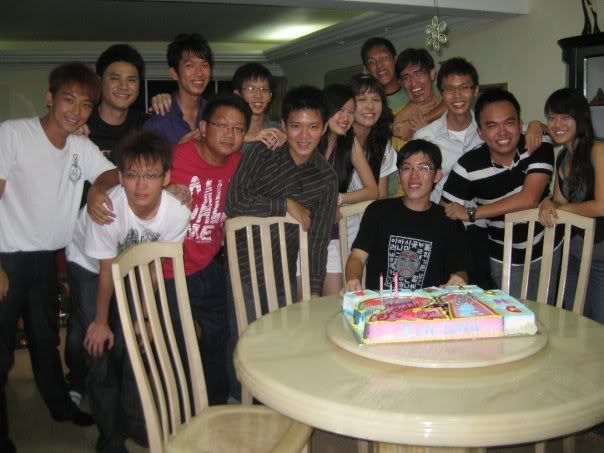 part of the class who were there
majority guys la, only 3 girls there
but anyway, our
guy to girl ratio
is like
17:8
anyway
photo with vjcsb
hmm, i was pretty reluctant to take the photo since i'm not very into band
but wy pull me to take lor
even though i still say i dun want, but actually i kinda appreciated it la
we were very noisy throughout the whole phototaking session
because we were going to revive the fujing-junlong scandal again :P
haha, i bet everyone else must be rolling eyes at us
and fj aka jingshanshun paiseh like mad :P
sunday morning was the first time i woke up at 7am
because we had to go to the columbarium as it was my ah gong's 49th day
i did not want to cry or anything, because i wanted to be strong for my mummy and to be there for her, but i could not control the tears...
really very sad still, so i try not to think about it when i can
it's difficult though, cos when u walk around singapore, sure see grandpas around what
then will think about ah gong lor
my smiley ah gong.
ah well, then after that went to sembawang shopping centre for lunch at ajisen
and visited daiso...they really have many quirky things!
then it was back to my house for more maths 'tuition' for ian
monday headed to queensway shopping centre with gh
i amazingly have direct bus there, i love direct buses!
i just sit, listen to mp3, and sleep all the way!
but this time i didn't sleep because i was unsure about where to stop
anyway, i bought a pair of
pink ascics running shoes
!
yayyyyyyyyy! for
$65
well, it was cheap because it was JUNIOR shoes
not womens shoes
but whatever la, i can fit in, i like the colour, the price is good, BUY!
then we headed to orchard to check out the new malls
ion orchard is not opened yet except for LV
official opening date of ion orchard: 21st July 09
so we headed for orchard central, which also has a scary escalator
orchard central looks super high class actually, with nice comfy sofas!
but somehow, the higher up u go, the 'cheaper' the shops seem to get
abit weird, usually higher = more ex i thought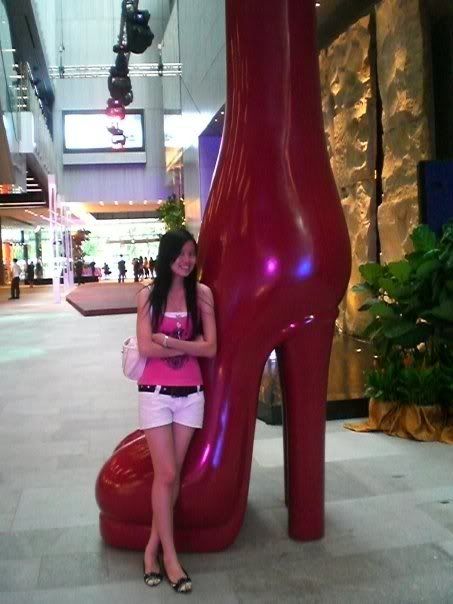 some photos of the first floor
there are 12 stories all together, but the lift is only accessible to the 10th storey
weird, perhaps it is still uncompleted
there has been an amazing amount of branded shops sprouting out in singapore
are singaporeans really that rich?!
haiz.
today i started jogging! :D
motivated by new shoes + new fbts :D
jogged from my house to amk lib
(2.5km)
, then walk to s11 to eat qiu lian ban mian
so long never eat already!
after that went to Popular to check out some stuff before WALKING home
so, i saved S$1.38 by not taking bus
and being abit more healthy
but i ran at an obscene time though, 12+pm :s
haha, i need to run earlier next time
i was doing some stuff which dragged la, end up so late then run out for lunch
oh and there is a silk rebonding promotion at this new hair salon place at broadway kbox plaza!
$99 for hair cut + silk rebonding + treatment
, nett price for all hair lengths!
i'm tempted to go for it.... omg!
should i should i should i should i?!
anyway, i aim to run to bishan next time! :D