ugh, blogger is still not working
freaking troublesome! i dunno what's wrong :(
anyway, on wednesday, gh and i embarked on a CULTURAL TRAIL! :)
well, basically cos singapore was too boring,
and we ended up visiting museums instead!
i told him that we should pretend to be tourist in singapore!
so we took quite a number of photos :)
i went to Joo Koon mrt for the first time and headed for the ARMY museum!
technically i need to pay to go in, because i'm not nsmen
but well, i got in free :P entrance is 5 bucks actually though
the army museum was laid out in chronological order
so of course we started with the Birth of the Army section
coincidentally, there were a group of army guys, who seemed to be forced to attend a tour in the army museum
they probably thought gh and i were crazy
they also have certain shows there too, like effects show of the army, where there will be wind and water effects. and 3d sound effects i think
there was also this section outside the lift, which are gifts given to the singapore army by other countries
and japan's one is the nicest! the rest are like boring or not related to army stuff at all!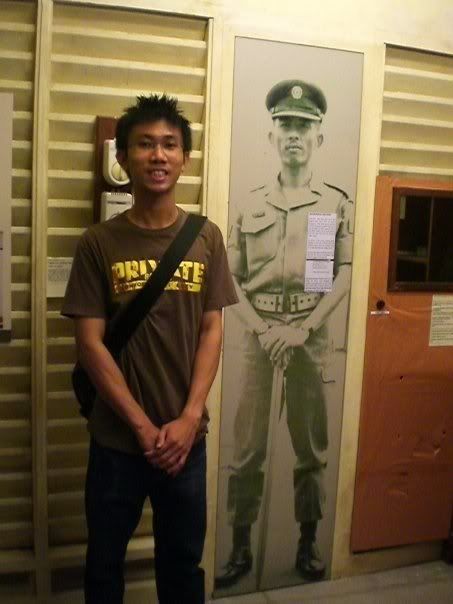 gh relieving his army days
but now, the bed is bigger and nicer la! where got so pok one!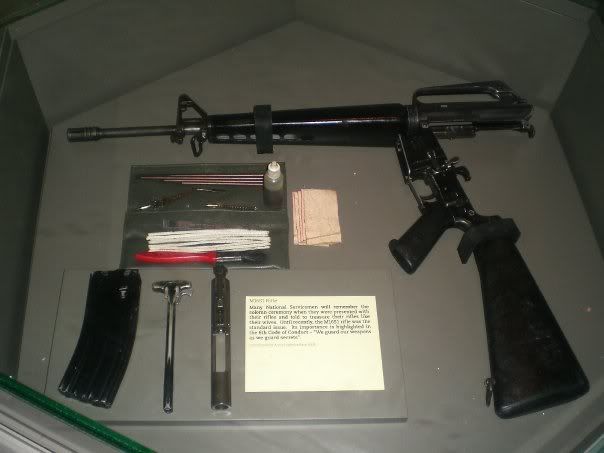 the gun which he said he used
ooh, taken with the singapore flag!
i just need the president to be beside me
and it'll be a perfect picture already!
prime minister or minister mentor or senior minister also can :P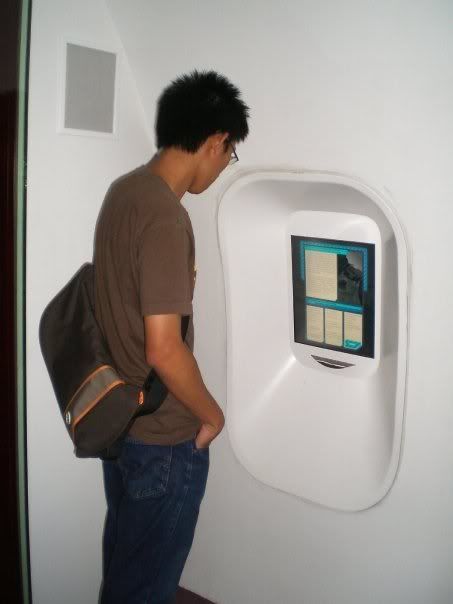 there was also a section dedicated to the hijaking of the SQ plane in 1991
it was a video showing what happen, and how the special forces killed the hijackers in 4 seconds
i thought the hijackers were not very intelligent
maybe they need to watch more movies
like Air Force One or Executive Decision
it was amazing how the special forces just walk in through the cabin door, shoot 4 times and THAT'S IT!
but it was an amazing video to show us just how prepared and safe singapore is
really makes u proud of tiny little singapore!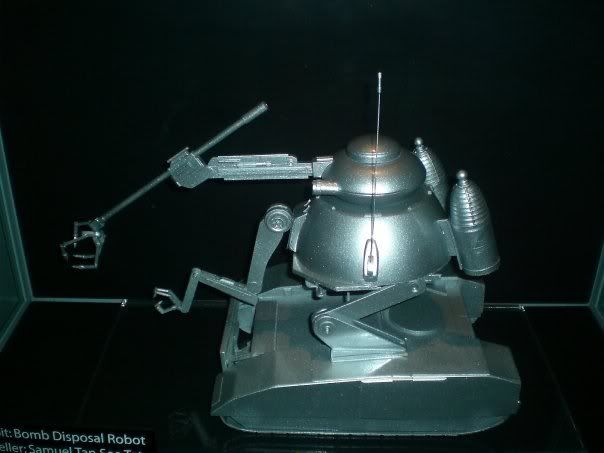 the future of the army
looks like we're going to have light sabres and jedi knights soon
a pledge that sadly 0% of the guys who ORD can rmb
looking at the army boys now, i think i'll be damn worried if we were ever attacked...
photos outside the museum!
after about 2hrs, we headed for bugis because i wanted to eat BLANCO COURT PRAWN MEE!
i told gh that i'll be super fascinated with the Gateway building if i was a tourist
but he say he'll be more fascinated by Parkview Square which resembles Batman's building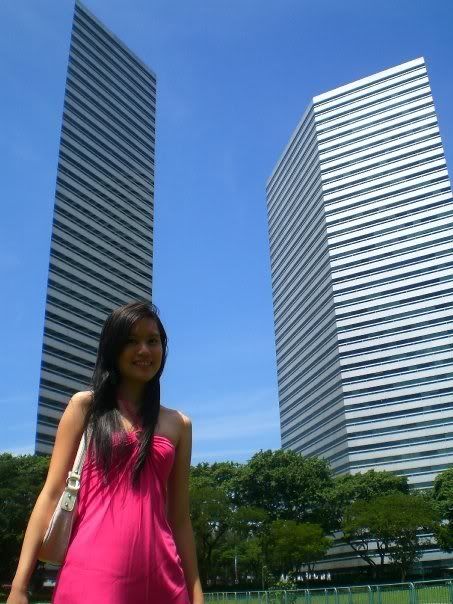 hmm, but i still prefer Gateway
when i was young, i used to call this the Paper Building when my daddy drives past it
it really looks SUPER FLAT!
blanco court prawn mee! together with ngoh hiang!
very nice! we both order the large bowl, which is $5, there's also a $4 option
and we were super full after eating it!
really like it alot, the soup v nice!
after we were full and satisfied,
we headed for the peranakan museum at armenian street. it is near smu!
this is my fave museum btw
because it is REALLY INTERESTING!
i'm so intrigued by it!
of course there was the introduction of what's a peranakan
like chinese and malay married or smthg like that
of indonesian or malaysian heritage or java i think
the interesting part started at the peranakan wedding
which is a grand ceremony held over 12 days!
of course this is not practised now
can u imagine u ask ur boss for 12 days marriage leave?!?!?
of course all the brides are decked on in as many jewellery as possible
the left side is for singapore and malaysians, the right side is the jewellery for penang
we also learnt the type of gifts which the bridegroom gives the bride's family
and what the bride gives the bridegroom's family
most interesting was this pig leg
the bridegroom will send this to the bride
and the bride is supposed to chop off abit of the pig leg and send it back to the bridegroom
this is to signify that the bridegroom is the head of the family
i wonder what happens if the bride chops off a BIG PART of the pig leg, hahaha!
tea ceremony
intricate beadwork of the peranakans
pernakan clothing
jesus and mary in a chinese altar
this is pretty interesting
it was initially a chinese alter, which was converted to catholic
after the peranakan museum, we headed for the National Museum which is just nearby!
love tanks! so pink! i like!
totally blend in with it too!
being typical singaporeans, we headed to the Food Section of Singapore Living Galleries first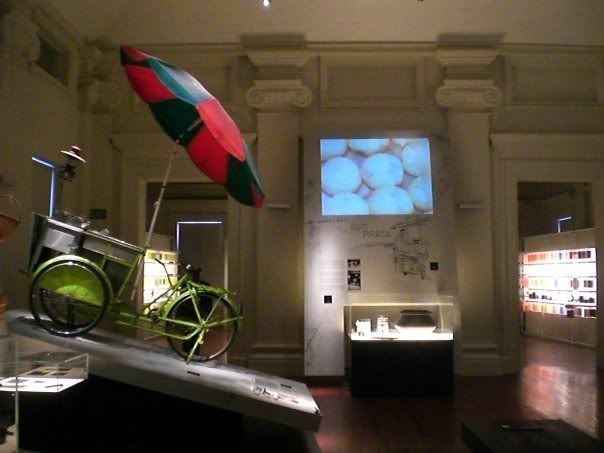 i love tu tu kueh!
but it's getting more and more expensive! cannot stand it!
is flour and coconut so expensive?!?
then i dragged gh with me into the Fashion section
which was really a section dedicated to females
typical make up in the olden days
gh says his ah ma still have this sewing machine at home
and it WORKS leh! wah, antique!
this wedding gown looks vintage and yet abit Corpse Bride style
abit freaky to see it
we then proceeded to Singapore History Gallery, which is a recap of our sec 2 history book
but before we entered, we were equipped with an audio guide!
it's not bad, but we did not finish listening to everything
not enough time, and my legs were very suan
and we briefly know about the history anyway
listening about the Singapore Rock on my audio guide
basically it's a rock with wordings, in which no one can decipher what the words mean
apparently there was a riot during sun yet sun's death anniversary in singapore
well, i din know about that! lots that i dunno about singapore history still! :S
gh looking cool with his audio guide :p
in order not to flatten his hair, he always put the earphones very tactically
VAIN POT!
hahaha!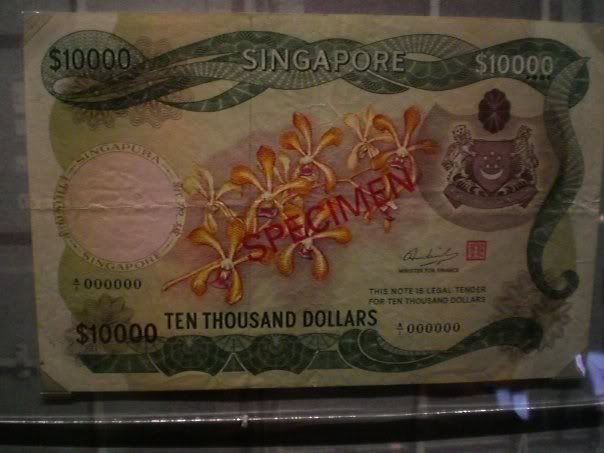 singapore money! give me some of the 50,000 bill and i'll be a happy girl :)
and the history gallery ended with the pledge in the 4 main languages, and of course the singapore flag
i really feel very proud of singapore, despite not knowing the pledge in chinese
amazing little country :) i'm glad and proud to be singaporean
isn't this so fitting with the upcoming national day parade? :D
in which i do not miss every year, sure will watch from tv
because i'm not lucky enough to get tickets :(
and that ends our tour at the National Museum of Singapore
but i think i'll be back again at the end of the year, because the time capsule at the National Museum will be opened in december 2009! so exciting! open time capsule! but dunno whether the ceremony will be open to public!
anyway, it's free to go in with nus matric cards to a few of these museums
so, of course go! :D
and gh and i were not the only wu liao ones
because we have to fill in a form to enter, and we saw other nus people's names too!
camwhoring outside smu
i wanted to take pic with handphone and i wanted to take in a very bright place
haha, so we stand at the sun and take
i think the people driving past us must be thinking we were nuts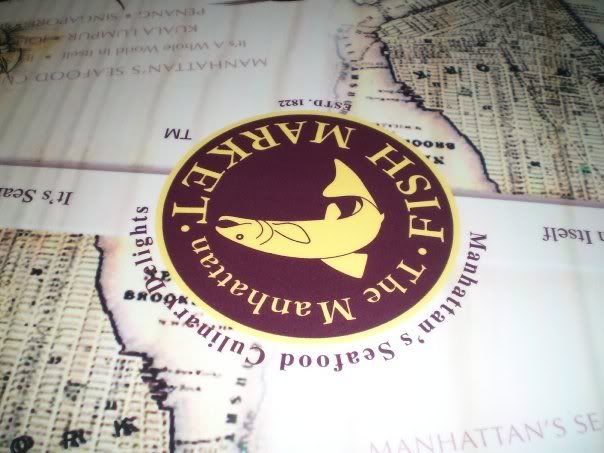 after that it was Manhattan Fish Market for dinner! :) i love it!
especially the flaming prawns, cos the sauce is really nice!
and gh has his 'vip' discount sticker, so we always get 10% there
and with my capitacard, i'll get 10.3% rebate too... which equals up to 20%! :D
but sadly, i did not have my capitacard with me this time
i thought uob card got discount! but apparently the offer has ended...
our seafood platter for 2 :)
gh had to finish the mussels and calamari cos i dun eat those
in return he let me eat more prawns :)
cos he know i like mah...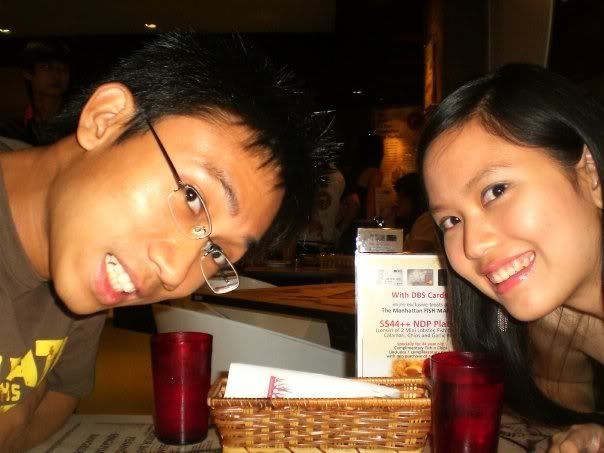 :)
and that concludes the end of our heritage tour!
quite different from shopping around aimlessly
and more interesting too! :D