back from warsaw!
it's really a very modern place with like skyscrapers, high rised buildings,
shopping centres like those in singapore except bigger, etc.
even the pavements are big and flat, unlike other european countries
and the pavements are pretty
CLEAN
i dun have to like hop around avoiding
uncultured people's spit
or pigeons droppings, which are like damn disgusting!
we took
wizzair
there again, and it was an okay flight except for the screaming little girl
i wanted to pull her hair and ask her to shut up can!!!
ugh... not that i dun like little kids or what
but she really scream for damn long la!
took the bus 175 from the airport direct to our hostel at new world street
we stayed at
new world street hostel
, which is a pretty good location!
it is like in the middle of orchard road!
and the streets are all lined with pots of flowers, which are really nice!
the hostel is pretty nice too
except for the fact that we've to climb
88 steps
up to the hostel
good thing we dun have big luggages, just our bagpacks!
the room was equipped with a tv (with cable!) and a sink
but it does not have those channels like HBO, AXN, Disney, etc.
haiz, only have like weird foreign language channels from the middle east, or like bbc, and lots of porn channels -___-"
oh, and the hostel has wii!!
first time i play la! played tennis/bowling/golf/boxing with gh
omg, it's damn fun!
and my arm felt super suan after that, shows how long i've not moved my limbs
i want a wii :(

or go to someone's place with wii!!!
had our first dinner at SPHINX
the atmosphere was nice, good ambience and deco
but the food was just okay?
my grilled chicken tasted like chicken with charcoal bits on it...
abit tasteless, good thing they provided 3 types of sauce for free
(usually need to pay for sauce)
yeah, but it's pretty cheap for a restaurant, about
13sgd
if it was in singapore, perhaps it'll be double that price
then we continue walking down the new world street which leads to the royal way
touristy spots, with many churches and monuments, and of course, the royal palace
there were glass cubes outside each monument explaining to us what it was
and also some photo exhibition on coexistance
some of the concepts were pretty nice actually, but i din take photos of it
my camera doesn't work well in the dark :(
and the royal palace doesn't seem very royal actually
but i already expected it, since we saw it at mini europe
another must-see in warsaw will be the lazienki park
but we went at night and it was closed!
i din expect the park to be fenced up! :(
however i did catch a glimpse of the chopin monument through the fences
there is supposed to be a palace on the water too, the lazienki palace i think
ah well, what a pity!
there were also quite a number of shopping places in warsaw!
went to 2 factory outlets
Factory.pl, and fashion house
i forgot to write down the address of Factory.pl, i just wrote what public transport to take, hence we were lost for quite awhile, but eventually still found it!
i bought a pink nine west bag, a skirt from House which i've no idea what brand is that, and leggings from somewhere la
i like the pink bag! cost 30sgd! of course the sides of the strap is not exactly perfect, has some flaws in it, but oh well, heck!
another attraction in warsaw is the palace of science and culture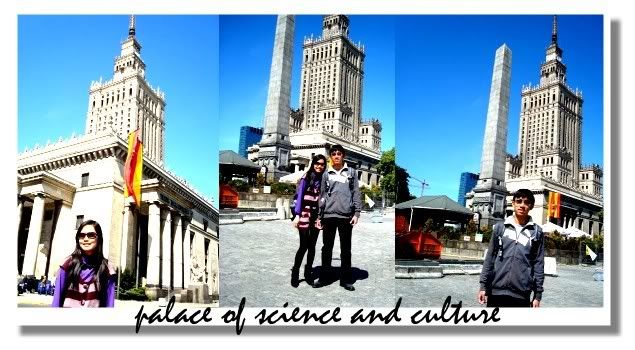 it's stalin's gift to warsaw, a gift from the soviet union after the war
yeah, but there is this ugly modern looking signboard on it (which i din take pic of)
which totally ruined the feel of the building!
dunno why it must be there!
and after 2 nights there, we were back in klostergarden again
a very fast trip, haiz
but i think warsaw is a nice place :)