i was woken up this morning by my daddy's sms
he was asking me whether i'll be online today and he got something he want to tell me
well, usually, u can tell that it'll probably be a bad thing
but i chose to ignore it, for awhile
it was quite early and i was still tired
after 1hr, i decided to wake up and log on to my com
then, there was like more "preparation" for bad news
with my daddy saying he hope i take it courageously, and that he wanna call me
then he told me,
my ah gong just passed away today

it was so sudden, no one knows why yet i think
my daddy is flying back tml
my mummy says i no need to go back cos of exams
not that i've talked to her yet
my daddy says she's too upset, dunno how to tell me, actually din wanna tell me even
i'm still in disbelieve
i just talked to them yesterday, cos the family was at my place
and it was a sunday, my usual skype session with ah gong
he doesn't talk much, but he's always v happy just to see me on skype
this was so sudden, even more sudden than my ah po's death
my ah po had cancer, and her condition was sometimes up sometimes down
and at one point of time when it was up, then she suddenly pass away
this time, it's like there is no known illness that my ah gong have, then suddenly like that...
just so happens that his bro from china is visiting him now at the moment too
haiz.
i'm very sad.
i just kept crying after my daddy told me the news over msn
i wun say i talk alot to my ah gong or what, sometimes dun really know what to say
but he's like always there, coming to my house for dinner,
staying over with eugene and ian, etc.
even though he also dun talk alot, i know he's quite proud of me, haha
even last time, when my ah po was still around, he'll always ask whether me and my mum are coming over for dinner (we go there everynight for dinner) etc.
but of course never ask to our face la, it's my ah po who told us
more of the silent type.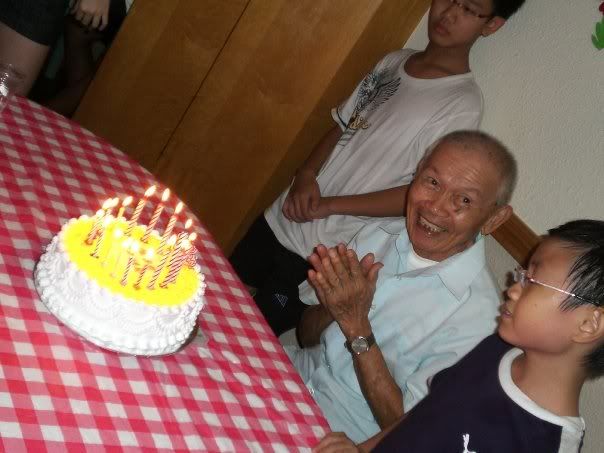 ah gong's birthday last year in aug/sept
my mummy tasked me with making a cake for him this year during his bdae
but i see that it will not materialise already...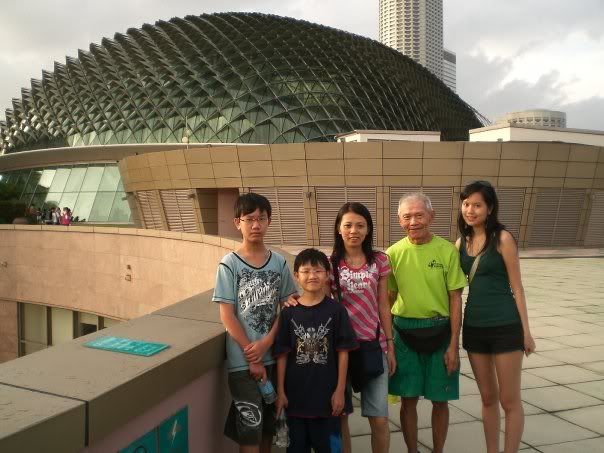 picture from our previous stayover, just dec 2008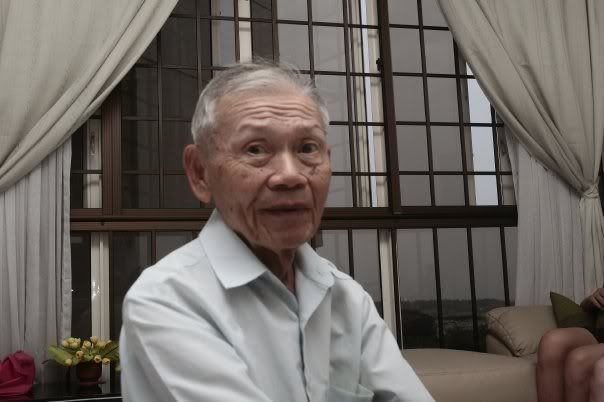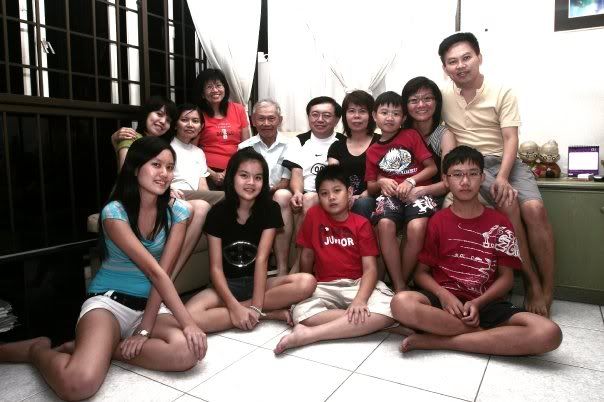 pictures from our reunion dinner this year before i flew off
and we have one less family member again next year...
my parents say they are very worried for me, since i'm all alone in sweden
daddy say ask gh to comfort me
but i think i more worried for mummy?
i bet she is devastated...
the sudden impact of it will definitely be too much to bear at first
when my ah po passed away, they said she died in a very considerate way
cos she died during the school holidays in 2004,
so it's easier for everyone to gather, etc.
well, i guess it's almost the same for my ah gong
school exams are over already anyway, in singapore
in fact, looking at the lunar calendar, they passed away pretty close to each other
my ah po was on 5th month 5th day, my ah gong is on 5th month 2nd day
i've always envisioned that when i get married, my ah gong and ah po will be with me
a pretty practical envision what, considering that i'm the oldest, age gap is slightly lesser
well, of course that was an envision from very long ago
when my ah po passed on, i thought, never mind, my ah gong will be there too
well, now both wun be there already...
and now that there is this National Family Celebration thingie,
i actually wanted to suggest to my mummy to bring everyone out on 30th may
cos i think there are some events, etc.
haiz.
i hope my mummy is alright.